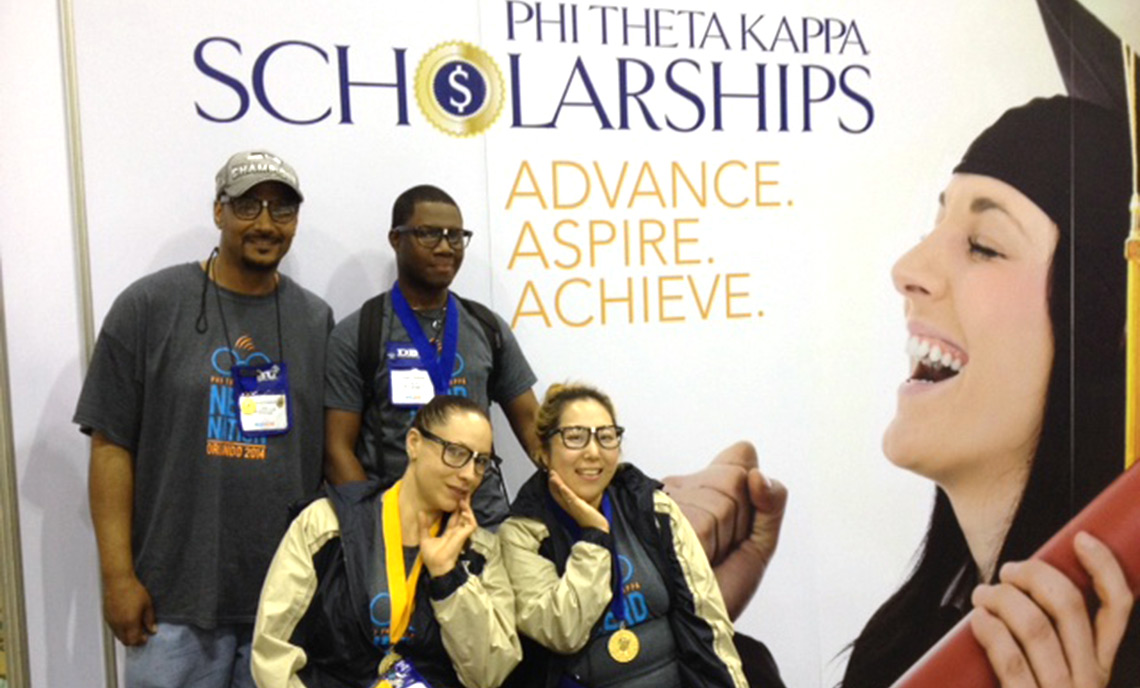 CPTC Phi Theta Kappa Chapter Earns Five-Star Status
May 19, 2014
Beta Omicron Gamma, Clover Park Technical College's chapter of Phi Theta Kappa International Honor Society, received Five-Star Chapter status for the fifth year in a row.
Four executive board members from the college's chapter represented Clover Park Technical College at the Phi Theta Kappa annual convention in Orlando, Florida, April 24-26.
Manuel Marshall (CNISS), Kelson Williams (Culinary Arts), Vanessa Blick (Surgical Technology) and Enhee Winegar (Human Services) joined more than 4,000 Phi Theta Kappa students at the national conference, titled "NerdNation," which focused on educational sessions, training to cultivate leaders and networking opportunities.
The society encourages academic achievement of two-year college students and provides opportunities for growth and development through leadership, service, honors and fellowship programming. Students enrolled in an associate degree program who have a cumulative GPA of 3.5 or higher are eligible to become a member of the International Honor Society.
The Clover Park Technical College chapter is led by Human Services instructor Kathleen Hathaway, who has been the advisor since it was chartered in 2006.
"I'm very proud of them," Hathaway said. "They work really hard and do a lot for the campus."
The chapter completes many service projects every year, including fundraising for the Michael W. Smith Phi Theta Kappa Scholarship for CPTC students, coordinating Better World Books box donations, conducting free leadership training on campus, and sponsoring a classroom competition to raise donations for the CPTC Emergency Food Bank.