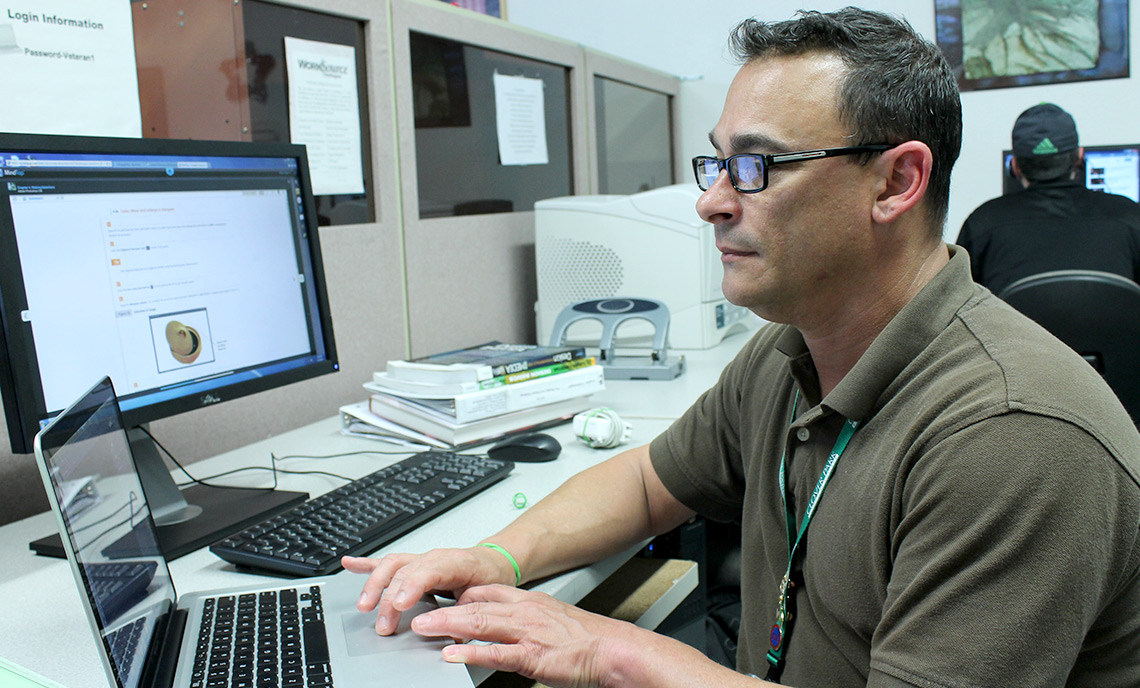 Education Helped in Soldier's Transition
May 28, 2014
Brian Fraser is a soldier's soldier.
As a mechanic and instructor, Fraser served two combat tours during 18 years active duty Army and National Guard service. The wear and tear of daily physical training, deployments and mechanic work took its toll on the non-commissioned officer, who had no choice but to separate from the service in 2013.
"I didn't want to leave," Fraser said. "The Army was my home for a long time."
With a family to support, Fraser spent six months training at Joint Base Lewis-McChord's Armed Forces Career and Alumni Program to prepare for the civilian sector before he transitioned out Jan. 13, 2013.
Education took away some of the sting of separation from service. Less than three months after his last day of active duty service, Fraser was enrolled in the Computer Networking and Information Systems Security program at Clover Park Technical College.
"I didn't know what I was walking into, I just knew I had to make it work," he said. "That's something you learn in that business, is I'm going to adapt."
After a year in the CNISS program, Fraser determined it wasn't for him, and transitioned to the Graphic Technologies program, where he enjoys communicating with design.
Before his Army career Fraser was an assistant to a graphic designer for a clothing manufacturer in Atlanta, Georgia. Eighteen year later Fraser has picked his trade back up.
When he's not in class, Fraser volunteers at Park Lodge Elementary School and does work study at Clover Park Technical College's Veterans Resource Center five days a week. The center directs active duty and former service members and their families to needed resources.
Fraser had to reach out to local organizations during his first six months of non-active duty status, and knows first-hand what service members go through.
"Deep down you have to believe in what you're doing, grab your boot straps and keep going," Fraser said. "There are resources out there that will help you. You have to take some of your pride out of the picture and ask for it."
Fraser's advice to service members looking to separate from the service is to have a plan and be ready to adjust.
"Everyone transitions differently," he said. "Transition is what you make it and no one can make it perfect, but everyone enters the service and eventually everyone leaves the service."
Fraser's oldest son, Zane Fraser, also attends Clover Park Technical College, where he is enrolled in Northwest Career and Technical High School.
Share This Story