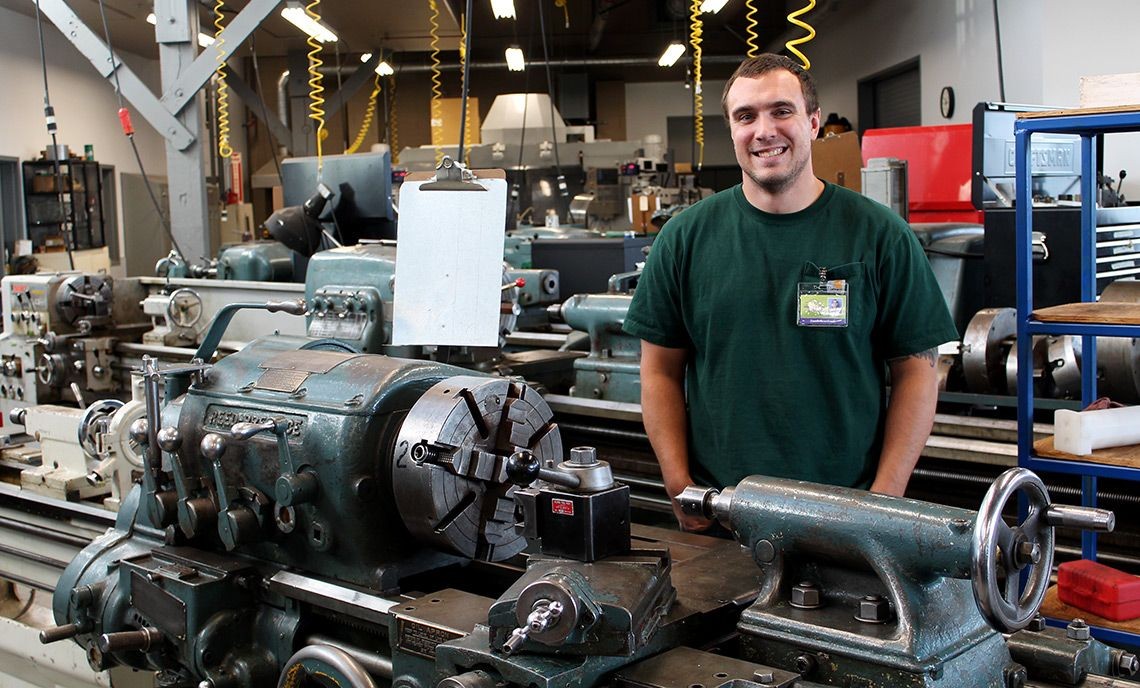 Former Marine Forges Industry Connections, New Career in Manufacturing
October 2, 2015
As Jake Boushack prepared to separate from service with the U.S. Marine Corps, the artilleryman researched employable fields in Washington state.
Manufacturing caught his attention and Boushack found Clover Park Technical College offered the ideal program to prepare him for his post-military career.
"I can use it, it's something I enjoy, and I can get a job," he said.
Once Boushack transitioned out of service in 2014, he completed an associate's degree at a local community college where he had started after high school. Wanting to become specialized in the manufacturing field, Boushack then enrolled in CPTC's Manufacturing Technologies Degree Program and started this past summer. 
During his first quarter Boushack made parts and tools in class that he'll continue to use throughout the six-quarter program, which prepares students to use conventional machine tools, computerized machining systems, and metals to produce precision parts for machinery.
Boushack appreciates the hands-on learning in small group settings, along with online instruction that includes interactive videos, quizzes and photos.
"It's better than just sitting and reading a textbook," he said. "You can see a video of someone doing what they're talking about."
Boushack also appreciates the connections established between the program and industry partners. He anticipates attending about a dozen field trips to companies throughout his time at CPTC, and said he already wants to apply to the first two businesses where his class got a tour last quarter.
When it's time to begin his job search in earnest, Boushack already has a plan in mind. "I'm going to use the instructors because they know everyone around," he said. "The school and instructors are the next best things to having a family 'in'," he said.
National Manufacturing Day is Oct. 2. For more information about CPTC's Manufacturing Technologies Program, visit http://www.cptc.edu/programs/manufacturing.