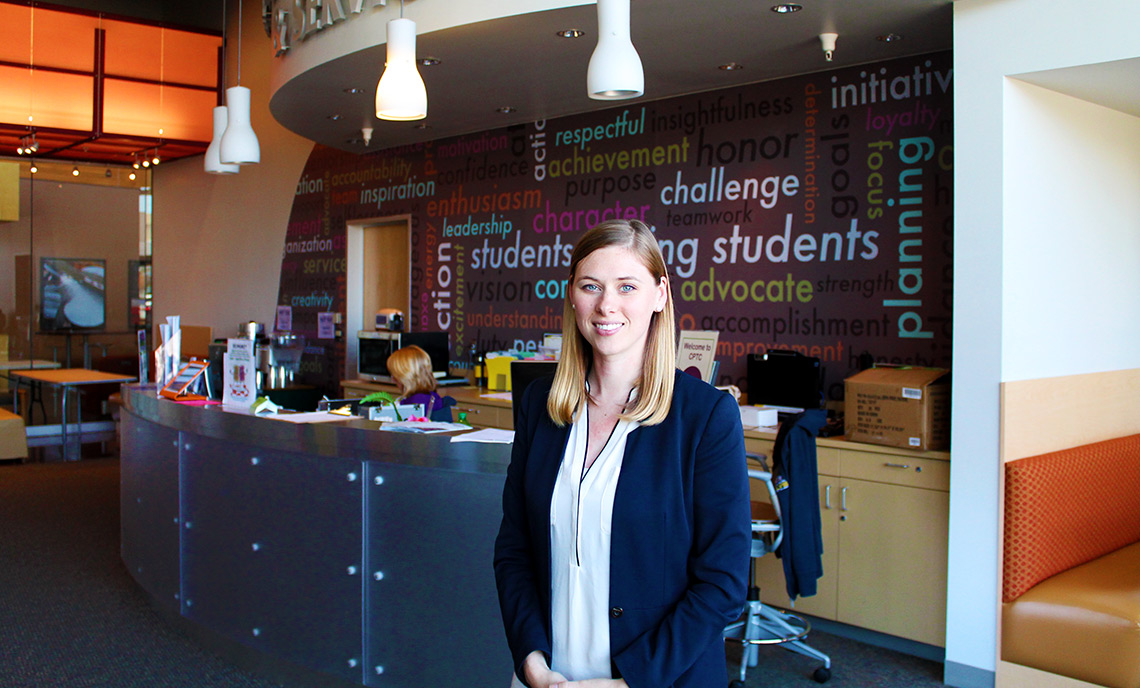 Getting to Know CPTC's ASG President
October 6, 2014
Katie Stock prides herself in two things: her handshakes and her hugs.
"I want people to know I think they're important," she said.
The second week of Fall Quarter at Clover Park Technical College was a busy one for Stock, who is settling in as Associated Student Government president, taking classes in the Architectural Engineering Design Program and also interning part-time with a mechanical engineering firm. When all is said and done, Stock is putting in about 60-hour work weeks.
"The goal in coming back to school was to use this as an opportunity to better myself and get back out there," she said. "I just want to take every opportunity possible while I'm here. As much as I might be over-extending myself, I'm learning a lot of great lessons."
A "mid-life crisis" at age 27 brought Stock to CPTC to prepare for a new professional venture. Stock earned a bachelor's degree from Western Washington University, followed by a Bachelor of Fine Arts with a concentration in drawing and painting in preparation for graduate school. But Stock found an opportunity to use her craft professionally right out college, etching and hand painting wine bottle labels for a local company for five years.
Stock always had an interest in architecture but was deterred by the math component of the field. Yet she wasn't satisfied in her professional career and made the decision to return to school at the age of 28.
"I looked for a program that was close to home, affordable, and the only program that fit all my criteria was the one at Clover Park," Stock said. "I started last fall and it's been a very interesting experience for me because it's been so different from the type of educational environment I spent so many years at."
At CPTC Stock was surprised how often she was encouraged to become involved with the campus community. She never sought to be involved with ASG, but one opportunity led to another and soon she was plugged in and enjoying her supporting role.
"I'm the bridge between the people with the ideas and the people who can make those things happen," Stock said. "I'm the one who is there to support and really push for all these great things."
Stock was warned before she began her position with ASG that it could change her outlook on career aspirations. She enjoys the level of involvement she's experiencing and is now trying to figure out how she can apply that to her next career.
The ASG is made up entirely of students committed to serving other students. For more information visit, http://www.cptc.edu/asg.