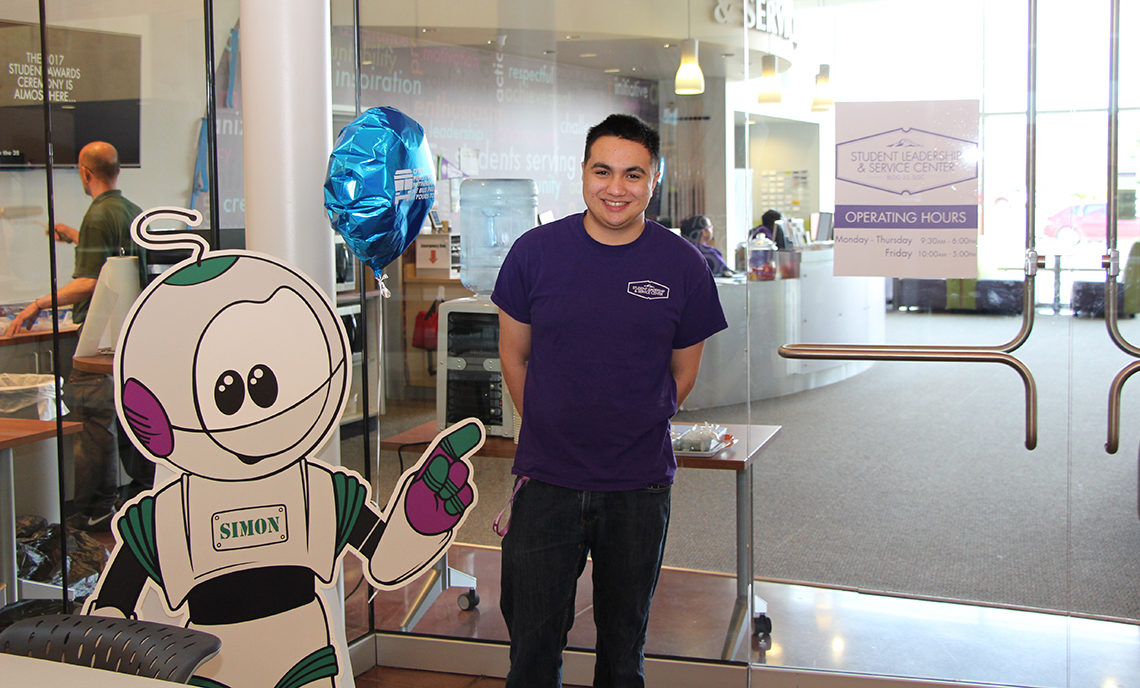 Graphic Design Student Earns Prestigious Fellowship
May 3, 2017
As graduation approaches, it's inevitable for finishing students to start hearing questions about what they plan to do next. For graphic design student Ben Donan, that plan includes moving to Germany for one year to become the first Clover Park Technical College student to participate in a prestigious fellowship program.
Donan was selected as one of 75 American students who will participate in the 2017-18 Congress-Bundestag Youth Exchange for Young Professionals (CBYX). The program has been around since 1983, with students participating in a year-long US Department of State-funded fellowship for study and work in Germany.
"It was a very difficult process and took a lot of introspection and work," Donan said of the application. "I was so ecstatic when I found out I got in. I came rushing into the office at the Student Leadership and Service Center to tell my bosses."
Donan has spent much of his two years at CPTC working with Associated Student Government, first as a Peer Ambassador and more recently as a graphic designer. He discovered his passion for graphic design in high school, and he has used his education and skills to observe and contribute to the world around him.
"When I first took a graphic design class in high school, it introduced me to this brand new world," Donan said. "It's something that's hidden in plain sight, almost – because you don't really notice it all around you until you think about it. That really got me interested in pursuing graphic design."
Now as he looks toward Germany, those observation skills will be put to new use: reminiscing. Donan spent several years of his childhood in Germany growing up in a military family. This fellowship will provide a homecoming of sorts.
"To me it's like my home country because it's the first place I have memories from," Donan said. "It was a huge part of my childhood, and it always stuck with me. It brings back a lot of memories, and I'm excited to go back and revisit those memories and see what comes back to me. It's definitely going to be a life-changing experience for me."
The fellowship will include a two-month intensive German language course, four months spent at a German college or trade school and a five-month internship in graphic design. He'll have an opportunity to immerse himself in the culture, learn about Germany and share his own experiences as well.
"In a way, it's like a service project because you go there to help learn and teach and gain insight about another culture," Donan said.
According to a CBYX press release, the program was initiated by members of the United States Congress and the German Parliament (Bundestag). It is financially supported by the Bureau of Educational and Cultural Affairs of the US Department of State under the authority of the Fulbright-Hays Act and by the German Bundestag. It began in commemoration of the 300th anniversary of the arrival of the first German settlers in America.
While CPTC has previously hosted German students through CBYX, Donan will be the first CPTC student to travel to Germany with the program. The CPTC International Education Program office promoted CBYX at the Diversity Fair, and the opportunity attracted Donan.
As Donan prepares to graduate in June and head to Germany in July, he admits he'll miss CPTC. His involvement with ASG especially has built numerous relationships, and also likely played a key role in earning him a spot in this fellowship.
"I think it really helped me get the experience that allowed me to have this opportunity," Donan said. "I really love working here; I love my coworkers and bosses. I've been with them for so long, and it's been such a huge part of my life. I don't know where I'd be without them."
For more information about CBYX, click here.
Share This Story