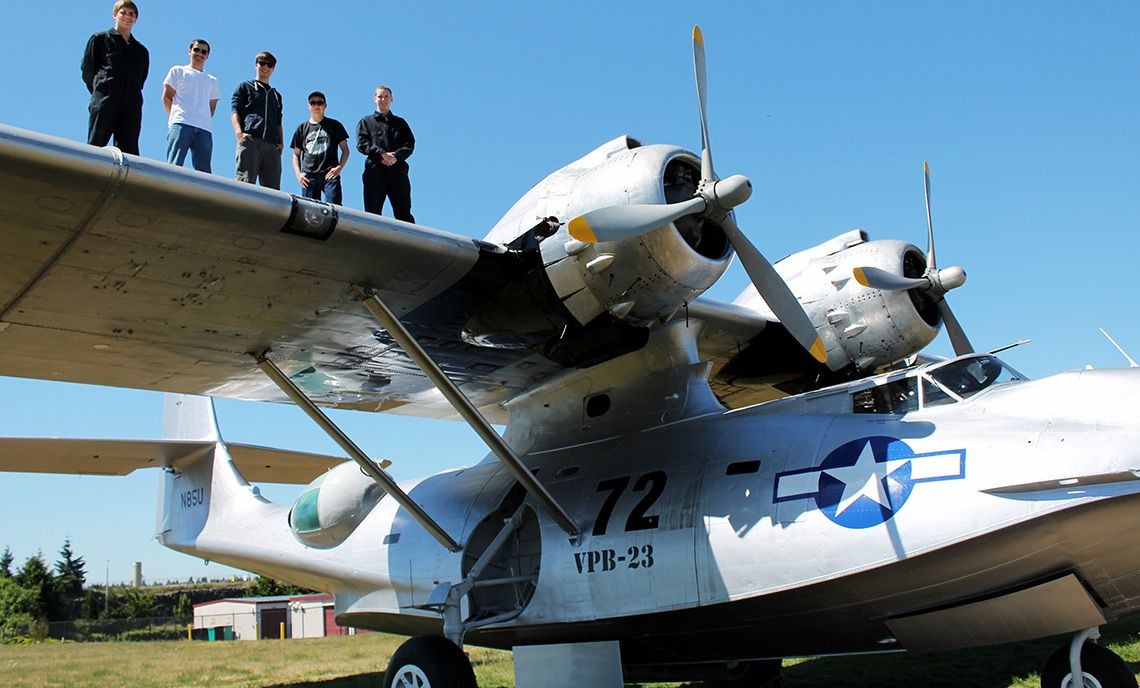 Hands-on History Lesson
June 9, 2015
The Aviation Maintenance Technician Program at Clover Park Technical College includes hands-on training with several aircraft housed at the South Hill Campus.
But earlier this spring, a group of then second- and fourth-quarter students had the rare opportunity to learn on the job with a historic project outside the classroom. When a Consolidated PBY 6A Catalina, an authentic World War II amphibious airplane, landed across the runway at Pierce County Airport in February, a group of curious students walked over to get a closer look. Little did they know they would have the opportunity to spend the next few months restoring the airplane.
"I want to do restoration and work on WWII airplanes," Josh Kaiser said. "I had to at least get close to it, if not actually work on it."
Kaiser and Aviation Maintenance students David Major, Kody Kruml, Dave Caylor and Christian Vannoy were the lucky few asked to help work on the airplane by the leaders of the restoration project, John Schell and his son Kevin.
John Schell is a former CPTC instructor who taught aircraft and engine mechanics from 1958-1962 before his career as a commercial pilot. Schell has hired several CPTC students on past restoration projects, but this one was special. The select group had the task of restoring the plane to its WWII-era glory for an upcoming Nicolas Cage movie, USS Indianapolis: Men of Courage.
Every day the students were in class until 1 p.m., and then spent the rest of the day with the plane. They were there on Saturdays, and sometimes on their days off.
"I like the instant trust they gave us," Caylor said.
The students saw a different side of aviation maintenance that isn't taught in the classroom and were surrounded by others who shared a similar enthusiasm for the job at hand.
"It was fun to be around other people who were psyched about aviation," Kruml said. "It's not just people who are there to be there, they're there because they want to be."
Major's dedication and demonstrated work ethic didn't go unnoticed. AVSTAR Aircraft of Washington approached Schell and told him they wanted to employ Major after the restoration project.
Vannoy turned 18 the day after he started working on the airplane. The Running Start student from Emerald Ridge High School can now say he contributed to restoring a WWII airplane for a movie before he earned his high school diploma.
Midway through the project, Vannoy and Caylor had to leave for other assignments, but received restoration updates from the other three who stuck with it until the end, earning their names painted on the tail as part of the restoration team.
Filming started this week, and the airplane takes off for Alabama on June 20.
Kaiser hopes the project wasn't a once-in-a-lifetime experience.
"This is exactly what I want to do forever," he said. "My first airplane job was doing exactly what I wanted to do."
For more information about the Aviation Maintenance Technician Program, visit http://www.cptc.edu/programs/aviation.
Share This Story