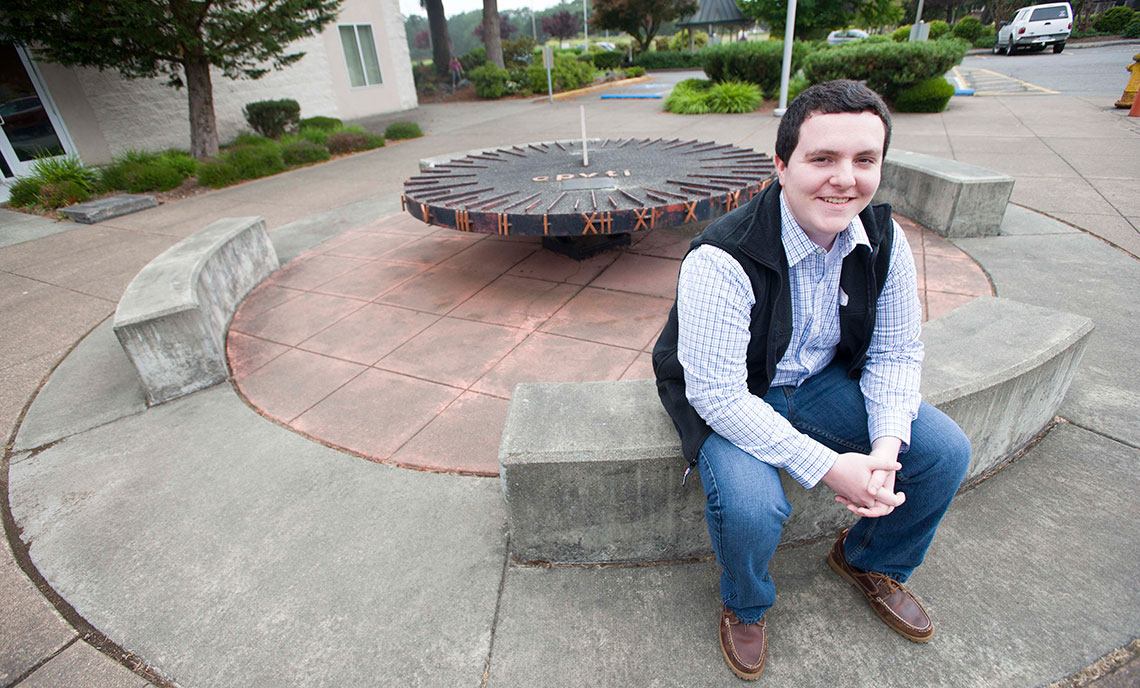 From High School to Politics: CPTC Student Finds His Passion
July 22, 2016
One of the biggest stereotypes of every election cycle is that young people don't vote or get involved in politics. That doesn't ring true for Northwest Career and Technical High School graduate and Clover Park Technical College student Dakota Myers.
At only 20 years old, Myers not only volunteers on local and national campaigns but was also recently featured on CNN. He spoke for more than three minutes at a local caucus event in an interview with political correspondent Jason Carroll.
"The good thing about a caucus is it's an opportunity for debate and to actually change people's minds on the candidate they vote for," Myers said. "I've followed Jason Carroll, and it was a great experience to meet and talk to him. He had similar interests as me when he was younger."
Needless to say, Myers doesn't let his age stop him from keeping up on the current election cycle and happenings within his community. He encourages others to do the same.
"I think it's important to be involved because the world is moving so fast because of globalization," Myers said. "Sooner rather than later, people my age are going to have to pick up the torch — not just in politics but in their communities."
As a technical high school student, Myers attended high school at the same time as CPTC, earning almost two years of free college before graduating.
"I would tell others in high school not to be afraid to take college classes in high school, and go to local colleges before transferring to a university," Myer said. "It not only saves money, but schools like Clover Park are really ingrained in the community."
It's also a great opportunity to start finding mentors early on, he said. For Myers, one of the mentors he gained at CPTC played an immense role in shaping his future.
"Since I was little, I was interested in history," Myers said. "But Dr. Venditti got me involved and going to lectures and activities, which gave me an opportunity to get involved. I ended up getting into politics really fast."
CPTC communications professor Phil Venditti said he tries to encourage every student and bring out their best. He didn't hesitate to compliment Myers.
"He's smart and knows how to put his thoughts together," Venditti said. "I've seen him become much more effective with his delivery since meeting him."
Venditti said Myers sent him a text telling him about the broadcast at the caucus.
"I watched it, and he seemed more engaged than all the other people there — he was specific and persuasive," Venditti said. "He's going places; we'll be reading about him someday."
After realizing how much he enjoyed politics, Myers joined Bernie Sanders' and John Kasich's campaigns, had people working under him and even traveled to California and Nevada for events.
"Learning about community outreach was really great," Myers said. "I was able to explore my community through Clover Park Technical College."
Myers originally planned to go into nursing because he wanted a stable job. However CPTC staff, like Venditti, helped him discover his true passion: political science and history.
"I'm a 'big-idea person.' That's why at the end of the day I wanted to go for what I really wanted — political science," Myers said. "It was a big process to know which route I wanted to take, and to have a good support system, but at Clover Park you are surrounded by people who can guide you."
He said the key was getting a mentor.
"I didn't realize how important a mentor was until I met Dr. Venditti," Myers said. "Without him, I wouldn't be chasing after what I really want."
Currently, Myers is transferring to The Catholic University of America in Washington, D.C., to study political science. He eventually wants to work in analytics.
"I'm nervous to go to D.C. in the fall, but talking to Jason Carroll I was like, 'Wow!' I'm really passionate about this and excited," Myers said. "Although going to D.C. has been my dream, I have already gained so many experiences and opportunities right here in Lakewood."
Myers' number one tip for other students is to connect with people like them.
"I can't emphasize enough finding a mentor and finding people to connect with who want to do the same things as you," Myers said. "Especially at Clover Park, all the instructors have experience in their fields. They know how to roll up their sleeves and get things done."