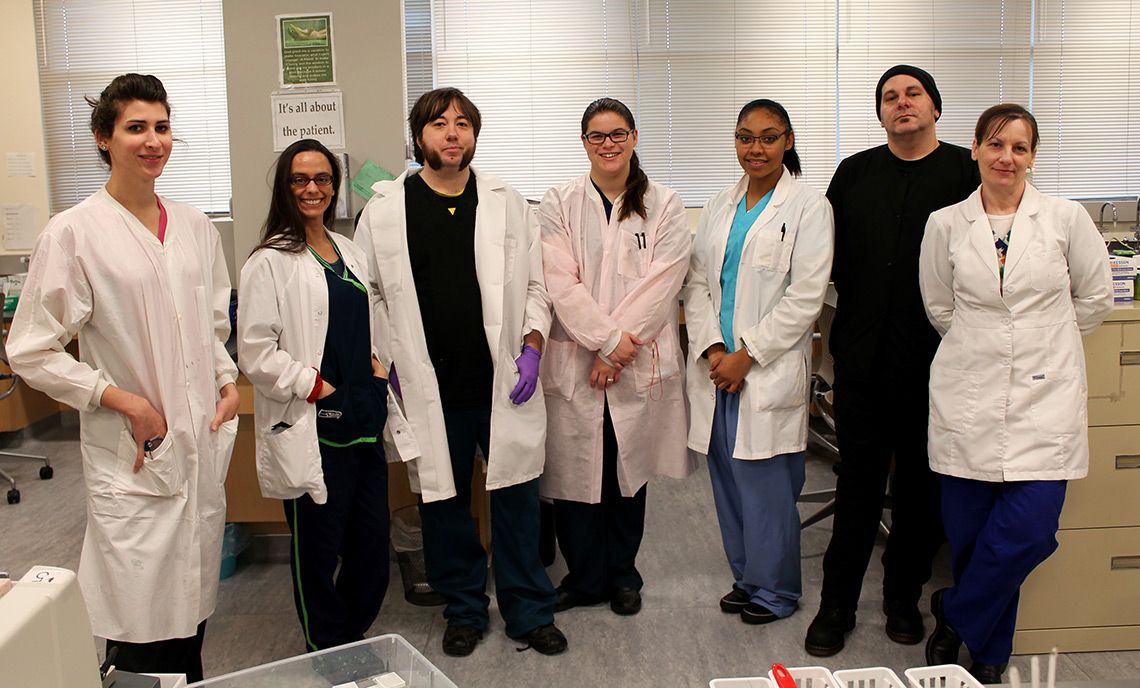 Histology Students Volunteer at Madigan
February 25, 2015
When the Department of Pathology at Madigan Army Medical Center on Joint Base Lewis-McChord had a need for histology technicians, students from Clover Park Technical College stepped up to help.
Madigan is a summer internship site for CPTC's Medical Histology Technician Program. With a current need for techs in the pathology lab, Dr. Zachary Hoffer, director of autopsy services at Madigan, contacted CPTC. The program was unable to provide the clinic with student interns without disrupting their studies, so instructor Bekki Haggerty asked her second-quarter class for volunteers.
"I presented it to the class thinking there would be one or two," Haggerty said. "Eight of my students stepped up and said 'We'll do it.'"
Students Crystal Powell and Lori Harris were on the first rotation that started Feb. 9. Hoffer was so impressed with the students' skills he asked for them to stay on for the eight-week commitment to train the other six students when they arrive for their two-week rotations.
The students are gaining valuable experience, surpassing their three-hour volunteer requirement and providing much-needed assistance to Madigan.
"This is an opportunity not to be passed up because of the confidence we will get and the extra hands-on (training) in a real-life situation," Harris said.
Harris is former military and is the spouse of a retired soldier. She enrolled in CPTC's Medical Histology Technician Program after a career as a dental lab technician.
At Madigan the student volunteers work in a lab where they cut autopsy tissue for microscopic examination using a microtome. They've also done some surgery cases.
"Going into it was kind of nerve racking," Powell said. "Once you start cutting, it becomes familiar."
The students volunteer at Madigan Monday-Friday for about three hours a day. Powell and Harris are preparing the next two volunteers for their shift, encouraging them to work on their speed using the microtome.
Powell enrolled in CPTC's program because of the diversity of work in histology. Her time spent at Madigan has only confirmed her decision.
"It's been such a great experience," she said. "I can't wait to get back to do better the next day."
For more information about the Medical Histology Technician Program, visit http://www.cptc.edu/programs/histology.
Share This Story