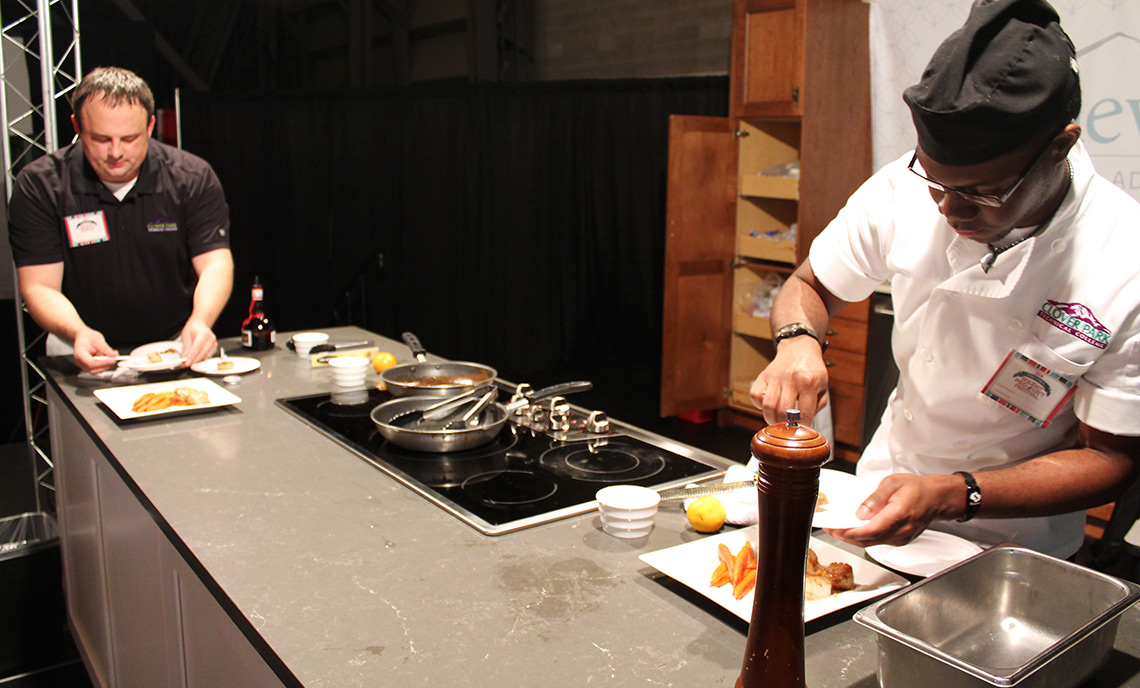 Holiday Cooking with CPTC's Culinary Arts
October 23, 2014
It's nearly time to start planning the menu for the holidays, and Clover Park Technical College Culinary Arts Instructor Chef William Jolly has a dish for you.
Chef Jolly and Culinary Arts student Kelson Williams presented a 15-minute "Cooking for the Holidays" demo at the Tacoma Holiday Food and Gift Festival at the Tacoma Dome Oct. 22.
The duo demonstrated how to make vanilla bean scallops with an orange butter sauce. Chef Jolly has participated in several of the demos at the annual event, but it was Williams' first time cooking in front of anyone but his peers and family.
"It wasn't nerve-wracking or anything. I was just really excited," Williams said. "It would be great if I could do it again."
Williams, an international student from St. Vincent and the Grenadines, is in his fourth quarter and is a top performer in the Culinary Arts Program. He is also a Peer Ambassador at the college.
"He did awesome, as expected," Chef Jolly said. "He's a professional."
Williams followed Chef Jolly's instructions on how to craft the 15-minute dish, while audience members and the event emcee asked questions about the recipe and process.
The event was an excellent opportunity to showcase the Culinary Arts Program and spread the word about the college's student-run restaurant, the Rainier Room.
"There's some people out there that don't know about us," Chef Jolly said. "Doing this show really promotes the college and the things we do."
CPTC's Culinary Arts Program emphasizes fine-dining food production skills, professional service training and food management techniques. For more information, visit www.cptc.edu/programs/culinary.
Chef Jolly's Vanilla Bean Scallops with Orange Butter Sauce
Ingredients:
10 weathervane scallops
Vanilla bean powder to taste
Grand Marnier to taste
Sea salt to taste
Pepper to taste
2 tblsp unsalted butter
3 tblsp heavy cream
1 tblsp chilled butter
1 orange
Directions:
Thaw scallops and pat dry.
Heat pan on medium. Melt butter in pan.
While butter melts, season the dry scallops with salt, pepper and vanilla bean powder on both sides.
Add scallops to melted butter. Cook to desired doneness (don't overcook) and place on plate.
Return pan back to heat and deglaze pan with Grand Marnier. Add heavy cream and reduce by half. Turn off burner and add butter. Swirl pan to slowly melt butter.
Spoon sauce on serving plates. Plate scallops on top of sauce.
Garnish with fresh orange zest.
Share This Story