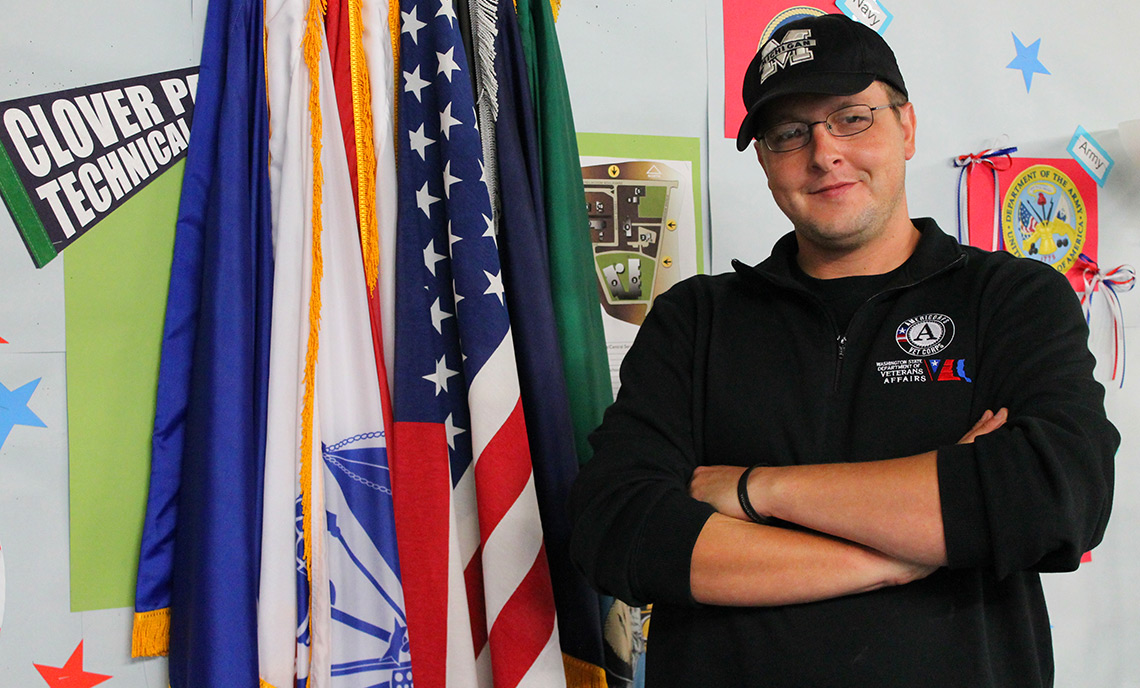 Introducing CPTC Veteran Navigator Shawn Durnen
September 15, 2014
Shawn Durnen lives by the motto "be the difference."
The former soldier and student at Clover Park Technical College took over as the college's Veteran Navigator earlier this month, and is already busy at work on his new mission to serve student veterans.
"All veterans have a different story," Durnen said. "It's a matter of giving them the resources, giving them the knowledge and giving them the push."
Durnen served in the Army from 2006 to 2010 and was stationed at Joint Base Lewis-McChord. The specialist served with the 555th Engineer Brigade, the 14th Engineer Battalion and the 610th Engineer Support Company. Durnen deployed to Iraq for 15 months, where he was a part of a joint task force.
His knowledge of the military, JBLM and serving downrange all helped in his transition to the civilian sector and in his new role in assisting other transitioning service members.
CPTC's Veteran Resource Center helps veterans navigate their benefits and assists in their own transitions to civilian life.
"It's see a need, fill a need," Durnen said.
While a student in the Environmental Sciences and Technology Program, Durnen volunteered at student veteran and community outreach events. Former Veteran Navigator Jonathan Wager was also Durnen's mentor.
Durnen is from a long line of military service. He enlisted in the Army out of high school in Michigan, where he said it shaped him into a better communicator and family man.
"It built me up and taught me there's more out there than just me," he said.
When Durnen transitioned out in 2010, his focus was on his children. He said he knew two things upon separation from the service: he wanted to make a difference and he always had to put his children first. Durnen entered the workforce and then pursued his education at CPTC.
"I would like to say there's no such thing as a smooth transition for service members," Durnen said. "Clover Park is very supportive of its military, along with a lot of staff being military themselves. Every service man and woman goes through a different transition stage. For me it was move forward, continue the mission and do what you got to do."
The Veterans Resource Center is located in Building 22. For more information about the VRC, visit http://www.cptc.edu/veterans.