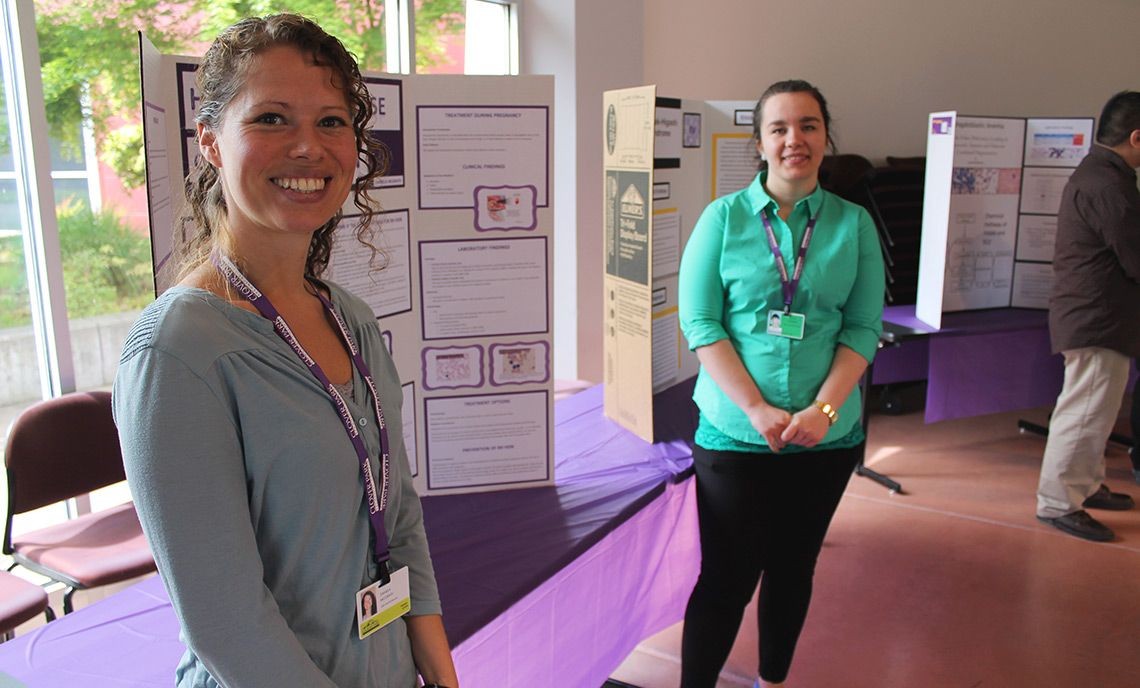 Medical Lab Tech Students Meet and Greet
May 7, 2015
Dana Guinn's Medical Laboratory Technician students are just a few weeks into their first quarter at Clover Park Technical College, but they had an early opportunity to connect with potential clinical site representatives at the program's annual meet and greet event on May 6 in the Rotunda.
"It's a lot better meeting them now instead of waiting until October wondering what they're going to be like," said Evelyn Lindgren.
During the one-year program, students are placed in clinical sites during Fall Quarter. The Spring Quarter event allowed the 14 students to present their latest research projects to an audience of industry professionals.
Daniela McGrath presented her assigned topic of hemolytic disease of the newborn. McGrath is a certified medical lab technician in her home country of Germany, where she worked in the industry for eight years. She enrolled in CPTC's program to become certified in the U.S., where she has lived the last three years.
"We get to see what clinical sites are out there and available," McGrath said.
The program also acquired additional clinical sites as a result of the event. Clinical representatives had the opportunity to meet the entire class instead of only meeting the one student assigned to their clinic in the fall.
"They get to see if a student would be a good fit for their organization," Guinn said.
CPTC's Culinary Arts students provided attendees with omelets for the four-hour breakfast event.
For more information about the Medical Lab Technician Program, visit www.cptc.edu/programs/lab-tech.
Share This Story