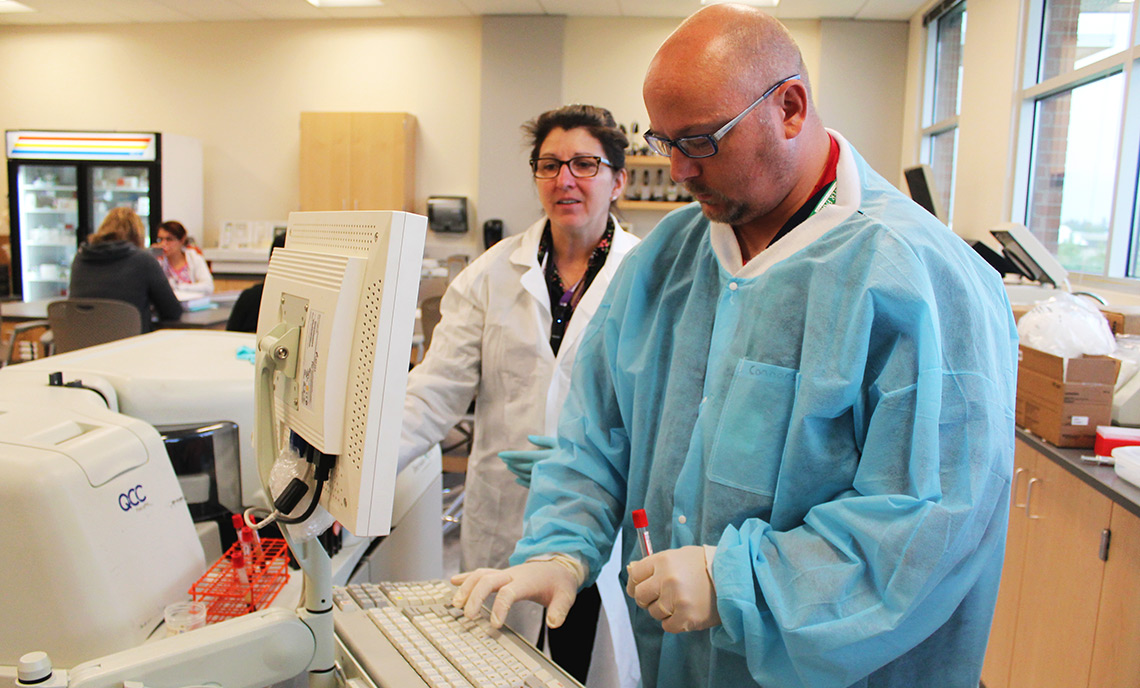 Medical Lab Technician Students Learn Hands On
October 1, 2014
When Daniel Connors was laid off from his job as a warehouse manager, he found the next available position.
"When you have four kids the only thing you're concentrating on is how quickly can I get back to a job so I'm making money for my family?" said Daniel Connors.
When Connors was laid off a second time, he knew he had to equip himself for an in-demand career. Just hours after losing his job, Connors researched schools and enrolled in Clover Park Technical College's Medical Lab Technician Program. The one-year program fit in Connor's timeline.
"The goal is to get out there as fast as possible and make money for my family," he said.
Connors and his fellow Medical Lab Technician students are preparing for their externships this month, for real world hands-on training and experience at clinical sites.
Amber Gipson enrolled in CPTC's program with experience as a veterinary assistant. Gipson attended community college in Oregon and was hired on at her externship, but a few months in she realized it wasn't what she wanted to do.
"I liked going to work the most when it was my scheduled day to do labs," Gipson said. "I didn't know medical lab technicians existed."
An internet search eventually led Gipson to CPTC, where she's enjoys the daily lab work.
Trevor Bickford also didn't know medical lab technician positions were available.
"I thought the doctor did everything," he said.
Bickford was in high school in California when his mother passed away and he lost motivation to go to school. He relocated to Washington to live with his aunt and uncle, where he got back on track to graduate.
With science his number-one subject, Bickford enrolled in the MLT Program.
"I like microscopes and I like looking at blood," Bickford said. "I found Clover Park and it all just fell right into place."
The Medical Laboratory Technician Program at CPTC provides students with realistic training through clinical rotations with affiliated clinical laboratories. For more information, visit www.cptc.edu/programs/lab-tech.
Share This Story