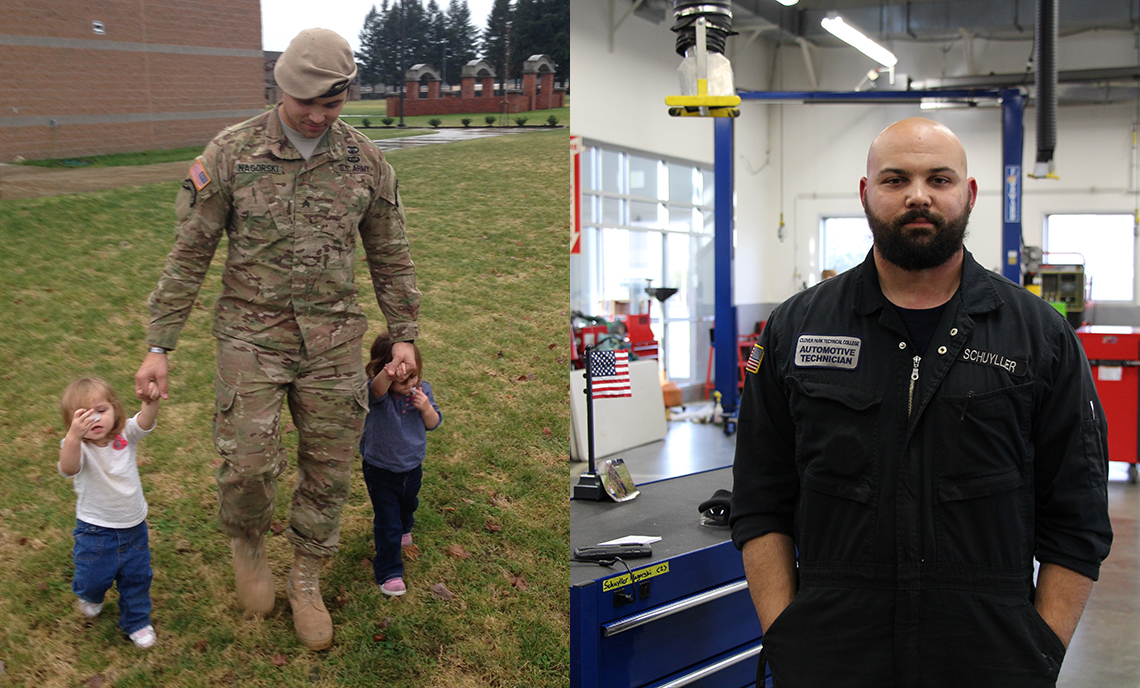 From Military Medic to Automotive Mechanic
February 3, 2017
The past two years have provided quite the occupational and lifestyle shift for Schuyller Nagorski, who will finish the Clover Park Technical College Automotive Technician program at the conclusion of winter quarter.
Nagorski spent six years in the Army and served as a paramedic with the Fort Lewis-based Second Ranger Battalion until March 2015. That stint included overseas deployments that separated him from his wife and two daughters, and it began to take a toll.
"I was noticing I was getting more emotionally withdrawn from my wife and kids, which I think was kind of a natural response to the work I was doing," Nagorski said.
At the conclusion of his term, he faced the question of what comes next. He had opportunities to continue working overseas doing paramedic work at some impressive financial terms. But he decided it was not the right fit.
"On an intangible level I didn't want that, and while the money was good, it's a compensatory object where they're compensating you for something you're giving up," Nagorski said. "I didn't want to go back to that situation, separated from my family. While financially lucrative, it wasn't what I wanted to do."
Instead, he returned to his native Tacoma – his family moved here from Arizona when he was nine and he attended Franklin Pierce High School – and considered his options.
"I started thinking, 'Well, what do I want to do?' I don't want to work in a cubicle; I learn best with my hands but I still like helping people. I like cars, so I figured I'd do something with that," Nagorski said. "It's an honorable trade, an honorable skill."
He visited Bates Technical College, and they told him about the hybrid automotive program here at CPTC. As he wraps up his two years on campus – already with a job lined up to begin at the conclusion of the quarter – he reflected on the experience.
"I have such a level of appreciation for what they've done for me here at CPTC," Nagorski said. "Here we get the advice of guys who've been in the business for a long time, we get discounts on tools, scholarship availability and partnership and networking opportunities. They've taken care of my education, my kids; there's an overwhelming amount of support for students available here if they want it."
Nagorski pointed to various student resources at CPTC as proving essential to his experience. The Basic Food Employment and Training (BFET) program assisted with helping him place his two daughters in the Hayes Child Development Center and also helped him secure resources for Automotive Service Excellence Certification. He received a scholarship through the CPTC Foundation, which also helped him pursue an external scholarship through the Grainger Tools for Tomorrow Program. Finally, Nagorski had the highest praise for his instructors and the CPTC leadership.
"One thing the instructors preach to us is self-motivation," Nagorski said. "They don't hold anyone's hand. They teach us to be responsible and do three things: pass the federal drug testing, show up on time and be self-motivated to do a good job. If you do those three things, they help take you the rest of the way."
Nagorski spoke about the college's willingness to keep a vital hybrid summer course on the schedule despite low enrollment as potentially making the difference in allowing him to earn his degree. And even when that course was in doubt, instructor Wayne Bridges helped connect him with an internship with the Auto Career Development Center in Worcester, Massachusetts. In the end, he had the opportunity to do both the course and the internship, "confirming what I learned and getting real experience in a real shop."
"They allowed me to bring my family to Massachusetts and stay for free while doing this internship," Nagorski said. "That gave me the confidence that I can still maintain and get my degree and have a frame of reference about hybrids."
Nagorski will conclude his coursework when winter quarter wraps up next month, earning his associate degree as a Hybrid Alternative Fuel Vehicle Technician. Just a couple days later, he'll begin a new job at West Hills Ford Mazda in Bremerton. He found out about that opportunity through the instructors at CPTC, who invited representatives to campus to speak about job openings.
It's a long way from where he was two years ago. In his toolbox, Nagorski keeps a photo from his last day in his Unit. He says it's his favorite picture from his service: a picture of him walking with his two daughters.
"It reminds me of why I walked away from such a successful career and deep brotherhood," Nagorski said. "I had an amazing time with my brothers, but I needed to put that effort towards these little girls."
Share This Story