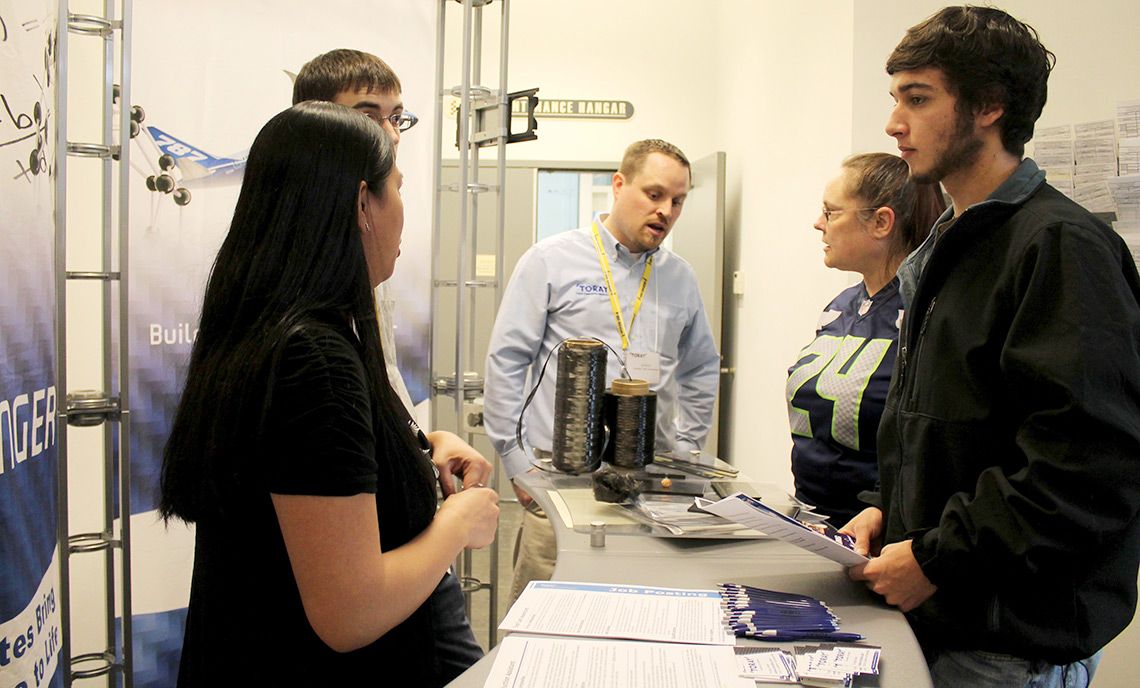 Preparing for the Aerospace Industry
February 2, 2015
Charles Devine believes composites manufacturing is the way of the future.
"They're making planes out of it now," Devine said. "It's going to be a good future."
To prepare, Devine is enrolled in Clover Park Technical College's Advanced Composites Manufacturing Program. Devine and more than 100 other CPTC students and graduates had the chance to network with employers at the college's inaugural Winter Aerospace Career Fair Jan. 30 at the South Hill Campus and Aviation Center.
The event featured 13 companies in the aerospace industry. Fair attendees had the opportunity to meet with recruiters and employers, including Aerotek, which hires for 50 different companies as a recruiting and staffing firm.
"It's about networking," Aerotek Account Recruiting Manager Alia Goss said. "We like to get out and meet as many people as we can so when we have open positions we know people already."
Advanced Composites Manufacturing student Colin Ross applied for a position with The Boeing Company over winter break. He's been emailing with the company, but the Career Fair created the chance for Ross to meet Boeing representatives in person.
"It's a great opportunity for students to give out their resume and get face time," he said.
Ross is a former mechanical engineer whose uncle, Ludwig Heimrath, started the composites program at CPTC. Ross commutes from West Seattle to CPTC's South Hill Campus for the program.
CPTC Student Navigator Les Sessoms is a former recruiter and knows recruiting calendars fill up quickly. The CPTC event staff arranged to host the inaugural event in January and also provided pre-event workshops to equip about 55 attendees with successful networking tips.
Companies present included AIM Aerospace, Alaska Airlines/Horizon Airlines, Breedt Production Tooling & Design, The Boeing Company, Boeing/IAM Joint Apprentice Programs, Mistras Services, ThyssenKrupp Aerospace, Toray Composites, Aerospace Joint Apprenticeship Committee, PAE/DS2, Power Specialists Associates, Inc., Aerotek, and Orion Aerospace.
Share This Story