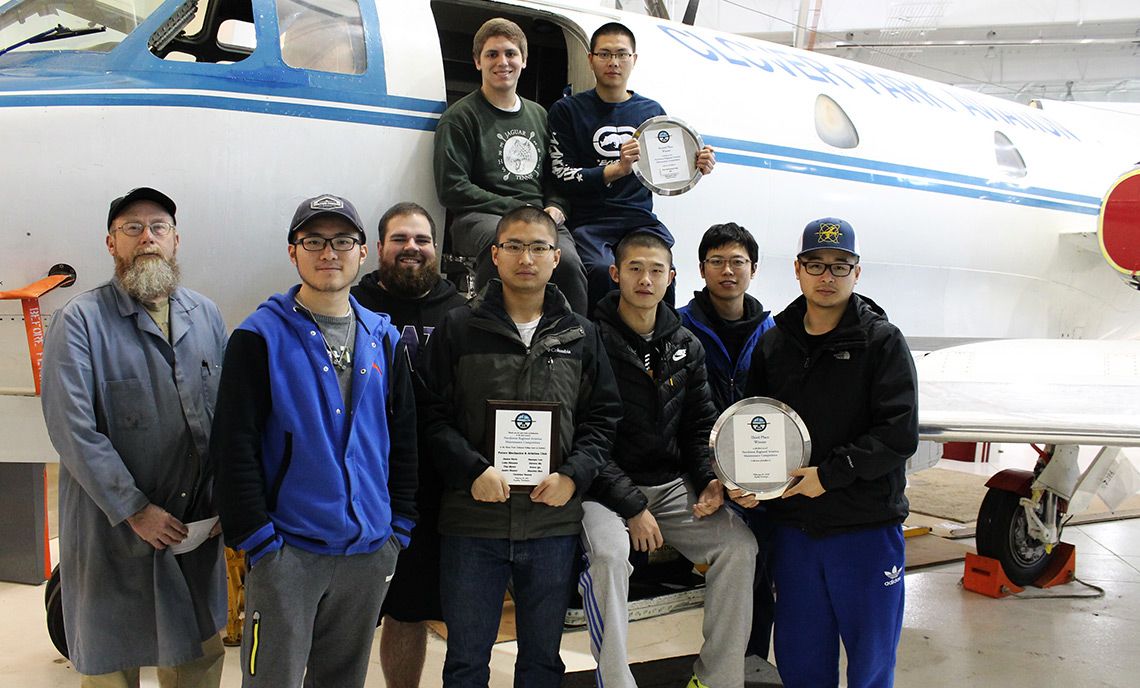 Putting Skills to the Test
February 24, 2016
The instruction learned over the last six to eight quarters was put to the test for eight Aviation Maintenance Technician students at Clover Park Technical College.
Two four-person teams competed in the first Northwest Regional Aviation Maintenance Competition as part of the 33rd Annual Northwest Aviation Conference and Trade Show in Puyallup on Feb. 20. Out of six teams from five colleges, CPTC took home second and third place behind Spokane Community College.
"They had to dig back on stuff they've learned along the way," said Phil Vick, Aviation Maintenance Technician instructor. "It makes you proud that they're getting the right stuff. They represented Clover Park well."
The eight students represented the college's Future Mechanics and Aviation Club. Team One took second place and included Haonan Lou, Zhiwen Ma, Shaobin Han and Bolun Qu, eighth-quarter international students from the Civil Aviation Flight University of China.
Team Two took third place despite having to add two substitutes to the team at the last minute. The team included Tim Myers, Christian Vannoy and international students XuanHao Zhang and Tian Qin.
"Usually when we do projects at school we do it individually, or with two or three guys," said Lou. "And we have a lot of time so if we do something wrong we can ask our instructor for help to figure it out. But during the competition we have to do it as fast as we can and make sure it's correct."
The hands-on competition took place after the teams completed a written exam. Each team brought a task for the competition, and had 20 minutes to complete each task, which included a propeller install, electrical troubleshooting, a flexible hose repair and other maintenance projects.
"It looked like a pit crew," Vick said. "Everyone had their task and things were flying."
The two teams spent the previous two weeks preparing for the competition with classmate Andre Hunter, who helped to establish FMAC but was unable to compete due to a military commitment.
The teams received gift cards from the competition's sponsor that will go to the club, and a few plaques for the trophy case at the South Hill Campus and Aviation Center.
"It was a lot of fun for them," Vick said. "But they were very tired at the end of the day."
For more information about CPTC's Aviation Maintenance Technician Program, visit http://www.cptc.edu/programs/aviation