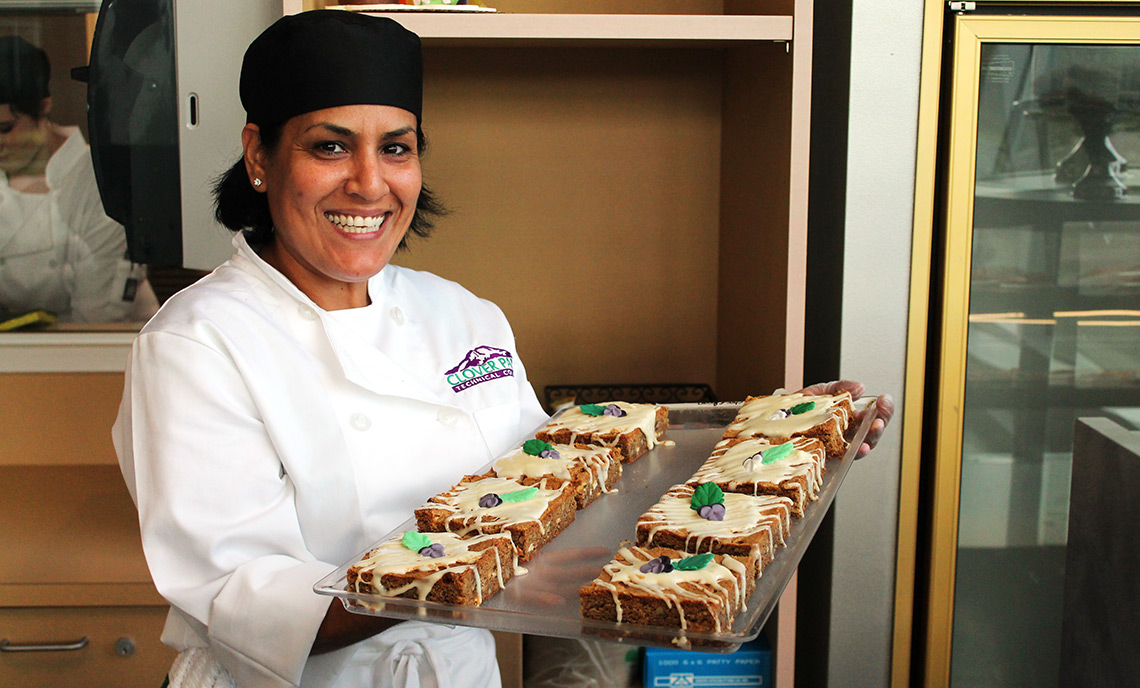 Recipes with Memories
October 27, 2014
When Maria Medina bakes she welcomes memories of her childhood in Los Angeles.
She remembers watching her mother cook and bake for her and her five brothers and sisters. Medina fondly remembers the carrot cake, and when she lists the ingredients she is sure to include "love."
As a high school student in home economics she remembers the joy she felt learning to make pies.
"I loved it so much," she said. "I just remember baking in class and wanting to stay there forever."
Medina didn't have the opportunity to pursue her passion for a career in baking as a young mother, but she didn't give up on her dream. Now as a Pastry Arts student at Clover Park Technical College, Medina wants her baked goods to evoke the pleasant memories she experiences.
"When you walk into a bakery it should remind you of your childhood," she said. "I want every adult who eats those desserts to remember the inner child in them."
Medina has been baking from the comfort of her home for the last seven years. What started out as baking for family and friends led to baking for friends of friends, and the word continues to spread. Medina wants to expand outside of her home kitchen and become a certified pastry chef.
Encouraged by the Washington Women's Employment and Education Program, the mother of four earned her GED after a 20-year absence from high school. She then became the first one in her family to go to college when she enrolled at CPTC for Fall Quarter.
Aside from baking for "Maria's Sweet Memories" from her home, Medina is also baking for CPTC's Bon Sucre bistro, which offers pastries made by the Pastry Arts students. She aspires to own her own bakery and to also empower other women.
"If you really want something, go for it," she said.
The Pastry Arts Program at CPTC provides the hands-on training needed for a career in pastry arts. The program offers an Associate in Applied Science-T degree as a well as a certificate program. For more information, visit www.cptc.edu/programs/pastry.