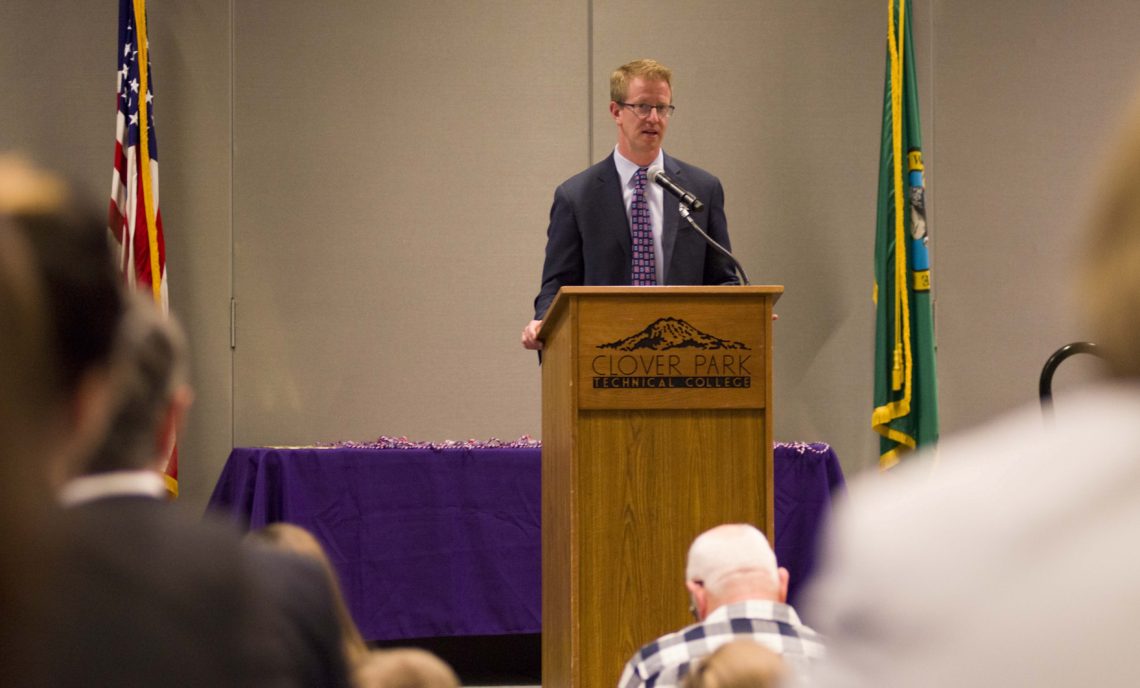 Rep. Kilmer: This is a school that's got your six
June 2, 2016
In an intimate room with a small group of veterans, family and friends there was a celebration in order at Clover Park Technical College, June 1, 2016. Veterans were receiving their honor cords during the 3rd Annual CPTC Veteran Honor Cord Ceremony.
"I assure you, I'm not the guest of honor tonight — you are," said Rep. Derek Kilmer, the ceremony guest of honor who spoke to graduating veterans. " You are an enormous strength for our community — and this is a school that's got your six."
The ceremony included hors d'oeuvres; posting of the colors by soldiers from a Joint Base Lewis-McChord Honor Guard; several speeches and recognition of students as they walked on stage to receive their red, white and blue honor cords representing their military service — which they can wear on graduation day, June 18.
"This ceremony represents the successful transition from the military into education, and from education onto the next step," said Shawn Durnen, CPTC veteran navigator and former soldier and CPTC student. "It's that stepping stone back into the civilian sector."
Not only is it a stepping-stone for veterans who already left military service, but those still serving.
"I am already an LPN, but felt something was missing, and I heard they have a very good Certified Nursing Assistant program here," said Melanie Carlos, a member of the Army Reserve and graduating CPTC student. "The teachers are very, very professional and care for the welfare of their students."
Other veterans in attendance agreed in regards to the dedication of CPTC staff in helping them transition to civilian life.
"They helped me in a lot of ways, Shawn in particular showed me so many benefits I didn't even know I qualified for," said Connie Reyes, a graduating CPTC student in the Health Unit Coordinator program and a former soldier who served in the Army for 16 years.
Carlos highlighted how her professors made it easy for her to serve and attend school.
"They are very vet friendly here," Carlos said. "At one point, I had to leave for one week of military training and my professors let me move my clinicals around so it was as if I didn't have any time off. Even now that I'm done with the program, they're still there for me."
It's important for CPTC to be vet-friendly because Lakewood has one of the largest military populations in Washington, Durnen said.
"It's so significant to see these graduates because we have so many transitioning from Joint Base Lewis-McChord to higher education," Durnen said. "We want to give them the motivation to push to get their next foot forward."
And it was encouraging for those still at JBLM to see as well.
"It's great to see these veterans still achieving after the military, and it's great to support them," said Pfc. Dakota Mallette, a member of the honor guard from JBLM at the ceremony.
Not only did Carlos say she was excited about the ceremony, but about how this degree is really benefitting her on a personal level.
"I appreciate going into this field of study because it helps me learn what it takes to be a full-time caregiver for my husband who has cancer," Carlos said. "I can not stress any further how much this program helped us prepare."
And the resilience of Carlos and all veterans at CPTC did not go unnoticed.
"You are a group of very resilient people, you are much more than what is often spoken about in the media — homelessness, suicide and post traumatic stress disorder," said Jason Alves, program manager of the Washington Veterans Conservation Corps/Vet Corps.
This notion was reiterated in every speech at the ceremony.
"There is no one more prepared than you — you're leaders, planners and team planners," said Randy Holt, CPTC Student Veterans' Association president. "There are days when you feel like no one understands you … it wasn't easy, but you made it."