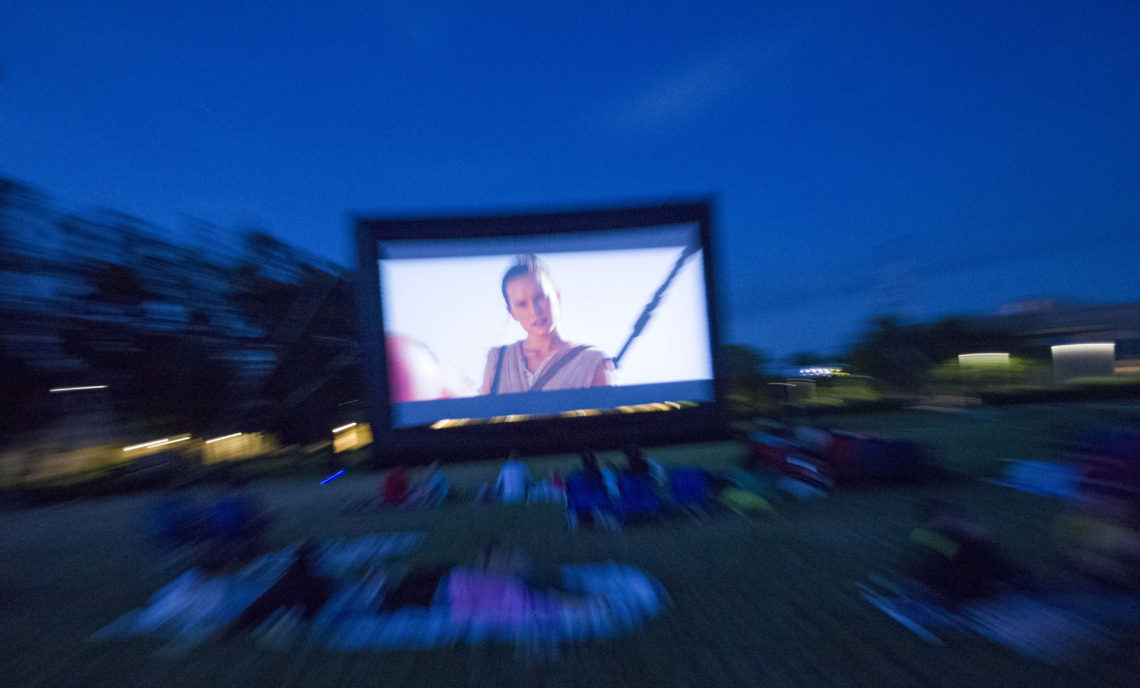 Student Involvement: CPTC Awakens the Force
June 6, 2016
The force was strong at Clover Park Technical College as students, friends and family enjoyed the newest Star Wars movie "The Force Awakens" during Outdoor Movie Night, June 4, 2016.
The free event was hosted outdoors and allowed students to bring blankets, chairs, pillows, and anything to make them and their guests comfortable while watching the new release on a theater-sized inflatable screen.
"Being that the movie was just released, we knew there would be a lot of people that hadn't seen it, so we wanted a night out without the expense," said Emily Gaugler, CPTC friends and family programmer on the Campus Activities Board.
Not only did attendees get a free movie, but free popcorn, soda, water and juice to complete their movie experience.
In the front row sat Salena Reid, her husband and three children all decked out in Star Wars T-shirts.
"I saw it advertised on campus and signed up five minutes later — we've been looking forward to this for weeks," said Reid, a CPTC Surgical Technology student.
The Reid's saw last year's Outdoor Movie Night showing of "Big Hero 6," but were especially excited to see the new Star Wars, which they saw three times in theaters.
"BB-8 is my best friend," said Oliver Reid, Salena's son who woke up from his nap asking when they were going to the movie.
The Reid's weren't the only family who had a blast.
"I heard about this event from my teacher, and my son loves Star Wars so we had to come," said Viktor Baz, a CPTC Surgical Technology student. "They usually have lots of different events here, and I like that but my kids especially like it."
Gaugler, who ran the event, said that they love to cater to families and friends, as well as students at CPTC.
"We love to do all-ages-friendly events, where students can bring family and friends and have a good time together," Gaugler said. "I have fun seeing people gathering, and students hanging out with other students and building community."
Gaugler shared her passion about getting involved, which she said all started when she left Washington Central University for CPTC.
"I used to feel shy when I was at Washington Central University, but have found a really good experience getting out of my comfort zone and getting involved here at Clover Park," Gaugler said.
And Gaugler said she wants other students to feel they can do the same.
"I feel really passionate about students knowing they can have this community, and feel like they are at home here on campus," Gaugler said. "It's so positive here, this school has really changed my life, I've learned how to network and really enjoy it — not just for the benefit of moving forward."
She said that by other students coming to events like Outdoor Movie Night or getting involved their whole world could be impacted.
"Everything, even my grades are better after getting invested in my school," Gaugler said. "Many people might not come out to something like this because they're shy, but by stepping out of your comfort zone one time it could really change things for you."
Upcoming activities students can join in include: "Car Smash" Friday, June 10, 10:30 a.m. – 12:30, outside Building 23, and free tickets for students and one guest to Northwest Trek Wildlife Park, Saturday, June 24, at 11 a.m.
Students can also come back for fall semester events like Scary Movie Night and Paint and Sip ­— dates to be determined.
To find out more information about upcoming events visit: cptc.edu/campusactivities