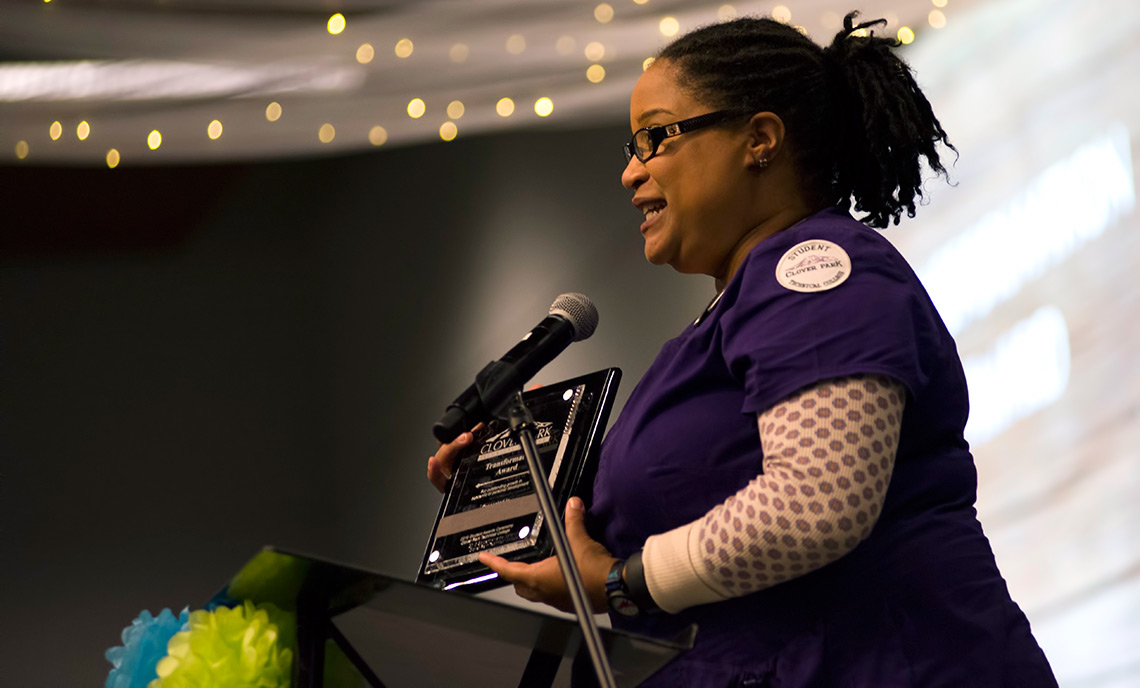 Students Honored Under Candlelight at Fourth Annual Awards Ceremony
June 10, 2016
Though a tight-knit, modest community, Clover Park Technical College didn't go small when honoring faculty and staff deemed outstanding during the fourth annual Student Awards Ceremony on Wednesday, June 8.
"I've had many come up to me and say this ceremony just gets better and better every year," said Cal Erwin-Svoboda, one of the event hosts and CPTC director of student involvement.
The ceremony, which took place at CPTC's McGavick Conference Center, was decorated into a dreamy scene — perfect for making winners and nominees feel honored.
Flameless candles lined the room in white paper bags. String lights hung from above. Tables were lined with succulent party favors and centerpieces while guests enjoyed a catered meal. And there was a professional photo booth.
Many were nominated for recognition by students, faculty and staff, but only a few were selected for the eight award categories.
Award categories included: Outstanding Student of the Year; June Stacey-Clemons Advocate of the Year; Student Organization of the Year; Faculty Member of the Year; Transformation Award; Academic Excellence; Service to the Community Award. 
Before each awardee was called, various speakers came on stage to explain the significance of the award itself and why the particular winner was selected.
Award winners, such as Myra Morales, CPTC Associated Student Government president, who was awarded the Vice President of Student Success Award in recognition of her countless volunteer and leadership efforts in and out of CPTC, seemed an obvious choice.
Francis Gachukia, who presented her the award, read her story recently featured in a New Tribune article.
Some days Morales wakes up at 12 a.m. and serves at a shelter called Freezing Nights before heading to nursing classes at CPTC, and then in the afternoon she serves as the ASG president, Gachukia said.
"Students don't have a lot of time, but leaders are people who make time to give back to others," said Ted Broussard, CPTC vice president of student success, about the award and Morales.
Morales shared credit with CPTC for her success.
"Clover Park has pushed me to grow in ways I never imagined. I never pictured being president — I'm really honored," Morales said.
The Presidential Award winner, Ashley Kark, received her black and gold plaque on stage with her daughter in hand.
"What Ashley has achieved just confirms that, through hard work, patience and positive work ethic, anything is possible, " said Joyce Loveday, CPTC interim president, who read what a faculty nominator said about Kark. "Despite the challenge of being a single mom, not once has she used that as an excuse for not being prepared in her classes — she is an inspiration."
Kark has maintained a 4.0 GPA throughout her college career and plans to transfer to a four-year university to finish her nursing degree.
The winner of the Transformation Award, Franchisca Washington, had many kind words shared about her, and she shared many herself.
"I like to think she is the class mother," said Jennie Serrano, who nominated Washington. "The first few weeks of class we learned Fran was the person to go to for a paper, pencil or a hug. I've never met a student who was more open to feedback."
With a bright smile, Washington accepted her award and dedicated it to her husband before giving the audience some advice.
"I want to let you guys know, whoever you are, you can do it … you can make it," Washington said.
The winner of the Outstanding Student Leader Award, Jennifer Petersen, couldn't hold back her tears. Not only had she received the award that day, but a job offer as well — surely making it a day to remember.
"I don't know what I can get out because I'm so emotional," Petersen said. "This school does so much for me and has made me a completely different person."
These were only a few of the 11 winners, each with a unique story and accomplishment.
Although all the nominees stood to be recognized whether they won or not, Loveday made sure they all knew their accomplishments were exceptional regardless.
"This is a wonderful event to attend to be surrounded by so many people involved in the community all achieving great things," Loveday said. "To each person here that has been nominated, I give you great praise."
Visit cptc.edu/student-awards to learn more about the awards.
Award Winners:
Outstanding Student Leader Award
In recognition of your hard work, devotion and commitment to students
Jennifer Petersen
June Stacey-Clemons 'Student Advocate of the Year' Award
In recognition of your hard work, devotion and commitment to students
Fran Matz
Outstanding Student Organization Award
In recognition of your hard work, devotion and commitment to students
Nursing Club
Faculty of the Year Award
In recognition of your hard work, devotion and commitment to students
Dwight McGee
Transformation Award
For outstanding growth in academic or personal development
Franchisca Washington
Service to the Community Award
In recognition of your hard work, devotion and commitment to community
Deronda Thomas
Academic Excellence Award: Health, Client and Business, Human Services
For excellence in academic performance, leadership and service
Markayla Sawyer
Academic Excellence Award: Core Academic Studies and Pre-College Education
For excellence in academic performance, leadership and service
Ken Albers
Presidential Award
For academic excellence, campus community engagement, and leadership
Ashley Kark
Vice President of Student Learning Award
For outstanding scholarship
Gerald Carver
Vice President of Student Success Award
For outstanding contributions to the college community and excellence in leadership and service
Myra Morales