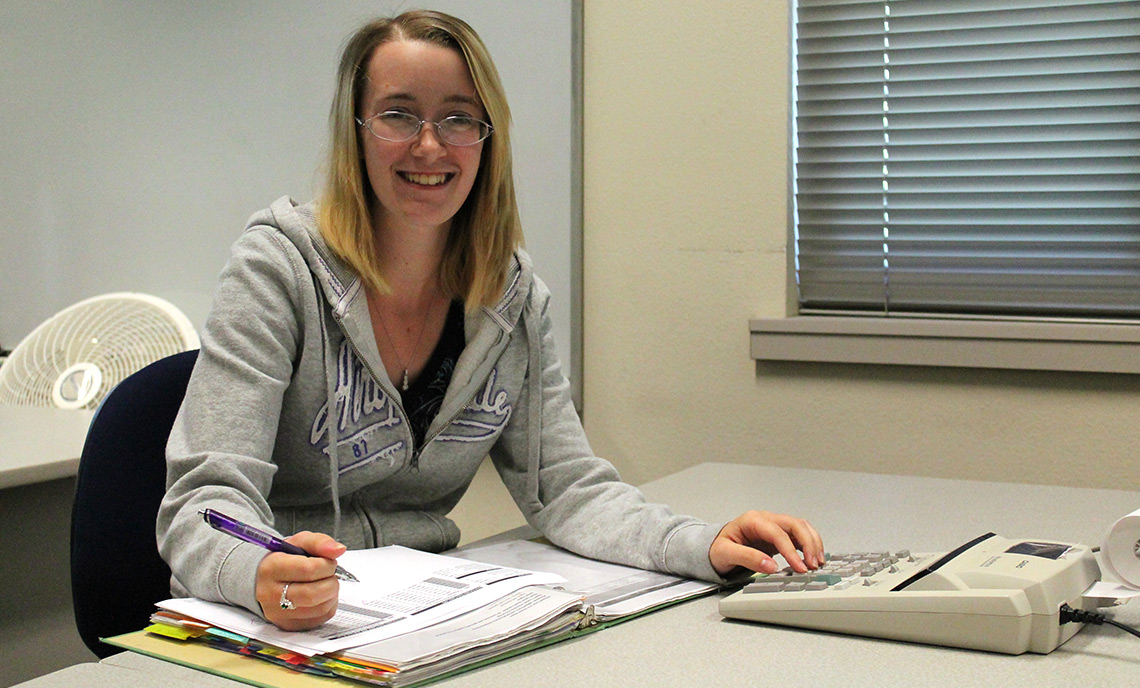 New Career Track Starts at CPTC
August 15, 2014
Going back to school with a 2-year-old daughter took some adjusting for Accounting Program student Leslie Potts. After relocating to Washington state from South Dakota and enrolling at Clover Park Technical College, Potts had to adjust to seeing her daughter less during the day.
"I better appreciate the time I do have with her," Potts said.
Potts said the experience of going to school and being a mom opened her eyes in several ways.
"I've come to realize that you need to learn something new every day," Potts said. "And I do learn something new every day at CPTC."
While Potts worked as a waitress in South Dakota, she rediscovered her interest in math working with money and learning about the budget process during the restaurant's remodel.
Potts had dreamed of becoming a teacher while in high school. During her senior year she completed an internship with a math teacher and further developed her passion for math. She later found that she enjoyed doing math and solving problems herself more than helping someone else learn how.
At some points it has been difficult for Potts to balance her busy schedule. Today she works at the reception desk at the Hayes Child Development Center on campus while maintaining the status of a full-time student and raising her daughter.
The busy schedule and long hours have all been worth it to Potts because of the people at CPTC.
"It's not just the instructors, it's everyone at the school," Potts said. "They make it all about your education."
Potts hopes to earn a bachelor's degree in accounting after graduating from CPTC and work for an accounting firm. Potts' dream job is to earn a position at the Internal Revenue Service.
But Potts enjoys more than just the bigger picture of her education and career.
"It's the little things that make it worth it, when the answer all of the sudden clicks in your head," Potts said.
The Accounting Program at CPTC offers an Accounting Degree and a Bookkeeping Clerk certificate. For more information, visit www.cptc.edu/programs/accounting.