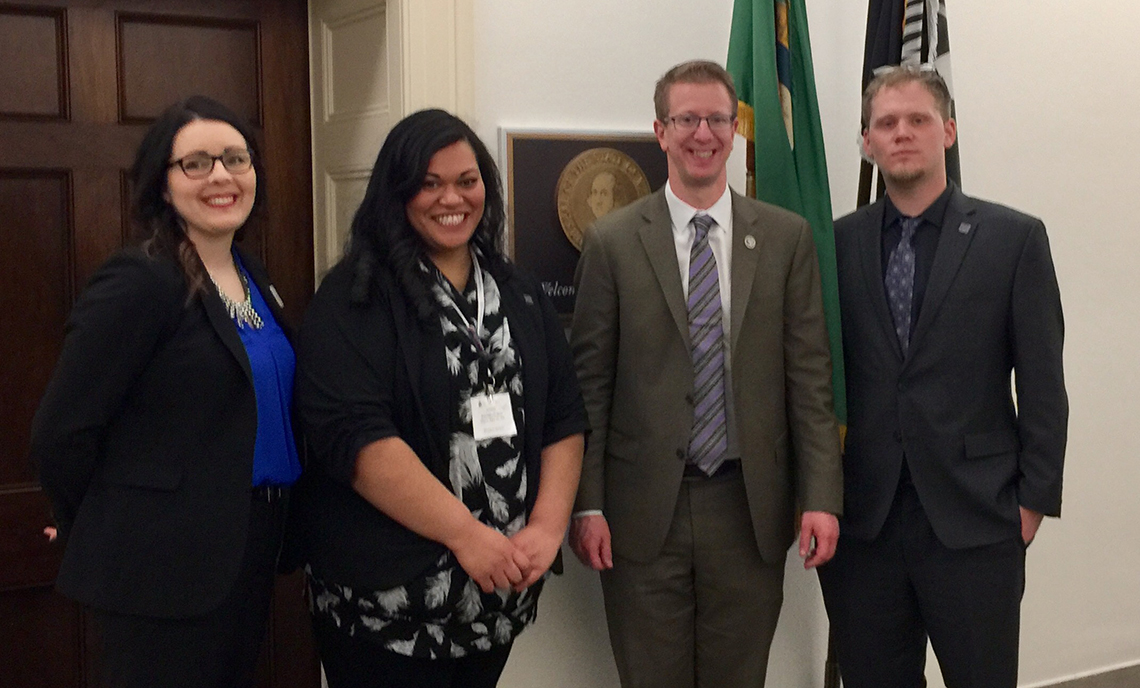 Trip to DC Inspires CPTC Student Leaders
February 22, 2017
Last week, Clover Park Technical College Associated Student Government President Annie Mafi and Legislative Officer Michael Clarke had the opportunity to travel to Washington, D.C. to attend the Association of Community College Trustees National Legislative Summit. The two students traveled with CPTC President Dr. Joyce Loveday, Vice President of Strategic Development Tawny Dotson and CPTC trustee Wayne Withrow and his wife.
Mafi and Clarke kept recorded some of their experiences and takeaways from their trip as they work to promote improved opportunities for students here at CPTC. For Clarke, the highlights included meeting with congressmen and visiting some of the storied monuments to United States history:
"I had meetings with congressional members from Washington who wanted to hear from students. Accompanied by Vice President of Strategic Development Tawny Dotson, I had great conversations with Congressmen Denny Heck and Derek Kilmer, speaking to them about year-round Pell Grants and financial aid risk sharing. I was also able to invite them both to Clover Park Technical College for a town hall opportunity, and both expressed an interest in coming to our college campus in the future.
I was able to get a guided tour of the United States Capitol and even rubbed my foot on the stone that the President rubs his foot on during his inauguration. The history in the city runs deep, and I went on a tour of the Capitol Mall with Board. The Lincoln Memorial was by far my favorite part of the trip.
This training and experience was truly invaluable; I want to continue advocating on the local and state level, for our school and for all students and their needs. Given the chance, having the ability to bring town hall meetings to our college is an experience that should be offered to our students, and I want to continue encouraging representatives to visit us."
Mafi took note of several presentations during the conference:
"While in attendance at the conference, I learned this particular event provides a space for community and technical colleges around the nation to unite and advocate for issues that affect the CTC system. Every year they form legislative priorities on a federal level.
The first general session had subject-matter experts speak on policy within the educational system. Speakers included Carmel Martin, Executive Vice President for Policy for American Progress, Eloy Oakley, Chancellor for California Community Colleges, and Nancy Zimpher, Chancellor of the State University of New York (SUNY). Chancellor Zimpher touched base on the same barriers we face at CPTC, which include childcare, transportation, living, food, etc. Chancellor Zimpher mentioned that engagement builds commitments with students. I identify with this statement because we believe within ASG that involvement correlates to student success. Hosting events or advocating for students is our chance to reduce student barriers and help show our students how much we, as their peers and as a college, care about success.
Another inspiring moment was being present in the mecca of current national/international news. It is just surreal to be in a very motivated city where people are always advocating in one form or another while being surrounded by the history that has helped shaped this country. I am grateful for this experience and would like to thank the college administration for their invitation to provide the Associated Student Government the opportunity to advocate for our students on a national level. I would also like to thank our Board of Trustees and the Office of Student Involvement for their support to make this trip possible.
Reflecting on how to incorporate this learning experience on our campus is building better relationships with our legislators. Building relationships with our legislators (on a city, county, state, national level) is our duty and privilege as members of ASG. I truly care about this campus and our students. This experience has taught me to always be in the mindset of how different measures will affect our students. As a member of ASG, we are tackling issues concerning transportation, food, childcare, safety, etc. This experience has reminded me to take a step back and look at a broader range of issues that affect our students like the Reauthorizing the Higher Education Act, supporting DACA Students, supporting the Pell Grant program year-round, and investing in workforce training and education. These are a few of the federal priorities that that do affect us here at Clover Park Technical College while we strive to uphold our mission statement of 'Educating Tomorrow's Workforce.'"