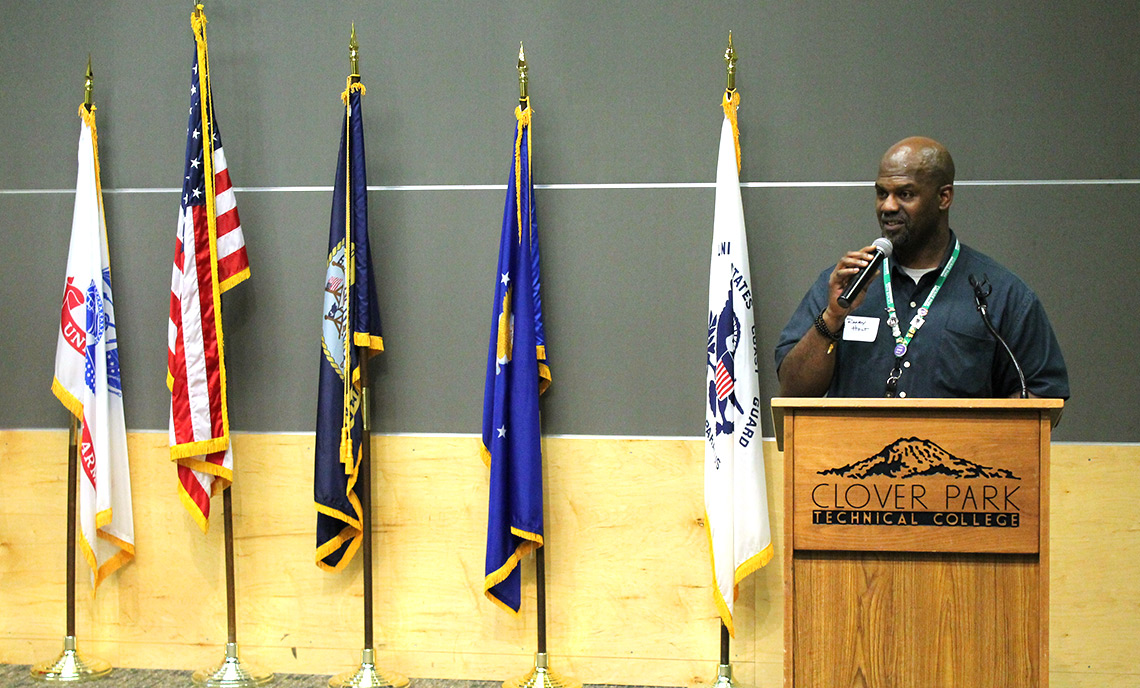 Veterans Gather for Forum at Lakewood Campus
May 2, 2014
Clover Park Technical College hosted nearly 75 veterans, family members and community members for a Veterans Issues Forum at the McGavick Student Center April 30.
The event encouraged former service members to discuss services available to veterans and was made possible by the CPTC Student Veterans Association and Veterans Resource Center, the Washington Department of Veteran Affairs Vet Corps, CADCA VetCorps and Safe Streets Campaign.
"I think we owe those who sacrificed so much," said Vet Corps Veteran Navigator Jonathan Wagner. "It's only right to give back to them because they've given so much."
CPTC Computer Networking and Information Systems Security student Randy Holt is a product of resources available to veterans. Holt, the Student Veterans Association president and Associated Student Government vice president of operations, is an Army veteran who served from 1987 to 1991.
After separation from service Holt was on the verge of homelessness. He found the assistance he needed from the VA and is now about to earn his second degree.
"This event gets everybody together and is an exchange of resources of how we can make it better for our community," Holt said.
The event included a free catered dinner and a poem reading from Rozneik Darling, a CPTC alum and Army veteran.
Facilitators led discussion within small groups, asking questions related to veteran service organizations, transitions, and suggestions on how the county can better support veterans. Comments were recorded and gathered by the partner organizations, which will compile the data from the Clover Park Technical College event, as well as from a similar local event held in March.
"We'll find the main themes of what everyone is writing about and then approach community leaders with what their constituents are saying," said Jessica Angelette, VetCorps prevention coordinator.