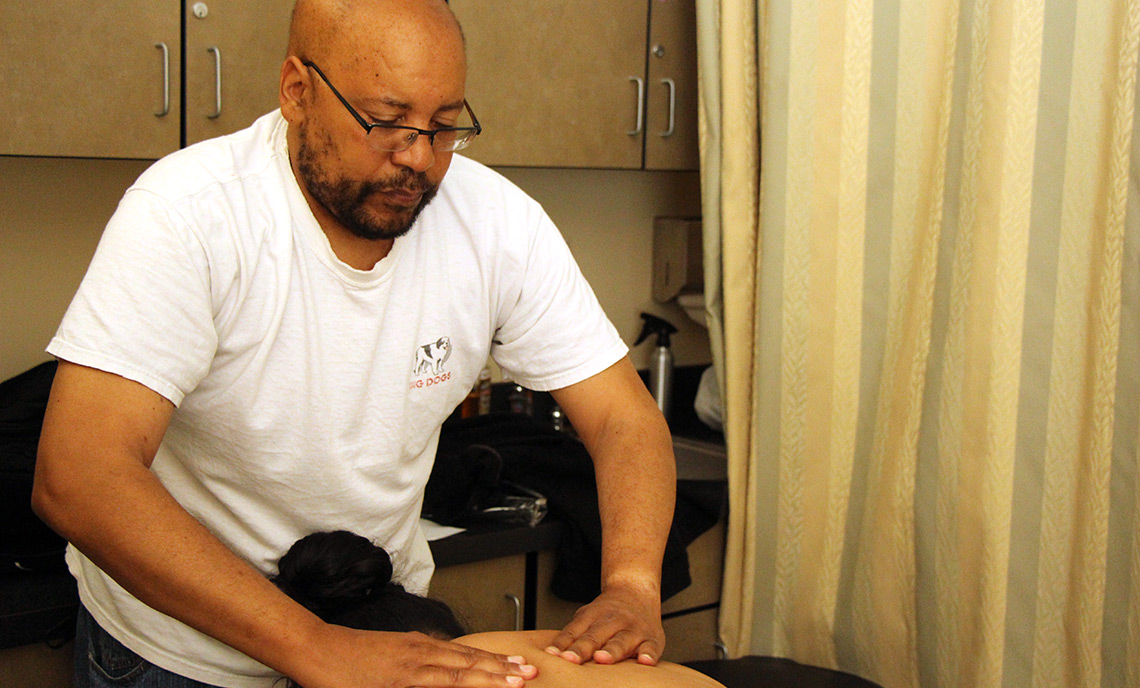 Vision Loss Not a Barrier for Massage Studies Student
June 23, 2014
Perry Lewis has lived in darkness.
Lewis experienced total blindness for a month after losing vision in his left eye and temporarily losing sight in his right eye due to complications with diabetes. While doctors were able to restore the vision in his right eye, Lewis is legally blind in his left.
But Lewis isn't letting his disability keep him at home. After a 15-year career in customer service, Lewis decided to pursue a profession he's always been interested in and enrolled in the Massage Studies program at Clover Park Technical College.
"God forbid I lose what vision I do have," Lewis said. "I don't have to see you to massage you. I would know the layout of my room and I would know which end the face cradle is on."
Lewis has one more quarter before he finishes the program, after which he hopes to find employment in a medical or spa setting.
Massage Studies instructor Yvonne Meziere has worked with massage therapists with no vision, and said those who are sight impaired are successful in the field because of their heightened sense of touch.
"He's really committed to massage," Meziere said. "Not only is he choosing it because it's an option, he's choosing it because it's also a passion, and anytime you're passionate about something it increases your determination."
Before Clover Park Technical College, Lewis attended a school for the blind in Seattle where he learned alternative life skills like reading brail, cooking and using power tools with limited vision.
Three years ago Lewis received a kidney transplant and around that time was laid off from work.
Never one to be idle, Lewis enrolled at CPTC and learns from hands-on training in the Massage Studies program.
"I think of it as a canvas," he said. "I'm a painter or an artist, and I'm sculpting."
If Lewis' vision does worsen, he is prepared with a life skill that he enjoys and can support him.
"My vision will be never be 100 percent," he said. "At any time it could go away. If it does go I have a skill that I can do."
The Massage Studies program at CPTC not only exceeds minimum state requirements, it also provides advanced training to prepare students to work in medical settings. For more information about the program visit http://www.cptc.edu/programs/massage.
Share This Story