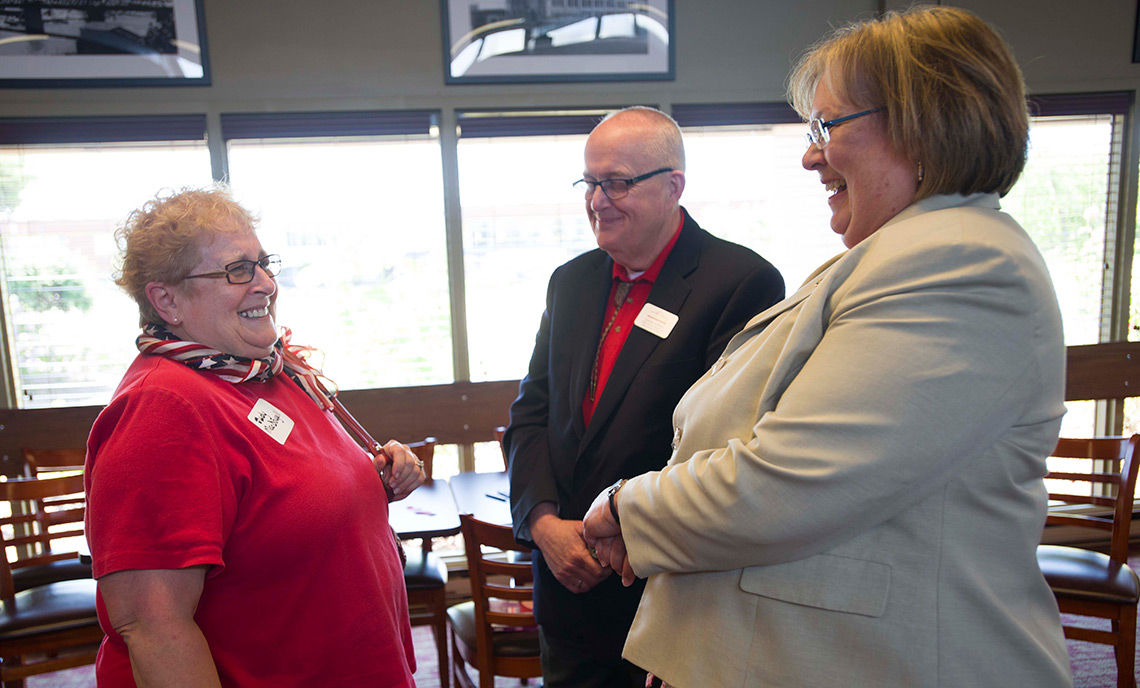 CPTC Friends Old and New Unite for Retiree Luncheon
June 9, 2016
You know Clover Park Technical College is an excellent place to work when retired faculty and staff – some retired more than 20 years – continue to visit the campus.
That's just what happened during this year's Retiree Luncheon at CPTC's Rainier Room on Tuesday, June 7.
A get-together for faculty and staff – long-standing, new, retired and retiring – the luncheon was full of smiles and hugs as friends reunited.
"Ever since I retired, I come because it's nice to see everybody and hear what's going on," said Judy MacDougall, who worked at CPTC for 30 years, mostly as the registrar.
Joyce Loveday, CPTC interim president, gave many hugs and greeted many of the almost two dozen retirees by name.
"This luncheon is to recognize retirees of the college for their service and to touch base with the people who have helped build this community," Loveday said. "Every single position on campus is essential for student success."
Many retirees, such as Mark Altman, even attended CPTC themselves at one point.
"I'm retired, and so is the program I taught," said Altman, who taught office machine repair and electronics until 1989 before joining the Air Force as a flight engineer and traveling the world. "I was a student, and I was trained to take over for my instructor. Then I trained someone to take over for me."
MacDougall also graduated from CPTC.
"I'm a '60s grad from the keypunch class," MacDougall said. "Clover Park has always had a great reputation in the community. I hope they never lose their emphasis on hands-on training."
During the luncheon, those in attendance were given a full-course meal prepared by the CPTC Culinary Arts program in the Rainier Room, which gives students a realistic training environment.
"We always love coming here because we're treated really well by our culinary students," said Lyman Gifford, CPTC Foundation executive director.
The meal included sourdough bread with freshly made specialty butter, soup and salad, choice of smoked scallop penne or chicken wellington; and for dessert, chocolate torte, ice cream or key lime pie.
"This is fine dining at affordable pricing," Gifford said, referring to the main dishes listed for $8. "Anyone — the community, students and staff — can eat here Wednesday through Friday if they call for reservations."
Besides getting time to catch up and enjoy lunch, those in attendance entered a drawing and learned about changes at CPTC, which included the first Bachelor of Applied Science in Manufacturing Operations graduating class and a new twin-engine plane scheduled to come to the South Hill Campus in June.
Attendees also heard from a student who has benefited greatly from the CPTC Foundation, which helps students with scholarships and emergency grants to keep them in school.
"I worked at Wendy's since I was 15 years old, but I've come to intern at the Foundation," said Ashley Duncan, a CPTC graduating student who struggled to make ends meet without help from CPTC staff and the Foundation. "Now I'm going to Evergreen in Olympia in September — this is a big, big, big, big deal to me."
Duncan helped start a crowd funding campaign during Spring Fest with a booth to throw a wet sponge at faculty.
"My hope is to continue to be involved in the community and to be uncomfortable, because that's when you grow," Duncan said.
Gifford personally took Ashley under his wing and has made sure she's been able to stay in school.
"The legacy she is developing, not just for herself, but for her little girl is something to be proud of," Gifford said.
Gifford explained why he strongly believes in the legacy of students.
"A technical college saves lives," Gifford said. "The campus' more than 50 programs impact you and me. We know that if students stay in college and get degrees, less than 10 percent will ever need government assistance."
The Foundation aims to change the lives of students – who will in turn pay it forward – by helping them with scholarships, housing, medical, food and child care, Gifford said.
The Foundation will give $110,000 in scholarships this year, up from $97,000 last year.
"Faculty and staff are the No. 1 supporters to the Foundation," Gifford said, thanking staff and retirees. "But we want others to get involved as well — if 100 people gave $5, how many socks for kids could we get? How many scholarships could we provide?"
Loveday left the retirees with a welcoming word.
"Please know you are welcome any time and you don't need an invitation – you are part of our campus," Loveday said.