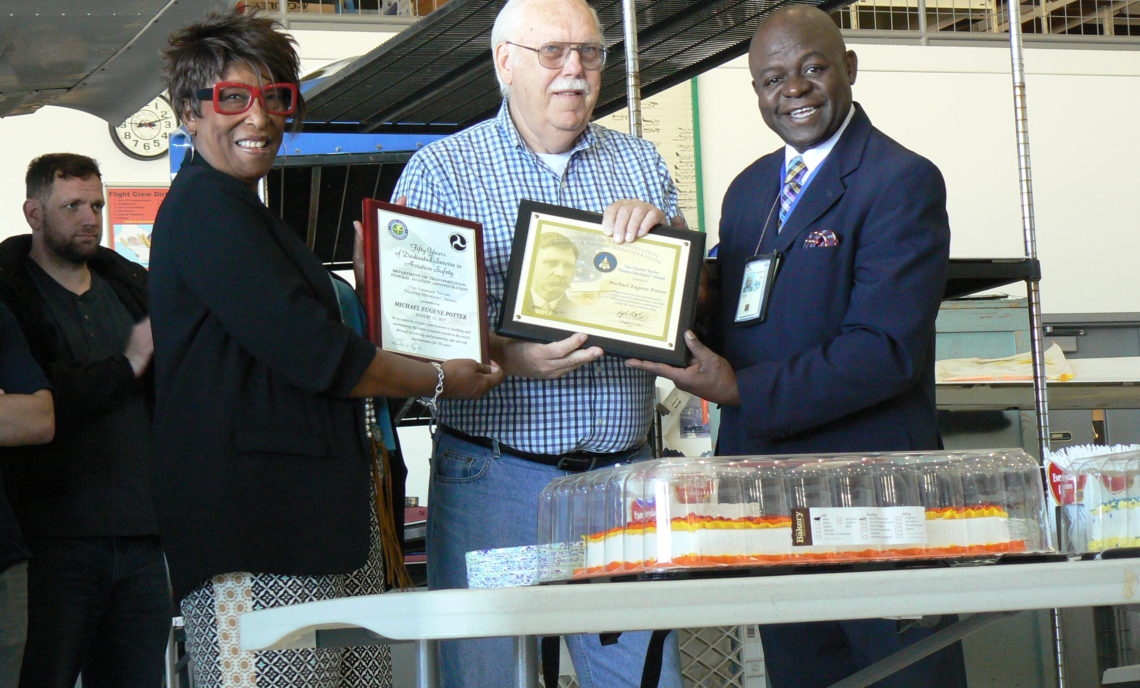 AMT Instructor Mike Potter Receives Lifetime Achievement Award
August 23, 2017
The Federal Aviation Administration presented Clover Park Technical College Aviation Maintenance Technology Instructor Mike Potter with a lifetime achievement award August 16. The Charles Taylor Award is named for the Wright brothers' mechanic who is now credited in large part with construction of the Wright brother's aircraft.
This award is presented to aviation maintenance personnel that have completed at least 50 years of exemplary service. Multiple letters of recommendation and audits of applicant's history are required for approval of this prestigious award. Potter has been an instructor at CPTC for more than 30 years. He is also a FAA Designated Mechanic Examiner, responsible for final testing of aircraft mechanics for FAA certification. Potter has tested and approved more than 1,600 applicants.
Presenting the award for the FAA was FAA Safety Team Seattle Manager, Dr. Jean Francois Mpouli, along with Mabel Edmonds, vice president for instruction.
Mike was presented with a service pin with diamond, certificate, and award plaques.  Mike's wife Catherine was also recognized as an important supporting figure, and was awarded a pin. Also presented was the FAA "Blue Ribbon" certification of Mike Potters FAA blemish-free records spanning the last half-century of service.