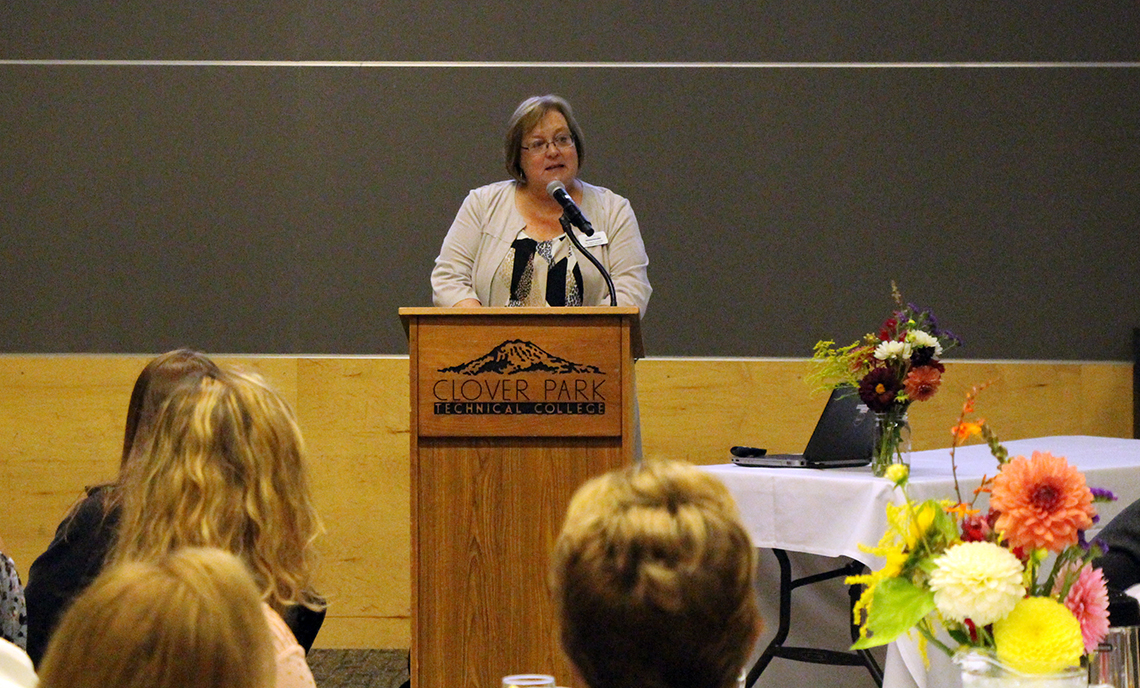 Authentic Leadership at the AAWCC Luncheon
August 4, 2016
The Clover Park Technical College chapter of the American Association of Women in Community Colleges welcomed nearly 50 college staff, faculty, student and community members to its fourth annual luncheon Wednesday, Aug. 3, at the McGavick Conference Center.
Centered on the chapter's 2016-17 theme of "The Whole You: Focusing on Balance, Confidence, and Authentic Leadership," the luncheon included a keynote speech by CPTC Interim President Dr. Joyce Loveday. In her speech, Loveday shared stories from her background as well as her passion for education and CPTC.
"I want you to know how honored I am to work with such a wonderful team of people," Loveday said. "It's an amazing experience when your career comes to fruition at the place where you prefer to be above any other. I love Clover Park, and I'm proud of the work we're doing together. In our professions, the work that we do has a significant impact on the lives of others. That's something to be proud of."
Loveday spoke about the importance of continuing to learn for the sake of personal growth and new opportunities. She called attendees to look for and be examples in the workplace and to always go above and beyond.
"Be involved, and be you," Loveday said. "I want you to know I hope for you. I know by your involvement in the American Association for Women in Community Colleges that you care about excellence and equity for women in community colleges and that you're interested in supporting education, service and leadership development. My wish for each of you is that you gain great satisfaction from your work. Your job is a major part of your life. Pursue your goals. You don't have to know exactly what you're going to do next, but it's important to enjoy what you do and to be aware of the importance of your mission and the impact that you make."
Loveday, who has worked at CPTC since 2002, stepped into the interim president role on June 1. She previously served as vice president for student learning.
"You're the one who finds the right path for yourself. Prepare yourself through education and take initiative looking for opportunities to impact the work around you," Loveday said.
The AAWCC is guided by a commitment to equity and excellence in education and employment for women in community, junior and technical colleges. The CPTC chapter was established in 2013 and has hosted the annual luncheon each year. Along with Loveday's speech, the event included a meal, dessert and raffle prizes for attendees.