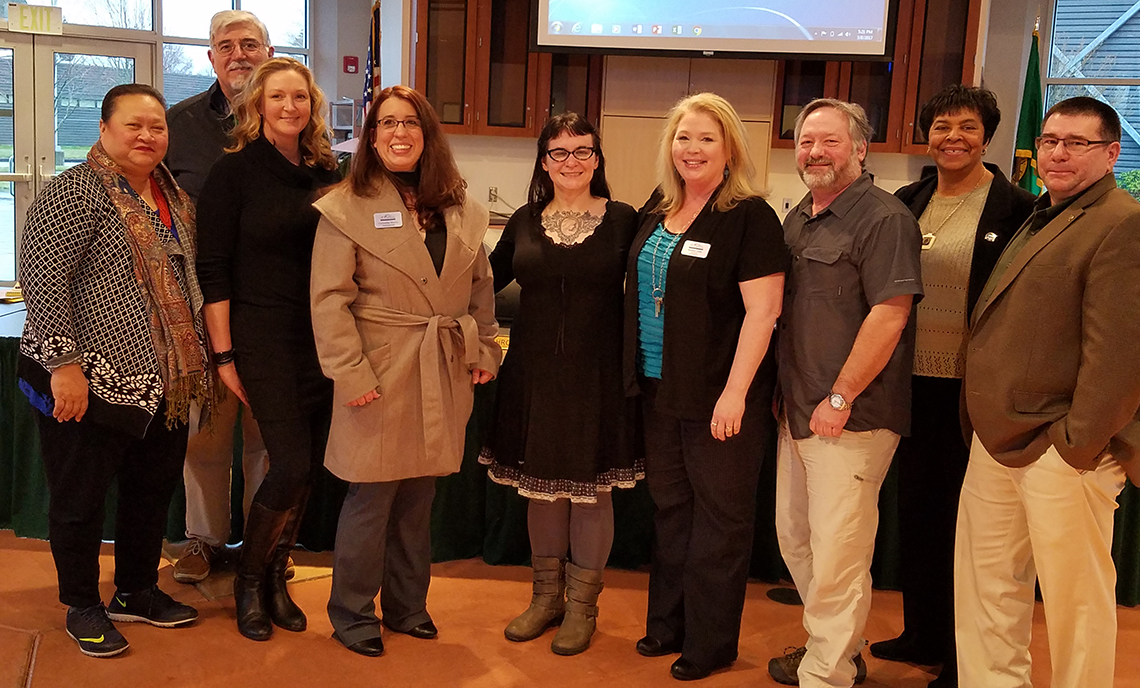 Board of Trustees Awards Tenure to Four Instructors
March 15, 2017
The Clover Park Technical College Board of Trustees capped last week's March meeting by awarding tenure to a quartet of CPTC instructors.
Suzanne Cooke (Accounting), Irene Hauzinger (Human Services), Catherine Morris (Computer Network Information System Security) and Shelley Newman (Pastry Arts) all concluded the three-year tenure process, which includes quarterly teaching observations, regular course evaluations, self-assessments and professional development.
Cooke began her career as a personal loan representative and office manager at a consumer finance loan company after graduating from Texas A&M. She progressed from consumer financing to wholesale mortgage lending, but after the mortgage industry collapsed in 2008 she found herself unemployed with outdated credentials and computer skills – like many of CPTC's students. She came to CPTC through the worker retraining program and earned her Associate in Accounting before taking a job as a controller for a retail mortgage lender. She began filling in as a substitute teacher at CPTC in the Accounting program and remained an adjunct instructor for several quarters before joining the faculty full time.
"I couldn't have accomplished so much without Lucy Dorum or without the support of Dr. Joyce Loveday," Cooke said. "She was my CPTC guardian angel, championing me to continue from part-time adjunct to full-time faculty and now tenured. And without my tenure committee members' help, I would have been lost. It was nice to have support from different program faculty, giving different perspectives on teaching techniques and such during the three-year process. It has been a long journey, but well worth the wait."
Hauzinger's human services experience began with volunteering at the age of 15. She left high school early to earn her associate degree from Jamestown Community College and her bachelor's and master's degrees from SUNY Binghamton. From there she worked full-time in the field of human services, pursuing her Chemical Dependency Certificate in 2009 and beginning a doctoral program in 2010. Her original research and academic publishing came in the field of yoga as applied to incarcerated students, and she has been a featured contributor for nonprofit organization Yoga Behind Bars.
"The tenure committee provided keen insight and genuine support in regards to providing helpful guidance and advice to aid me in my development as an effective instructor," Hauzinger said. "My committee was composed of passionate, seasoned professionals dedicated to instruction and community building. Their mentorship made the tenure process helpful and enjoyable."
Born and raised in Texas, Morris moved with her family to Guadalajara, Mexico, when she was 10 years old. That eye-opening experience taught her what it was like to be a foreigner, not knowing the language or truly understanding the culture around her. I learned to speak, read and write Spanish and adapted to life in Mexico while her passion for computers flourished. Coming from a family of educators and information technology professionals, she always enjoyed the many dimensions it had to offer. She spent time working in the industry, including in the IT department at CPTC, before joining the CNISS program as a faculty member in 2012.
"Becoming a part of the CNISS faculty team has allowed my passion to extend further beyond just the classroom and into the community, where I would like to make a significant difference by utilizing my multicultural and bilingual status to encourage females in their pursuit of a non-traditional trade like the information technology industry," Morris said. "There is something to be said for feeling such a kindredship with the collegial environment and the outstanding individuals I am fortunate to work with."
Newman graduated from the California Culinary Academy's Pastry program and worked at the Ritz Carlton and Fairmont Hotels in San Francisco. During her time in the industry, she had the opportunity to work with countless industry expert chefs, including Michel Willaume, Ewald Notter, Colette Peters, Nichols Lodge and Ron Ben-Israel. After opening a commissary kitchen in Tacoma and working in the wedding industry creating custom cakes, she was asked to do a pastry demonstration for the CPTC Culinary program in 2011. The CPTC Pastry Arts program began one year later, with Newman serving as an instructor.
"The guidance and support I received from my tenure committee throughout the process was invaluable," Newman said. "I learned so much from each of them, and I was humbled by their kind words before the Board of Trustees. This is the best job in the world, that I never knew I wanted."