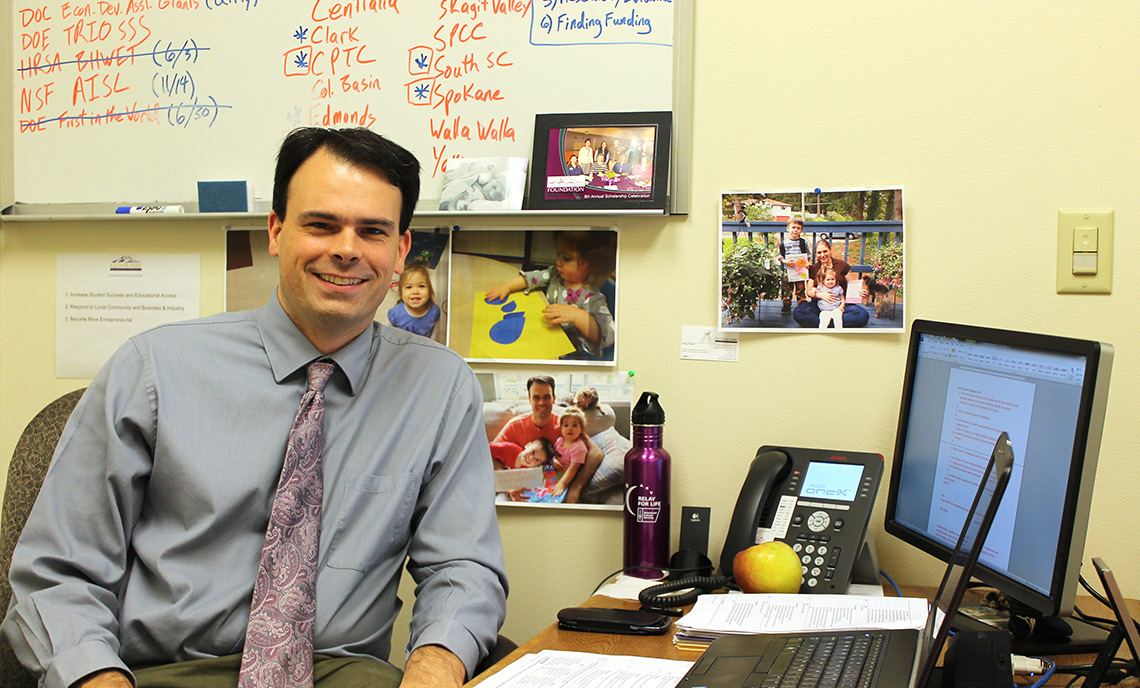 Congratulations to Bryan Powell, the President's Unsung Hero for October
October 20, 2014
Bryan Powell tried to treat Sept. 29 as any other weekday.
After Powell, Clover Park Technical College's coordinator for grant development, took his children to school, he settled into his office in Building 19.
Fifteen minutes later he learned the day wasn't like any other day.
Powell received an email announcing the recipients of the latest round of the Trade Adjustment Assistance Community College and Career Training initiative. He followed the link and read CPTC was awarded nearly $2.5 million for the Mechatronics Technician Program.
For his work organizing the grant application and contributing to the college's efforts to become more entrepreneurial, Powell was selected the Unsung Hero for the month of October.
"There are a lot of aspects to it, and I think it's going to have a huge impact to us," Powell said.
The grant will develop a pathway into advanced manufacturing and industrial technology careers. The purpose is to create specialized certificates to fill projected employment gaps in high-demand careers.
Powell invested hundreds of hours putting together the grant application from concept to proposal. He initially sat down with Dr. Steve Addison, director of bachelor degrees and new program development, and together they mapped out what the concept might look like.
"You have to have a clean concept, and then you have to align it to funding," Powell said.
Deans Claire Korschinowski and Bill Coyner were brought in for ideas and feedback, and Powell put together the summary for approval. Upon approval he set to work researching and resource gathering, and submitted the application by the end of June.
"Everyone thinks it's a lot of sitting down and writing, but the other pieces take time," Powell said.
Since starting at CPTC two years ago Powell has focused on raising funds for the new Health Sciences Building and writing grants, primarily for aerospace and advanced manufacturing programs.
Powell is in the process of developing a strategic funding plan to identify the college's needs, develop a list of projects and ideas, and then determine where the funding is.