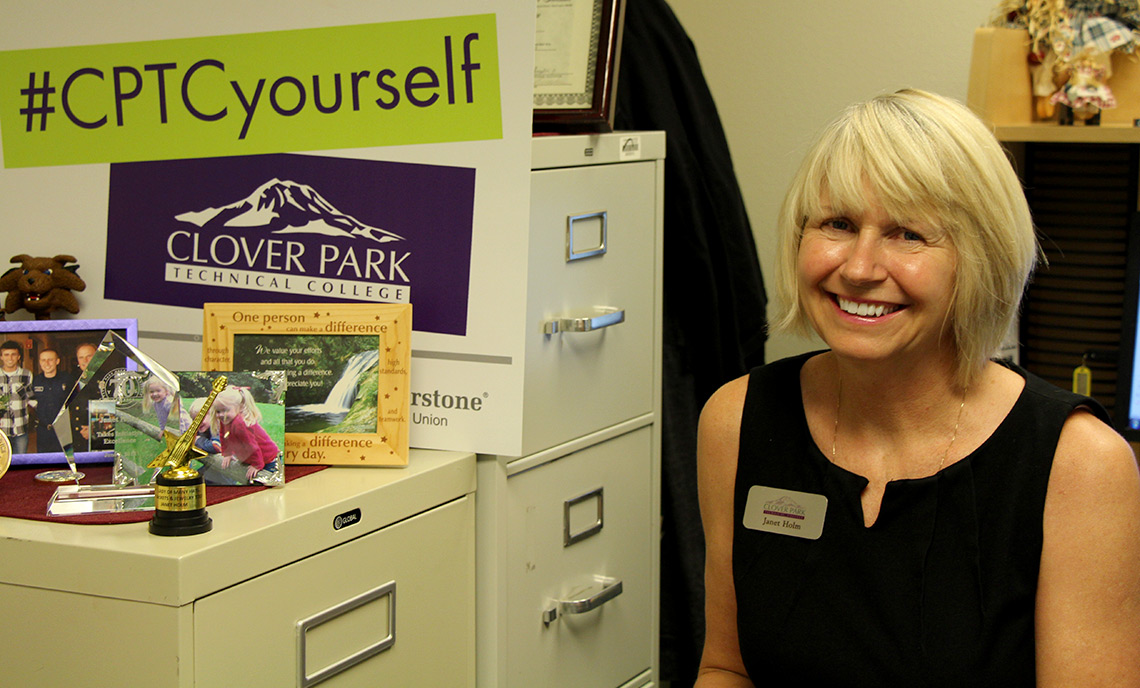 Congratulations to Janet Holm, the President's Unsung Hero for August
August 18, 2014
Janet Holm, Clover Park Technical College's outreach coordinator, was selected as the Unsung Hero for the month of August for her efforts to refine CPTC's business practices and increase student success and educational access.
In the last year Holm has established a system to collect information cards from prospective students, which feed into a system that follows up with all inquiries. Cards are collected at outreach and recruiting events, Program Information Sessions, Get Started Workshops, the annual Career Conference, tours, phone inquiries and the Math Conference.
Holm also involved the entire College to participate in this year's Career Conference, CPTC's annual open house. Nearly 3,600 middle school and high school students visited the College for the event, a 20 percent increase from last year.
"Clover Park students and instructors really got involved," Holm said. "They put a lot of effort into it this year and it made it fun for everybody."
This year's Career Conference theme was "Picture your path" which encouraged prospective students to picture themselves in a career field by taking selfies while dressed in the program's uniform which they shared on social media using #CPTCyourself.
"Every year you have to take a look at how you can incorporate what we're doing into what's trending with kids," Holm said. "We knew we had to do something with selfies and what a perfect way to do it."
Holm, herself, is a product of CPTC. She attended in 1977 when the school offered the Grocery Checking Program, and upon completion entered the field as a cashier and worked her way up to management. After working in the grocery industry for 20 years she returned to CPTC in 1998 as a tenured instructor for the Grocery Checking Program. Holm taught for four years before making the transition to outreach coordinator.
Holm said she learned a lot about outreach during her tenure as an instructor through marketing her program and placing her students every quarter.
"I've always supported Clover Park," Holm said. "It just makes sense for me to talk about the opportunities through technical education because I'm a product of it."