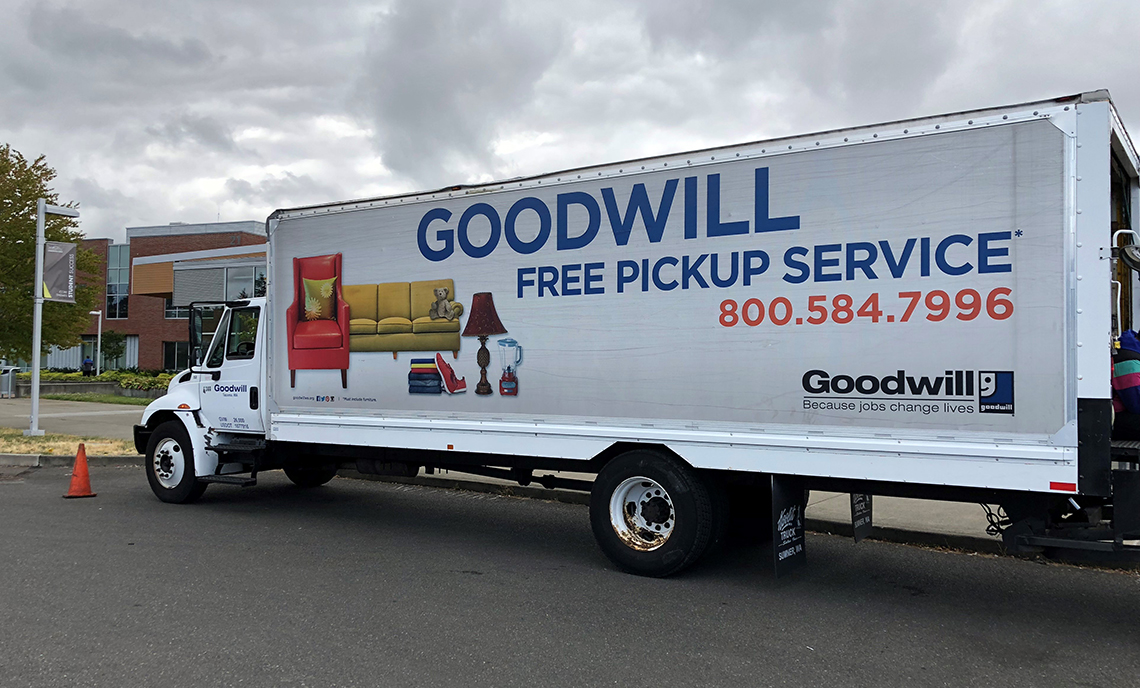 CPTC Community Loads Goodwill Truck for Student Support
August 9, 2018
Everyone needs a little extra incentive to clean out their home sometimes, and last week the Clover Park Technical College Foundation provided that motivation by partnering with Goodwill to host a donation drive.
A Goodwill truck came to CPTC's Lakewood Campus on Friday, Aug. 3, and members of the college and local community came together to fill a total of eight bins. Accepted items for donation included small household items such as shoes, clothing and accessories, linens, toys, and books. During a Goodwill donation drive, the organization provides a monetary donation based on the quantity of items received. CPTC filled the truck to earn the maximum donation of $500.
"We've wanted to partner with Goodwill, and they offer this donation drive partnership program," CPTC Foundation Development Manager Janet Holm said. "We applied, and they selected us. All of the money raised goes directly to student support through the Foundation."
The CPTC Foundation provides assistance to CPTC students and programs through scholarships, emergency assistance, and more. The Foundation hosts various fundraising events, including the recent Andy Fritz Trek for Tech Memorial 5k, and pursued the Goodwill partnership to provide another opportunity for community members to contribute.
"We want to make sure we have different options for the community to participate in fundraising for the students," Holm said. "Not all events appeal to everyone, and this was something different. And we all have extra stuff, so it was a win for everyone. We had several people who had been waiting to clean out their closest, and this was a good reason to do so."
Holm pointed out that numerous students participated, as well as staff and faculty and local community members. After reaching the maximum donation of $500, Holm said the Foundation plans to apply for the program again next year.
To learn more about the CPTC Foundation, click here.