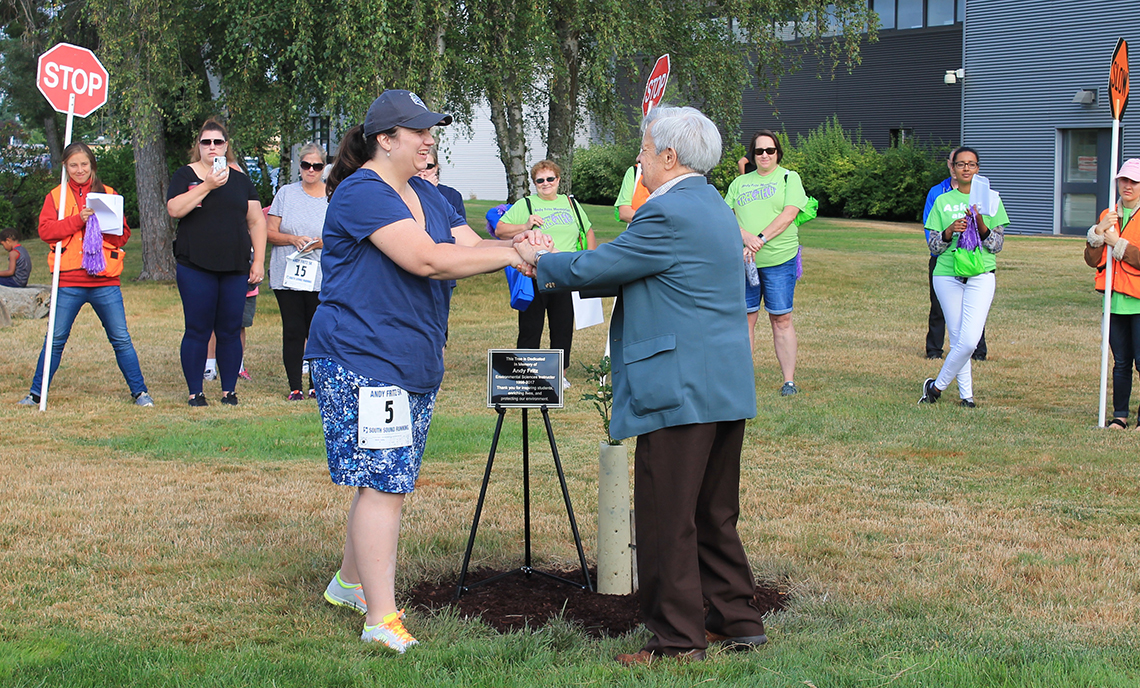 CPTC Honors Andy Fritz with Trek for Tech
August 3, 2018
Clover Park Technical College memorialized a long-time faculty member and began a new fitness and fundraising tradition Saturday, July 28, with the Andy Fritz Memorial Trek for Tech 5k.
More than 230 racers registered to participate in the 5k, which included two laps around the college's Lakewood Campus. The event raised more than $7,100 for the Clover Park Technical College Foundation to provide student support and scholarships.
Both of those numbers surpassed goals for the event, and all who attended had an opportunity to participate in a brief memorial for Andy Fritz, who taught in the college's Environmental Sciences & Technology program for nearly 20 years and was an avid runner. He and his wife Jody were killed in a bus accident in Mexico in December. Prior to the race, the college dedicated a Garry Oak tree in Fritz's honor in the College Green.
"Andy was so committed to the students of this institution," CPTC President Dr. Joyce Loveday said. "I know he gave a lot of his own money and his time and his support to help students get through their education and have new careers, so we're thrilled to be able to honor him through this event."
Loveday explained how the tree is a protected species and the only oak species native to Washington and said that it symbolizes Fritz and his commitment to the environment. Fritz's father Col. Edward Fritz also shared a few words at the dedication.
"Andy told me of a stand of old-growth oak trees here on the college campus, one of the few such stands remaining in the state of Washington," Fritz. "His interest in preserving the trees was noted by his colleagues who arranged to memorialize Andy by planting this Garry Oak. May it grow from a tender seedling to a sturdy sapling into a giant oak and take its place among the stand of old-growth oaks at Clover Park. Thank you for this thoughtful gesture. Finally, our thanks to the administration of Clover Park Technical College for giving Andy the opportunity to teach Environmental Science, enabling him to fulfill his life's calling to help preserve and protect the environment."
Fritz's longtime co-instructor in the Environmental Sciences & Technology program Kathryn Smith presented Col. Fritz with one of the medals from the race and the framed bib number 1 from the race. Then Smith and Col. Fritz placed a commemorative plaque on a stand next to the tree. Eventually the plaque will be mounted to a large rock to be set at the base of the tree.
The final steps of the 5k course were lined with bibs from many of the hundreds of races Fritz ran in during his life. Fritz had been a key member of the planning committee for the Trek for Tech 5k with a goal of encouraging the campus and local community to complete a 5k. That goal worked, as many of the racers were participating in their first 5k, including a trio of women in their 70s and 80s. Racers who knew Fritz through various running associations joined campus and community members in the race, while more than 50 volunteers helped host the event and cheer on all participants.
CPTC Graphic Technologies student Jeanna Kawamoto designed the finisher medals, which were then produced by the college's Manufacturing Technologies program under the guidance of instructor Ken Dam, who is also an avid runner and event planning committee member. The Office of Student Involvement partnered to promote the event to students, while Molina Health Care, South Sound Running and Office Max/Office Depot served as the major event sponsors.
"I can't think of a better way to honor Andy Fritz and support our students," CPTC Development Manager and event planning committee lead Janet Holm said.
To view a collection of photos from the event, click here.
Share This Story