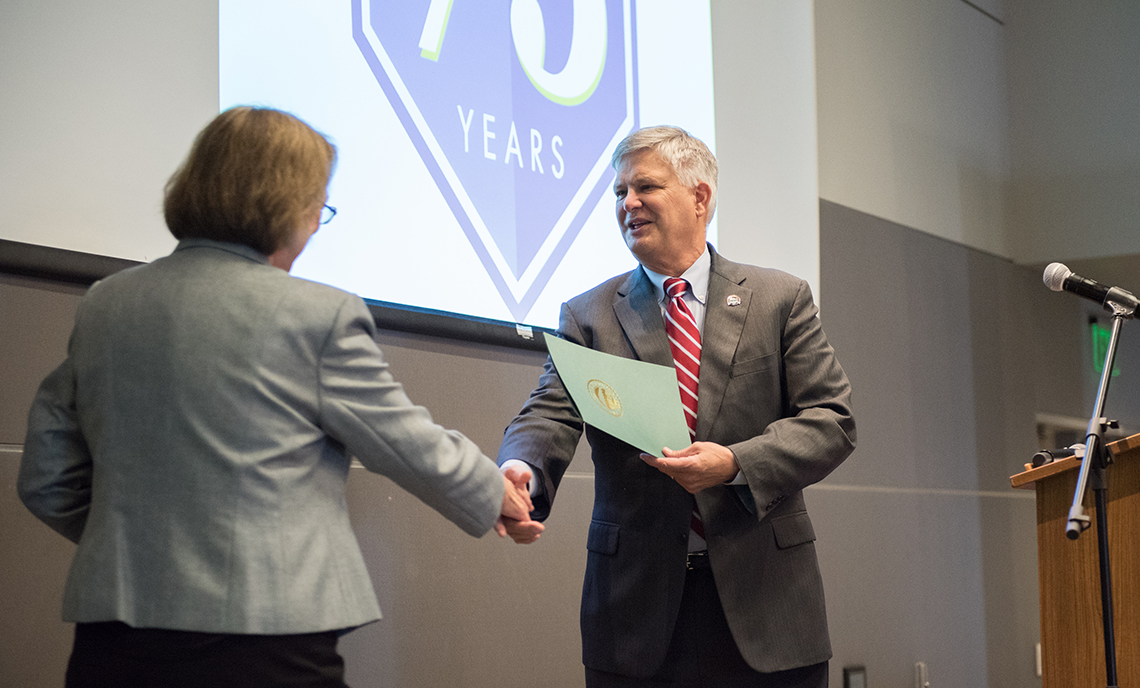 CPTC Kicks Off 75th Anniversary with Celebratory Event
October 5, 2017
As Clover Park Technical College began the 2017-18 Academic Year last week, the college began its yearlong celebration of a historic milestone with its 75th Anniversary Kickoff at the McGavick Conference Center on Sept. 28.
Clover Park began in 1942 with a War Production Training program in response to World War II, and in the 75 years since the school has offered hands-on training in workforce-focused programs. Thursday's event featured a historical archive of photos, equipment and more from the college's long history. Some of those artifacts came out of the time capsule assembled 25 years earlier and opened as part of the 75th Anniversary celebration.
"This is a tremendous occasion for us because it gives us the opportunity to celebrate the deep roots of our institution," CPTC President Dr. Joyce Loveday said. "From the first days of our institution through today, Clover Park has been steadfast in preparing a skilled and educated workforce that's responsive to the needs of our region. We've done that by providing quality education to meet the workforce needs of industry, employing industry experts to provide the training to get students up-to-speed in their industry, and by preparing graduates to assume new careers that enable them to care for their families."
The celebratory event began on a warm, sunny day with a barbecue hosted by the Automotive Club serving hot dog and hamburger lunch options to students, staff members and anyone visiting campus. Visitors then had the opportunity to explore the historical archives and share their CPTC memories.
At 2 p.m., more than 200 attendees convened for the formal ceremony, which included speeches by Loveday and Lakewood Mayor Don Anderson, along with the revealing of the time capsule artifacts. Anderson brought an official proclamation honoring CPTC on its 75th Anniversary, and he actually brought two copies so one could be included in the next CPTC time capsule.
"It's wonderful to have an event like this to focus attention on this amazing institution, which is an incredible asset to our community," Anderson said. "The adaptability of a vocational college to meet the needs of today's workforce is unparalleled in our education system from K-through-graduate degrees. Clover Park is very important to the city of Lakewood."
Special guests to the ceremony from the city of Lakewood also included city manager John Caulfield and council member John Simpson, while representatives from several other local colleges also attended. Former CPTC staff, faculty and administrators returned to campus for the event, including the family of former college president Al Green.
The ceremony concluded with cake and ice cream, courtesy of the CPTC Foundation and Associated Student Government. Attendees had one more chance to check out the historical archives, share memories and take advantage of the photo booth and live music courtesy of the CPTC ASG. The event provided an exciting start to a historic milestone year for the college.
"Thank you to each one of you who came here today to help us kick off this celebratory year," Loveday said. "We hope that as you're here today and as you continue to come to events and activities through the year that you'll take time to reconnect with one another, to tell your story and to just enjoy the history and the present and the future of Clover Park."