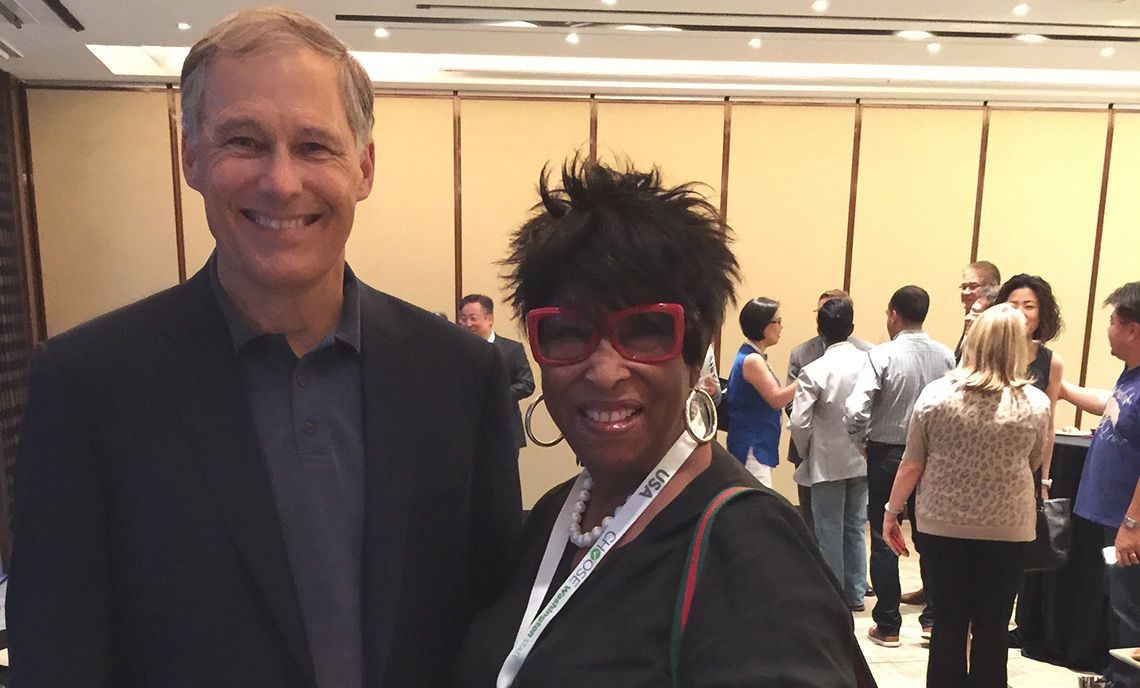 CPTC official joins Washington Governor Jay Inslee on trade mission to Asia
September 10, 2015
Mabel Edmonds, special assistant to the president and to the vice president for student learning at Clover Park Technical College, was one of more than 60 delegates who last week joined a trade mission to Japan and Korea with Washington Gov. Jay Inslee.
Edmonds represented the state's two-year college system on the mission because the trip emphasized ways to strengthen the aerospace and advanced manufacturing industry on both sides of the Pacific Ocean.
"This trade mission was aligned with our college's focus on this industry and on the various partnerships that we have which ensure the college is responsive to the needs of employers in this sector," Edmonds said.
As a delegate, Edmonds met with business and government leaders to promote trade and collaboration. The trip was Edmonds' first opportunity to join the governor on a trade mission; however she has previously attended two Paris Air Show delegations, where she made international industry contacts and promoted CPTC's role in educating professional pilots, aviation technicians and manufacturing employees.
"The trip to Asia was a wonderful learning experience and opportunity to see new technologies and make connections with the delegates, as well as international contacts," Edmonds said.
A daily recap of Edmonds' trip to Asia:
Aug. 30
Arrives in Seoul, South Korea, and attends welcome reception for delegation. Networks with other delegates, including a CPTC graduate and a University of Washington professor in materials science & engineering.
Aug. 31
Breakfast briefing with U.S. Embassy officials, where she learns of high number of Korean students studying in the U.S. from Marc Knapper, the Seoul Embassy's deputy chief of Mission. Knapper introduces Edmonds to members of his staff who can help recruit Korean students to our campus.
Sept. 1
Members of the governor's delegation focused on aerospace travel to Sacheon on a high-speed train. They visit Gyeongnam Technopark Aerospace Center and Korea Aerospace Valley, supply companies that are the hub for the aerospace industry in machining, sheet metal forming, tooling, composite bonding and assemblies. It's also an aerospace business incubator and Boeing supplier. Meet with the vice-governor and his staff for a briefing and tour, then depart for Busan.
Sept. 2
Tour Korean Air's Aerospace Division with senior executives from the company. See manufacturing operations, where Boeing airplane parts are designed, built and prepared for shipping to Washington state to be assembled onto airplanes. Beyond building planes, Korean Air is a supplier for numerous aerospace products.
Sept. 3
Visit Mitsubishi Aircraft Corporation in Nagoya, Japan, with Gov. Inslee and executives from the company. Tour the hangars where Mitsubishi's new regional jet is in its final assembly prior to a test flight next month. The company is locating facilities in Washington state and plans to employ 100 local residents, some of whom could come from CPTC programs.
Participate in a business exchange luncheon with the Greater Nagoya Initiative. Connect with aviation maintenance department director/professor at the College of Naka-nippon Aviation, and share information about CPTC's aerospace and aviation programs.
Visit Nagoya University National Composites Center, where state-of-the-art equipment was funded by a unique public/private partnership.
Sept. 4
Network with key Japanese leaders, U.S. Embassy officials in Tokyo, and some 175 delegates. Gov. Inslee recognizes CPTC and thanks Edmonds for representing Washington state's community and technical college system and the vital role that our colleges play in educating the workforce.
Sept. 5
Attend a delegation breakfast and mission closing to review success stories, connections made, and next steps.