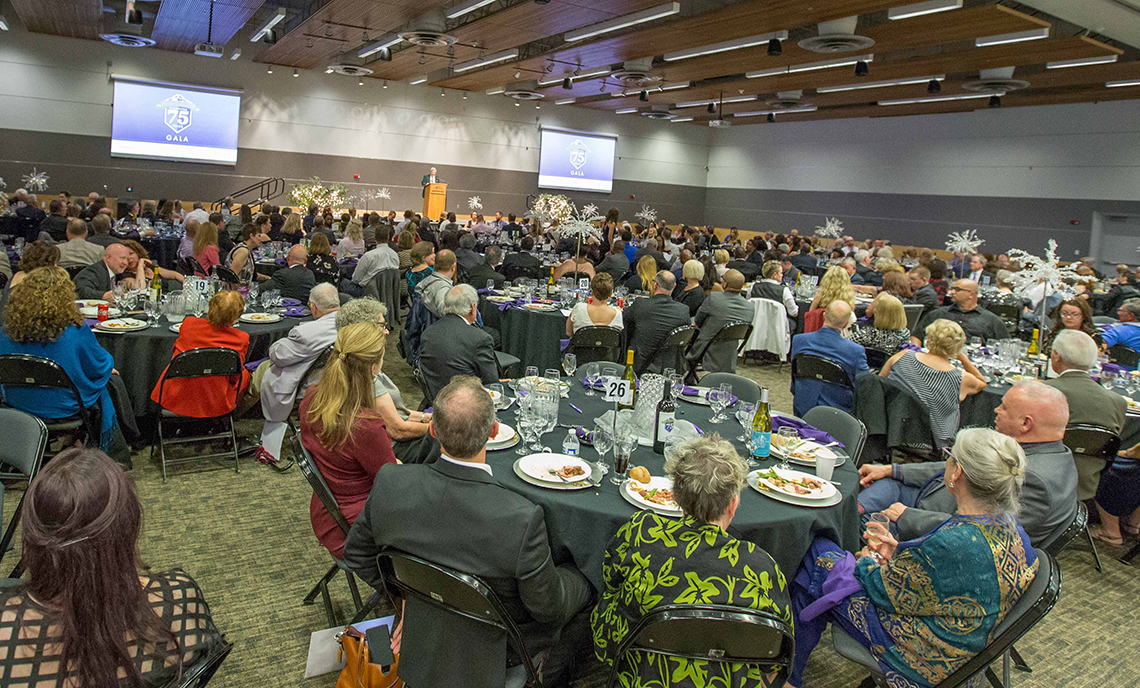 CPTC Sets Records with 75th Anniversary Gala
May 24, 2018
Clover Park Technical College celebrated the historic milestone of 75 years of workforce education with a record-breaking gala Saturday, May 19. The formal auction and dinner event surpassed its ambitious fundraising goal by raising more than $88,000 for CPTC students.
A total of 267 attendees enjoyed a gourmet dinner prepared by CPTC's Culinary Arts program and had the chance to bid on a variety of silent auction items. Dessert proved to be one of the highlights of the event, as the college's Pastry Arts program created delectable masterpieces representing many of the program areas offered at the college. Attendees also had the opportunity to learn more about the CPTC Foundation's emergency assistance fund and the vital aid it provides to students in the moments most key to their ability to continue and complete their education.
"Many college students are one problem away from catastrophe," CPTC Vice President for Strategic Development and Foundation Executive Director Tawny Dotson said. "Where you and I might run late for work and skip coffee on our way in, they are instead faced with missing the bus and being completely unable to get to school or work."
CPTC student Heather Morgan shared her experiences that led to her coming to the college and finding the passion that will soon become her career. A video put together by the college's Digital Entertainment Design program told Heather's story, and she came on stage to talk about her plans for the future after she graduates this fall.
"My goal is to work in a nonprofit, where I can support individuals who are struggling by providing them with the resources and support they need to break the cycle of addiction, poverty, or whatever affects their ability to live a better life," Morgan said. "Bottom line is that I will be one of the people working right here in Pierce County to make our community a better place."
CPTC's legacy of workforce education has helped prepare thousands of students for careers since the college began in 1942. Many of those students come to the college facing difficult financial and personal circumstances, and commonly unforeseen challenges during their time at CPTC can force them to step away from their educational pursuits in an effort to simply pay bills and make it through tough times.
The emergency assistance fund is designed to provide students with an emergency scholarship of $250 to support rent, utilities, medical bills, and other unexpected expenses. Students fill out an application and have to demonstrate financial need before receiving the funds. Even that small amount of money goes a long way in helping them succeed – in the past, students who received emergency assistance were 18 percent more likely to continue their education and 19 percent more likely to complete than all other students at Clover Park.
With that in mind, the college and Foundation decided to focus the celebratory gala event on a reflection on the past with a look to how the college can continue to support the students of Pierce County in the future. In recognition of 75 years of education, they settled on a goal of raising $75,000 for the emergency assistance fund to help even more students in need in the future. That goal was ambitious to say the least, more than double the fundraising total of any previous college or Foundation event. Through the generosity of those in attendance, as well as the numerous sponsors for the event, the gala easily surpassed that mark.
"We knew $75,000 was a big number to target, but we wanted to aim high for our students," Dotson said. "Our community came through and showed just how much they value the educational resources we provide within Pierce County. That money will make a life-altering difference for our students as we build on our legacy of workforce education for the next 75 years and beyond."
For more information about the CPTC Foundation and the emergency assistance fund, visit www.friendsofcloverpark.org. To view photos from the event, click here.