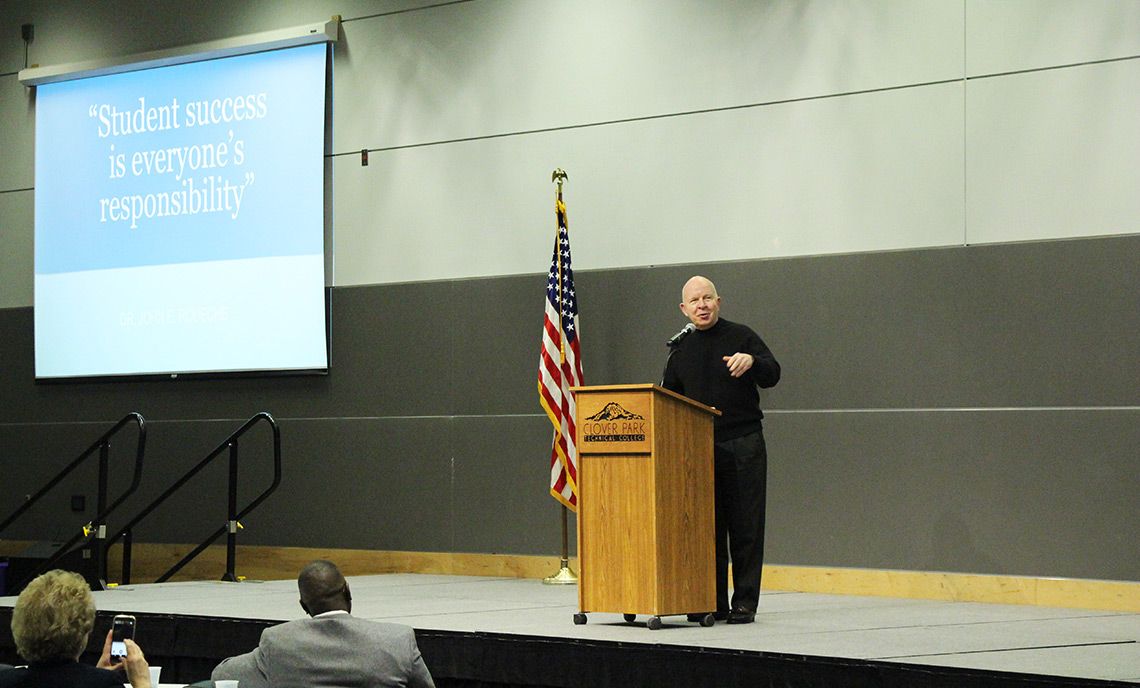 Dr. John E. Roueche Highlights CPTC, Bates Joint Faculty Inservice Event
February 5, 2016
Clover Park Technical College welcomed Dr. John E. Roueche to its Lakewood Campus for a special joint faculty inservice meeting with Bates Technical College in the McGavick Event Center on Feb. 5.
About 350 staff and faculty members from the two colleges had the opportunity to hear from the nationally recognized authority in community college education. Dr. Roueche's keynote presentation focused on student success being everyone's responsibility.
CPTC President Dr. Lonnie L. Howard is a product of Dr. Roueche's Community College Leadership Program at the University of Texas at Austin, and welcomed the opportunity to show his mentor the college he serves at as president, more than a decade after he completed the doctoral program.
"Since those 10 years he's kind of followed me through every job and every career progression that I've made," Dr. Howard said. "To have him come here and stand before the college I oversee is surreal."
Dr. Howard was joined by Bates President Dr. Ron Langrell, who first met Dr. Roueche more than 30 years ago, and Presidents Dr. Luke Robins (Peninsula College), Dr. Eileen Ely (Green River College) and Dr. Ryan Carstens (Spokane Community College, who are all graduates of Dr. Roueche's program.
Dr. Roueche served as the director of CCLP for 41 years and retired in 2012. Since his retirement, he has served as the president of the Roueche Graduate Center at National American University. Known as the "father" of the National Institute for Staff and Organizational Development, Dr. Roueche has written 37 books and has spoken to more than 13,000 community colleges and universities.
Dr. Roueche's keynote presentation included personal anecdotes and stories that illustrated the impact staff and faculty can have on students' success.
"I've never heard anybody say what's been in my heart as well as Dr. Roueche did," said John Moyer, CPTC Department Chair and Graphic Technologies instructor. "His idea about making connection and caring everyone's job is what I've believed in and work toward ever since I started in vocational education 25 years ago."
Faculty representatives from Bates and CPTC also had the opportunity to speak on the theme of student success at the event. CPTC Automotive Technician instructor Wayne Bridges was joined by Bates Electrical Construction instructor Jim Graham.
"I think the biggest takeaway from this event was the unification of our two schools," Graham said. "We're here serving the same mission and purpose to our community at large. We can be thought of as competitors, but we're also complimentary and we support each other.
"Dr. Roueche is obviously a deep thinker, but he has a lot of practical nuts-and-bolts advice and direction in how to provide better services to our students."
Dr. Howard, along with Al Griswold, executive vice president of instruction and student services at Bates, presented a special President's Unsung Hero award to Dr. Roueche in recognition of his commitment to enhance educational leadership, advance the mission of the two-year college, and to improve student success.