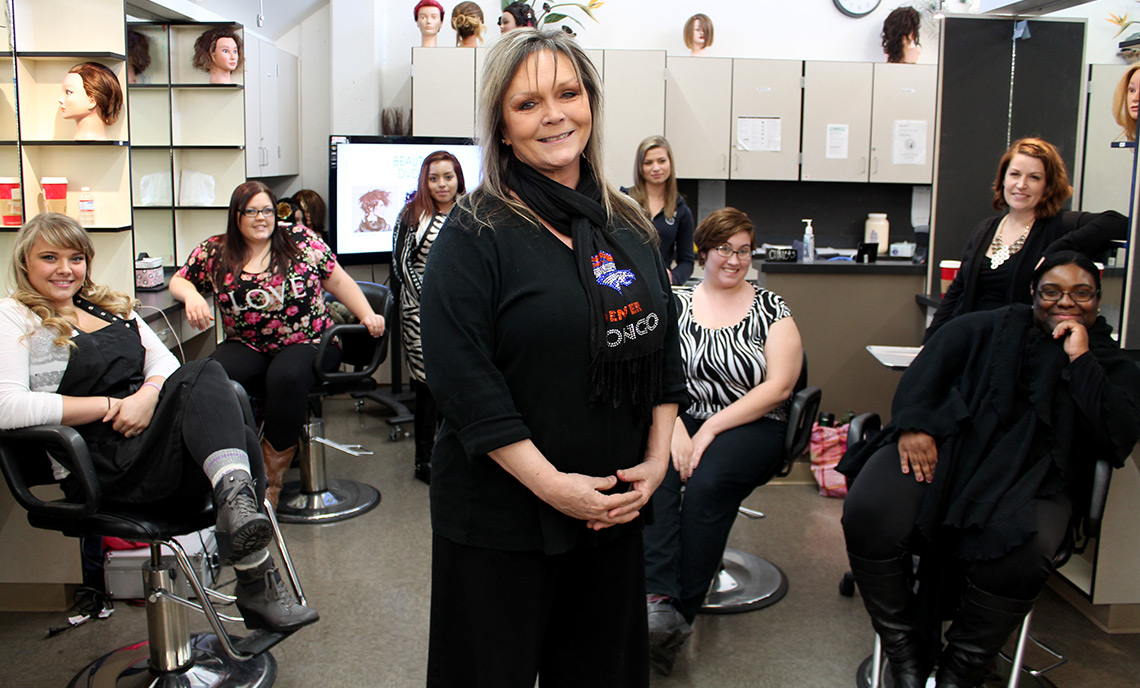 The Entrepreneurial Spirit
November 19, 2014
Denise Klug was low on finances but rich in vision when she opened her first hair salon at the age of 23.
In the early 1980s in small town Colorado, the mother of Klug's friend purchased a home that included a small beauty shop. Betty's Beauty Boutique was dated and neglected, but Klug saw a golden palace.
"That was my first start," she said. "The salon was beautiful."
With just $200 worth of product, Klug opened Renegade Hair Studio and leased the shop for just $275 a month. An old cigar box from her grandfather served as her cash register.
Klug quickly grew out of the four-chair studio and the business savvy entrepreneur soon opened a second salon. She operated her businesses for seven years and then set out to look for the next challenge.
"A friend of mine asked if I'd thought about education," Klug said. "I got my instructor license and loved it immediately. The rest is history."
Klug arrived to Clover Park Technical College in the late 1980s as an instructor. Her experience in starting up salons from scratch helps her guide her students in preparing for their own business ventures. She knows the importance of a rock solid clientele and location for opening a business.
Many students come through the Cosmetology Program and move on to open their own business.
"We've seen a lot of them rise to success and own multiple salons," Klug said. "My dream for the students is it's so wonderful to be your own boss."
Cosmetology Instructor Michelle Ganyon was one of Klug's first students at CPTC. Ganyon opened a salon and then obtained her instructor license. She continues to operate it today.
The Cosmetology Program is just one of many programs at CPTC that prepare students to take up the challenge of the entrepreneurial journey.
"We can learn a great deal about entrepreneurial life skills by listening to stories like Denise's, and there are a number of students and faculty at Clover Park with these stories," said Petra Perkins, CPTC adjunct instructor. "Her story is a great example of what Dr. Saras Sarasvathy calls 'effectual entrepreneurship.' Entrepreneurs start where we are with what we have, and with what and who we know. We don't wait for a perfect set of circumstances that may never arrive. We become better entrepreneurs as we learn in a non-linear, just-in-time fashion. We understand the future is unknowable, which means we can shape it."