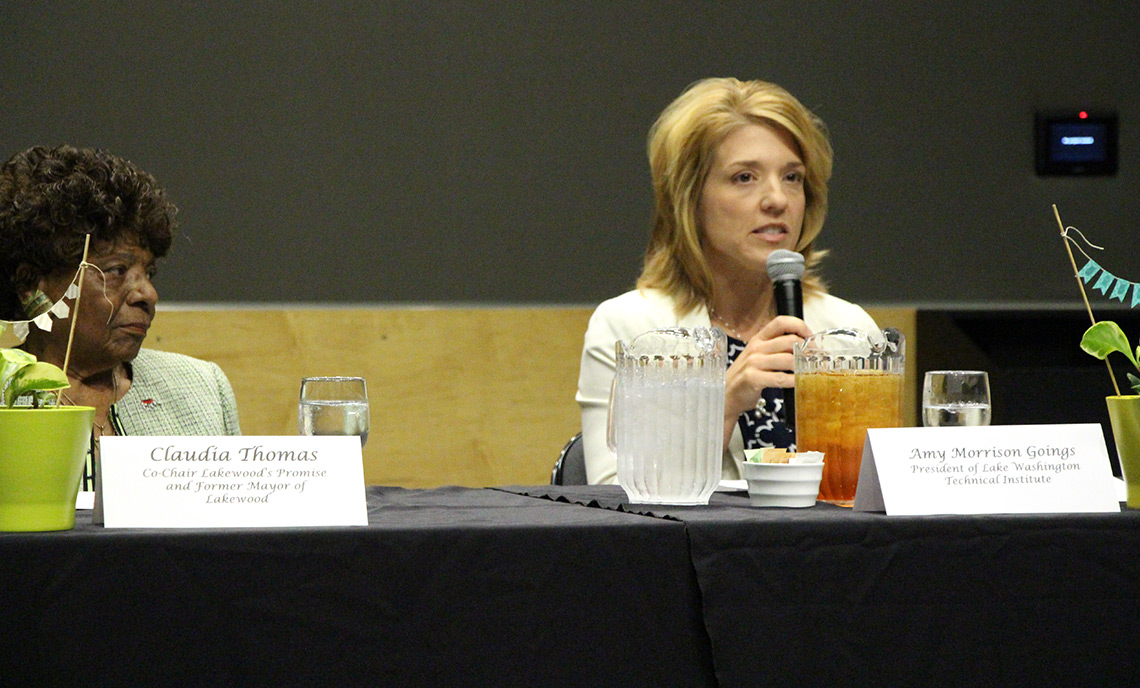 Female Leaders Highlight Annual AAWCC Luncheon
August 11, 2014
The Clover Park Technical College Chapter of the American Association of Women in Community Colleges hosted a panel of local female leaders for its second annual luncheon July 24 at the McGavick Conference Center.
As part of a yearlong series of discussions focused on the theme "Working Together to Support One Another," the panel of speakers included Andie Gernon, Lakewood's Promise co-chair and former Lakewood City Council member; Dr. Amy Morrison Goings, president of Lake Washington Technical Institute; Becky Newton, economic development specialist for the City of Lakewood; Victoria Woodards, president and CEO of the Tacoma Urban League; and Dr. Claudia Thomas, Lakewood's Promise co-chair and former mayor of Lakewood.
Gernon and Thomas were recognized by the Lakewood City Council earlier this year as "founding mothers" of the City of Lakewood for their work and dedication to the community.
As part of the luncheon the panelists shared how they were inspired to grow in their field, how they provide more support for women in their workplace, and offered examples of what everyone can do to help create more equitable workplaces in the future.
The event provided an opportunity for employees of the College to network with employees from other area schools. Lunch was provided by CPTC's Culinary Arts Program.
The CPTC Chapter was established in 2013 and is guided by a commitment to equity and excellence in education and employment for women in community and technical colleges.
For more information, visit www.cptc.edu/aawcc.