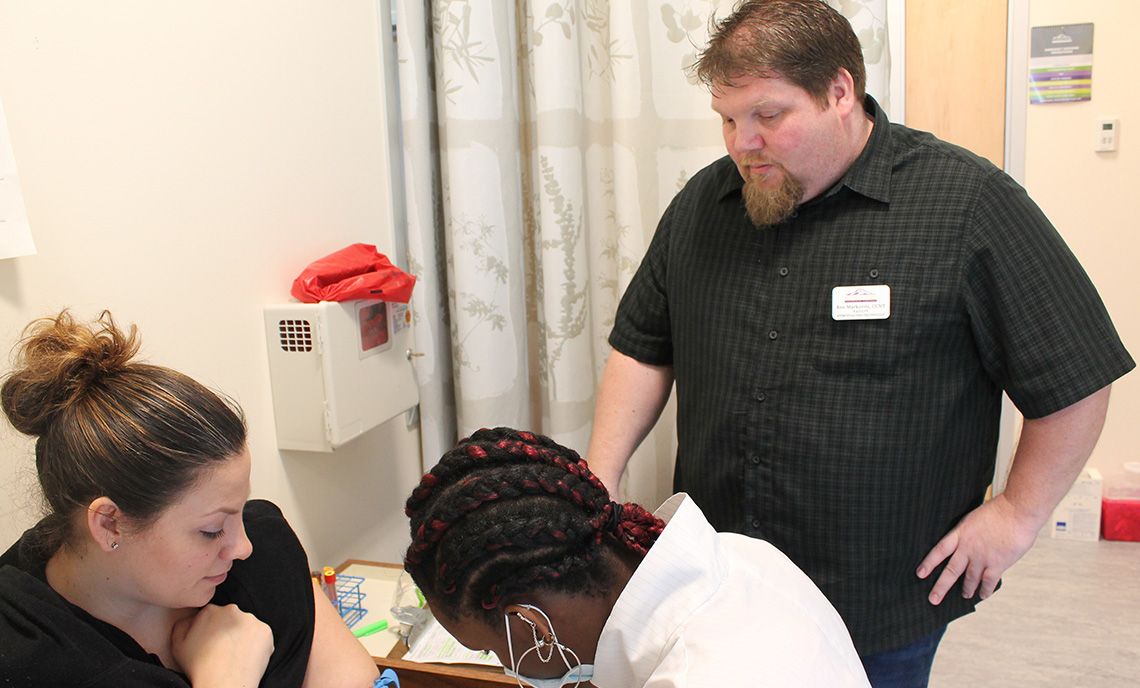 Instructor Ken Markovits Receives 2016 NISOD Excellence Award
February 10, 2016
Congratulations to Hemodialysis Technician instructor Ken Markovits, who was selected as Clover Park Technical College's 2016 NISOD Excellence Award recipient.
Markovits was nominated by his peers and voted upon by a faculty-composed selection committee for his commitment and leadership to students, education and the college.
"Ken strives for excellence in his field and helps his students become their best by keeping up-to-date with current standards," said Central ServiceSterile Processing instructor Jane Wagers.
The annual NISOD (National Institute for Staff and Organizational Development) award recognizes the instructional excellence of faculty. Markovits is invited to attend the NISOD Annual Conference in Austin, Texas this May.
Markovits was humbled to receive the award, and shares the credit with the college's staff and faculty.
"It takes the community of the college — everyone working together — to get our students through," he said.
Markovits was a student at CPTC in 2003, when he was in the second class to go through the Hemodialysis Technician Program. He graduated in 2004, found work in industry and became a member of the program's advisory board.
With no instructor, the program closed for one cohort in 2007. Markovits was hired as an adjunct faculty member and he went right to work creating program curriculum. He continued to work in industry while teaching up until 2010. Over the years his program has expanded, he's added more clinical sites and has partnered with more companies.
Markovits enjoys the difference he's making in his student's lives, and in the industry he prepares them for.
"When I first started teaching, everything I taught them was about taking care of the patients," he said. "I didn't really think about the fact that they're here to better themselves. I still teach that it's about the patients, but at the same time I know they have their challenges and I'm trying to get them through."
Markovits was awarded tenure by CPTC's Board of Trustees on March 4, 2015. He joins CPTC faculty members John Moyer, Cathy West, Kelly Hollowell, Tula Mollas, Wayne Bridges, Maureen Sparks and Don Souza as NISOD award recipients.