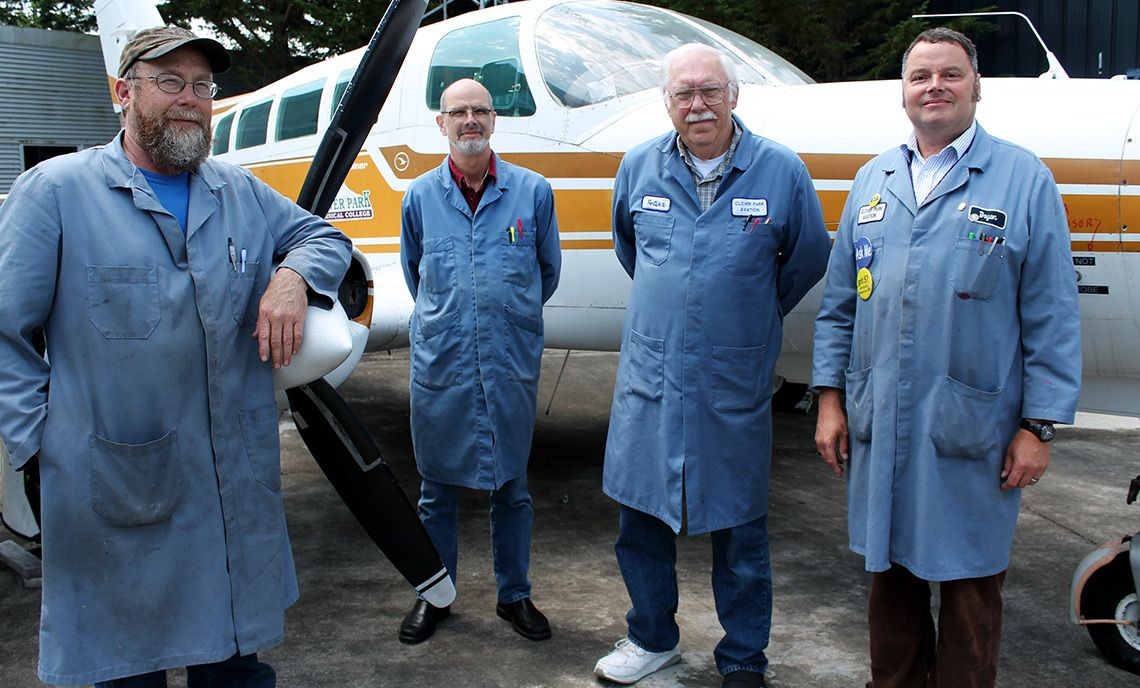 Learning from the Experts
July 6, 2015
Every day at lunch, Clover Park Technical College's Aviation Maintenance Technician instructors can all be found in their office at the South Hill Campus.
Gregory Doyon, Mike Potter, Daniel Creech and Phil Vick eat lunch and pick on each other, while talking about car restoration projects, life at the farm and their latest flight.
They have about 160 years of combined industry experience between them, and years of camaraderie hard to find anywhere else. They're experts in their respective fields, and are teaching their knowledge and experience to hundreds of Aviation Maintenance Technician students.
"I'm honored to be hanging around these guys," Doyon said. "They're all top-notch in their field."
CPTC's rich history dates back to the 1940s, when the Clover Park School District established a War Production program. One of the programs civilians were trained in was aircraft-service mechanics.
The longevity of the program and the dedication of its faculty make CPTC's Aviation Maintenance Technician Program stand out. The program's students also average among the highest pass rates in the nation for FAA certification.
Students who enter the program start with Doyon, who teaches general subjects and all things electrical.
Doyon, who is also the Department Chair, has 43 years of aviation and aerospace industry experience. He worked in general aviation before he came to CPTC to teach 13 years ago.
"As you get older it's a taxing job rolling around under airplanes," he said. "This is just as demanding but a different kind of hard work."
Students move on to the airframe part of the program, taught by Potter, who graduated from the program in 1967. Potter went on to work on C-141s at McChord Field and then Boeing before he settled at CPTC in 1976.
Potter retired four years ago, took the Summer Quarter off, then returned.
"I thought you just moved your car," Vick quipped.
Potter has awarded about 1,300 certificates for mechanics. When he travels the country and is waiting at a terminal, he often spots graduates outside checking planes in between flights.
"It's rewarding to have all these people come through our course and into the industry, and run into them 10, 15, 20 years later," Potter said.
After airframe, students move on to helicopter training and turbines with Creech.
Creech has 30 years of industry experience and received his airframe and powerplant degree from CPTC 25 years ago. Before joining CPTC's faculty, Creech was in Central America for seven years, working as a pilot for a humanitarian organization. He started as a flight instructor at the college in 2007 before making the move to Aviation Maintenance Technician more than four years ago.
Students end the program with the powerplant section, taught by Vick, who has 40 years industry experience, 32 of them at CPTC. Vick once turned down a lucrative job offer to stay at the college.
"There's something intriguing about the job," he said. "Sometimes money isn't everything in the world."
Off campus, the instructors each have their own hobby. Potter restores Mustangs, Vick farms, Creech flies and Doyon works on a Ford Model A.
On campus, the instructors rely on each other's expertise to complete the job.
For more information about CPTC's Aviation Maintenance Technician Program, please visit http://www.cptc.edu/programs/aviation.