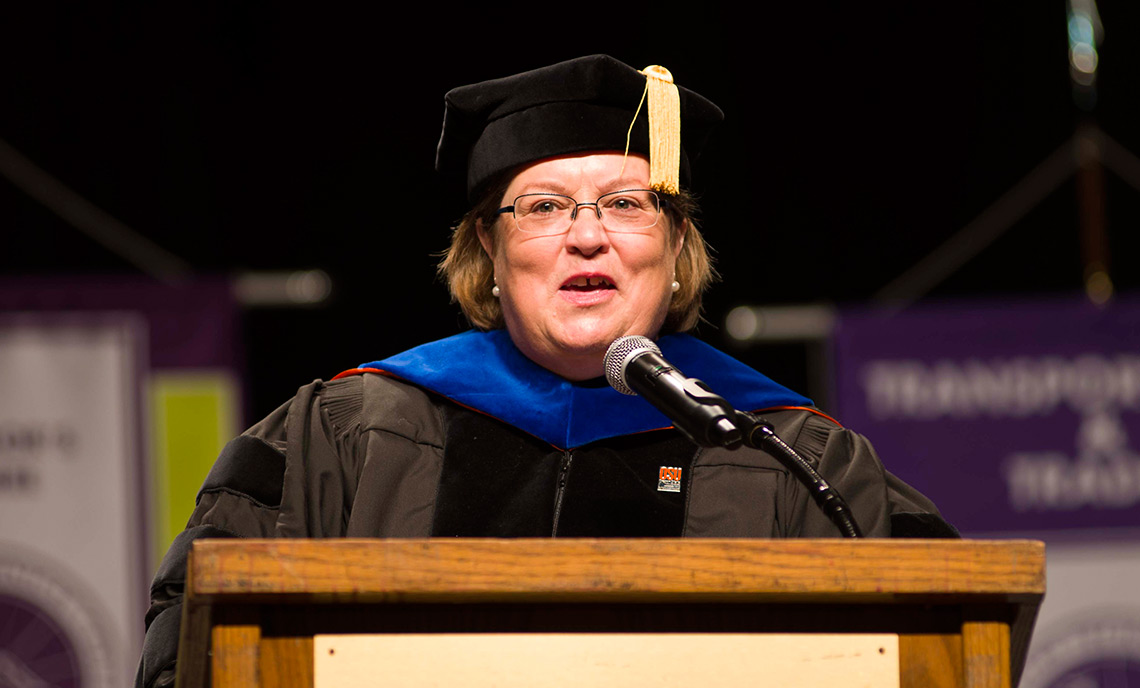 Loveday Steps Into New Role as CPTC Interim President
June 21, 2016
The Clover Park Technical College Board of Trustees selected Dr. Joyce Loveday to serve as interim president at the May 18 Board of Trustees meeting, and Dr. Loveday stepped into her new role June 1.
Loveday has worked at CPTC since 2002, most recently as vice president for student learning. She replaces Dr. Lonnie Howard, who had served as CPTC president the past three years.
"It's been my professional goal to step into a position such as this, and I'm absolutely thrilled it's at the college I love," Loveday said. "I think there is no institution in the state of Washington – or anywhere, for that matter – better than CPTC."
Dr. Loveday earned her Bachelor of Arts from Wheaton College, her Master of Business Administration from Idaho State University and her Doctorate of Philosophy in Education from Oregon State University with an emphasis in Community College Leadership. She has worked in higher education since 1991, when she joined ITT Technical Institute as a faculty member. She later relocated to Washington to be a dean at ITT Tech before coming to CPTC in 2002 as dean for business and computer technology.
"I appreciate the mission of the community and technical college system that is community-centered, focused on success and welcoming of all," Loveday said. "CPTC not only provides exceptional education that prepares students for industry success, we also provide quality support along the way, regardless of prior educational background. Everything we do at CPTC is intended to help students achieve their education and career goals."
In her time at CPTC, Loveday has also served as assistant to the president and associate vice president for instruction. She's actively engaged in the Lakewood community as past president of Clover Park Rotary, a participant with Lakewood's Promise and a board member for the Lakewood Area Support Alliance.
"The Board of Trustees is very pleased to appoint one of our own to the position of interim president," CPTC Board of Trustees chair Mark Martinez said. "Dr. Joyce Loveday has shown her value over the past 13 years at the college and brings instant credibility to the staff and faculty."
Loveday was quick to praise the staff, faculty and administrators at CPTC.
"We have a tremendous leadership team here," Loveday said of CPTC. "The success of this college is not solely dependent on the person who sits in this chair. This position provides leadership and direction and establishes an environment where people can innovate, share ideas and do their best work. I'm a firm believer that the success of an organization lies in the people who work there, and we have excellent people working here at every level."
Loveday was unanimously selected to serve as interim president, a role she will fill for a period of up to one year. Since beginning her term June 1, she has focused on continuing to promote the mission of the college.
"One of the advantages of having been in the system is familiarity with the direction of the community and technical colleges within Washington" Loveday said. "I've been able to get up and running fairly quickly. I know the community; I know the priorities and the initiatives occurring within higher education, and I can help the college continue moving forward."