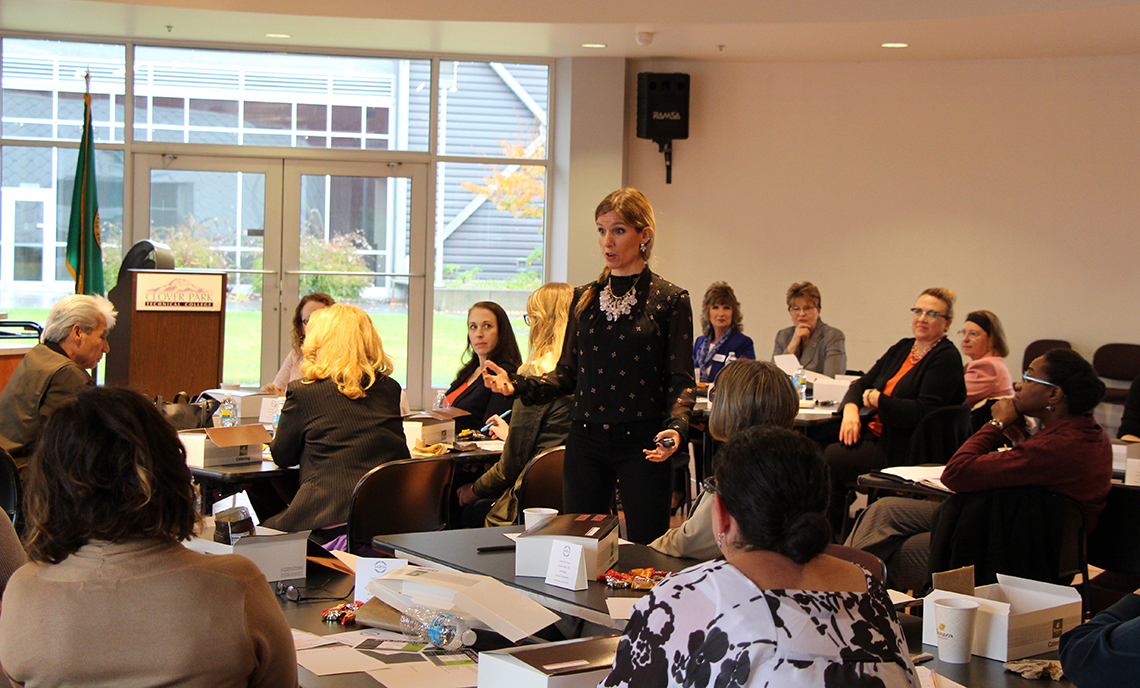 Lunch and Learn Event Focuses on Defining Success
October 28, 2016
A group of about 30 Clover Park Technical College staff and faculty members gathered in the CPTC Rotunda Wednesday for a Lunch and Learn session led by speaker Jen Briggs.
The event, hosted by the American Association of Women in Community Colleges, featured box lunches and an interactive session focused on "defining success on your own terms." Briggs opened the event by speaking about her past struggles and experiences and a challenge to say yes to everything for 30 days that proceeded to change her life.
"When we get intentional and pause, we can get to know our strengths and weaknesses," Briggs shared. "With every positive comes a negative; we all have strengths and weaknesses. But our flaws aren't fatal. Talking about our flaws lets people know that we're human. I'm not a Facebook profile or an Instagram picture; I'm a real person. When we show up at work that way, and when we show up at home that way, we're human. We're not meant to be Facebook photos; we're meant to be people."
The second half of the session required personal responses. Attendees had their own pieces of paper and had to write down answers to several questions. Some of the questions included: what is your favorite thing to do, what's your favorite part of any week, when was the last time you felt really successful, and what is something positive that people always say about you?
Attendees had a chance to share a few of their responses, including their favorite part of the week. But the focus was for them to write their responses and keep them as a motivational tool to unlock their best self.
"What we do every day matters more than what we do once in a while," Briggs said. "Who we want to be and how we get there happens in the everyday. It happens in the tools we use, the habits we have. The makings of how we make decisions every day come in the baby steps."
The AAWCC will have another Lunch and Learn event in the spring. For more information about the CPTC Chapter of AAWCC, click here.