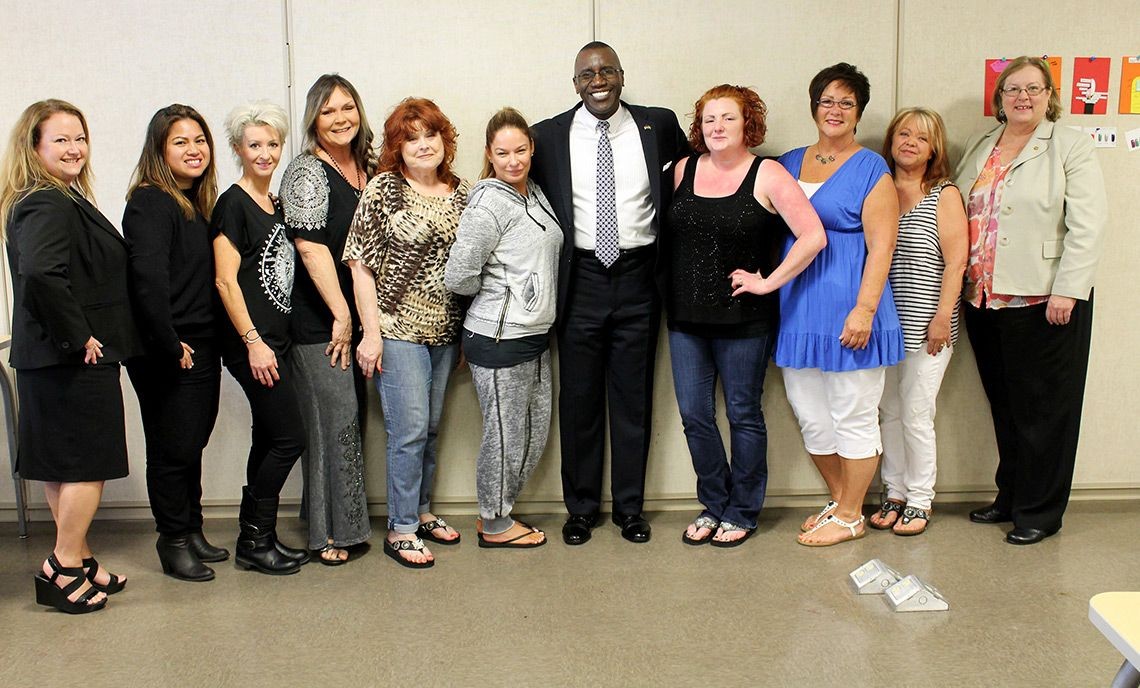 'Lunch on Lonnie'
August 10, 2015
Clover Park Technical College President Dr. Lonnie L. Howard spent his lunch hour with the Cosmetology faculty on Aug. 10.
Of the more than 40 programs offered at the college, Cosmetology had the highest number of graduates attend the 2015 Commencement Ceremony in June. To recognize the program's faculty, Dr. Howard treated the instructors to lunch in Building 8.
"This is my way to say thank you," Dr. Howard said. "It allows us a time to get to know each other better, and that's important to me."
Dr. Howard's 'Lunch on Lonnie' is an event he has done throughout his more than 20-year career in higher education to show appreciation for staff and faculty. The CPTC president has also provided scholarship money to students with his own resources.
"To me it's about reinvesting what I was blessed to receive," Dr. Howard said.
The informal lunch hour spent with Cosmetology faculty allowed the instructors a chance to visit with the president and share what their program is up to. Dr. Howard also received a crash course in the different haircuts and hairstyles students learn in their first quarter.
Health Unit Coordinator, Computer Networking & Information Systems Security and Medical Assistant ranked second, third and fourth, respectively, with number of participating graduates. Dr. Howard already has plans to treat the program faculty with the most graduates at the 2016 ceremony to lunch.
Share This Story