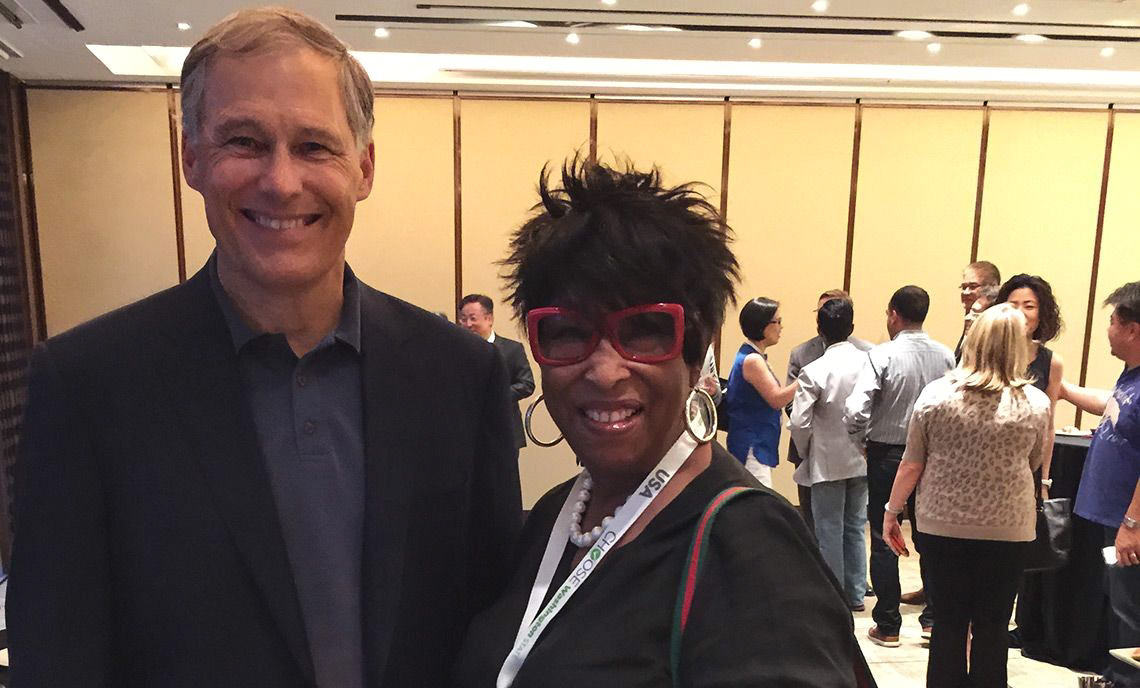 VP of Instruction Mabel Edmonds Retires from CPTC
June 9, 2020
After 15 years at Clover Park Technical College, Mabel Edmonds retired as Vice President of Instruction on April 30, 2020.
Coming from a long line of family members devoted to teaching, Edmonds, too, found an early love for the profession. She earned her B.A. in Education from Harris Teachers College, and later an M.A. in Educational Administration from the University of Missouri, St. Louis. Edmonds spent the first 30 years of her career in the St. Louis K-12 system, the first half in a classroom and the latter as an administrator.
In 2001, Edmonds began a position as education policy analyst for higher education with the Washington State legislature. After leaving the legislature a few years later, Edmonds realized that she was just one year shy of being vested for Washington State retirement. It was in 2005 that she decided to apply for a coordinator position at CPTC.
"She was overqualified," recalls Dr. Sharon McGavick, who was president at the time. "We were all so impressed with her. She ended up with me at the final stage of interviews and started talking about her vast experience. I stopped her and suggested she apply for the director position." Convinced, Edmonds went on to become the director for Workforce and Economic Development instead of its coordinator, her intention to spend a single year at CPTC eventually stretched to fifteen.
In her fifteen years at CPTC, she rose through the ranks, serving as dean of Workforce Development, associate vice president for Instruction, special assistant to the President, and finally as vice president of Instruction, a position which she held for her last four years.
Edmonds was the beneficiary of early mentoring, and brought up others around her as she developed in her own career. She has served for the past ten years on the board for the National Council for Workforce Education, a professional workforce organization where she mentored up-and-coming professionals in higher education. "I consider Mabel one of my best mentors. She helped me realize my potential and supported me as a young widow with two children at home needing strong leadership," said Amy Timmons, who served as an instructional program assistant under Edmonds and is now the payroll & benefits specialist.
During her years living in the South Sound, Edmonds volunteered for a wide variety of community organizations, including serving on the board of directors for the United Way and the William Factory Small Business Incubator. "I'm not ready to face the fact that Mabel will be leaving this community," says Lyle Quasim, Chair for The Black Collective, a civic organization supporting people of color in Pierce County where Edmonds has been active since 2001. "Mabel has been a voice of reason, calm, and direction, showing up in one community engagement after another. Those things she didn't do as her official capacity, but because she's just a nice person with a good spirit."
President Joyce Loveday hosted a digital retirement party in April for Edmonds, giving her colleagues a chance to reflect on Edmonds' impact and time at the College. To celebrate her vibrant personality, attendees donned red glasses, wore colorful outfits, and designed virtual backgrounds to commemorate her style while they reminisced on her time at the College.
The sparkling sands of Florida's gulf coast will provide a match to Edmond's sunny style when she joins her husband there in July. Having previously retired twice – her first retirement from the St. Louis Public School system, and her second from the Washington State legislature – Edmonds is hoping the third time retiring will prove the charm.
She's most looking forward to freedom. "I've gotten an F so far in retiring. I'm not doing nothing this time!"
Best wishes to you in Florida, Mabel. Washington will feel a little less sunny without you.