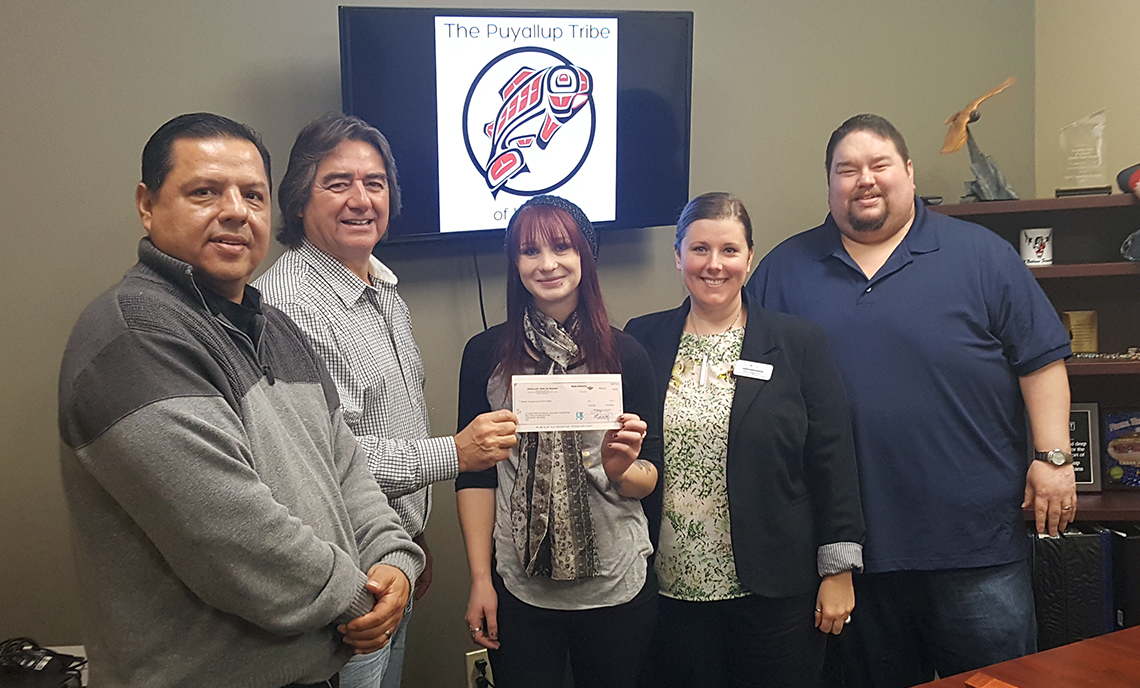 Puyallup Tribe Partners with Foundation to Provide Emergency Assistance
February 8, 2018
A generous gift from the Puyallup Tribe will help the Clover Park Technical College Foundation provide emergency assistance to students in need.
The Puyallup Tribe presented the Foundation with a $12,000 grant on Friday in support of the Foundation's emergency assistance endowment. The gift marks a significant step toward the Foundation's goal of raising $75,000 over three years to double the emergency assistance endowment.
As explained in the grant application, the emergency assistance program helps assist students who have fallen on hard times financially and need a little extra help. Money goes toward their rent, utilities, bus passes to get to school and other emergency needs that could prevent the student from being successful in school. Students must fill out an application and meet eligibility requirements and may receive emergency assistance up to two times per year.
Foundation student intern Heather Morgan wrote her first-ever grant application, with guidance from CPTC Vice President for Strategic Development and Foundation Executive Director Tawny Dotson, C2E Grant Instructional Design Specialist Richard Hines and Foundation/Grant Accountant Fiscal Analyst Tanya Petrov.
The grant application included the number of self-reported Native American students at CPTC and also revealed several statistics that highlight the importance of emergency assistance. According to the application, students who received emergency assistance were 18 percent more likely to persist, 19 percent more likely to complete and 10 percent more likely to graduate compared to all other students.
The grant marks the third time the Puyallup Tribe has awarded funding to the CPTC Foundation, after making gifts to CPTC's Holiday House in 2005 and the Transforming Lives Campaign in 2014. Puyallup Tribe chairman Don Coats, commissioner Brandon Reynon and vice-chair James Miles presented the check to Morgan and CPTC Foundation Development Associate Rae Baghirov Friday at the Tribe office.
For more information about the CPTC Foundation, click here. To learn more or give to the emergency assistance endowment campaign, click here.