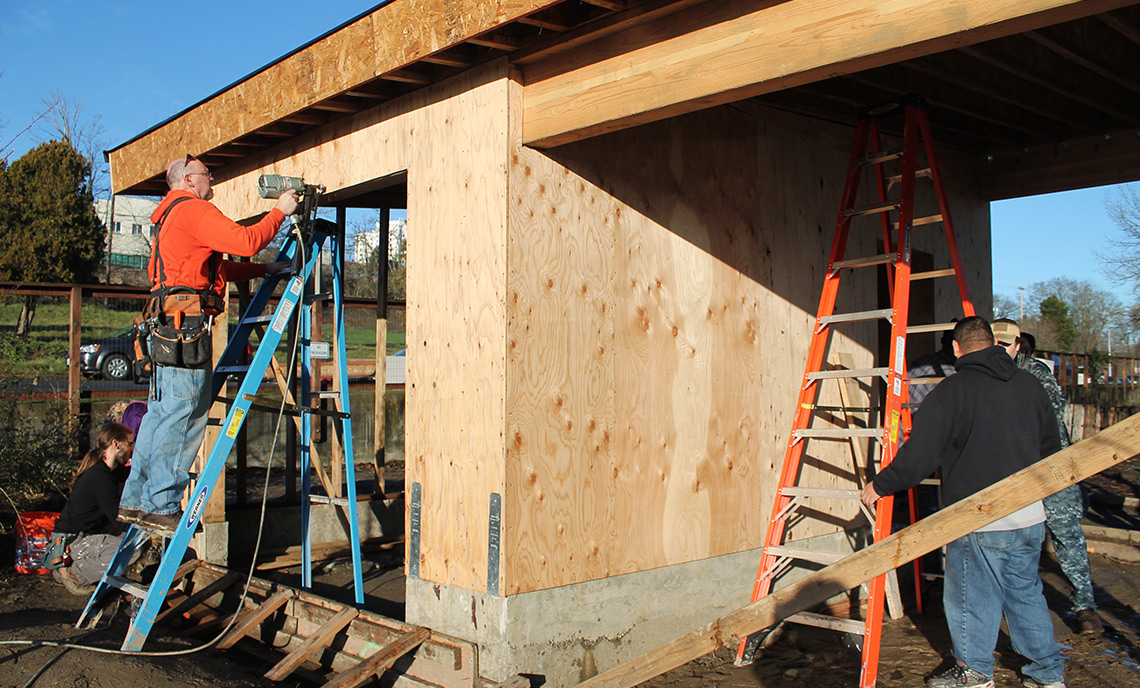 Sustainability in the Community
January 21, 2016
When the idea to design and build a shed at the University of Washington Tacoma's Giving Garden was presented to Dan Smith as part of his master's degree program at the college, he thought it was a great idea.
But if the Clover Park Technical College Sustainable Building Science instructor were to take on the task, he wanted to pump it up a bit.
"Let's make this a sustainable structure and an example to the community of what possibilities are in green building and sustainable development," Smith said.
The UWT Sustainable Hub for Education and Demonstration (SHED) is being erected at the corner of 21st and Fawcett in Tacoma. And while it's part of UWT's campus, it has a CPTC tie. Since breaking ground the first week of Fall Quarter, a large group of Smith's Residential Construction and Sustainable Building Science students have volunteered more than 800 hours on the community project.
"If it aids the community in one way or another, I'm for that," said James Cruz, Residential Construction student. "I can drive by here and show my grandson that I helped build that."
Smith's students are gaining on-the-job experience with the project, including working outside in harsh weather, dealing with unplanned mishaps and interacting with inspectors.
"I'm a big believer of hands-on learning," Cruz said. "I can sit back and watch a video or look at a book, but I can't remember anything. When you come out here, you do everything that was talked about. I can actually say I learned how to build a house from the dirt up."
The SHED will be an example of what can be accomplished with green building. The structure includes wood walls and a straw bale wall, and there are plans to include an industrial hemp wall. It will be powered with solar energy and will include a vegetative roof.
Smith already takes green building and sustainability to local middle schools to talk about carbon footprint and renewable resources and renewable energies, with a hands-on task of designing and building a "green-built" house using LEGO bricks. Not only will the SHED serve as an urban education center for the community, it will also function as a storage facility/charging station for the cordless power tools used for garden maintenance.
With no budget, Smith and his students have constructed the SHED with all donated materials. People interested in donating to the project can do so by contacting UW Alumni Relations and Annual Giving Officer Thomas Duke at 253-692-5641.
Share This Story