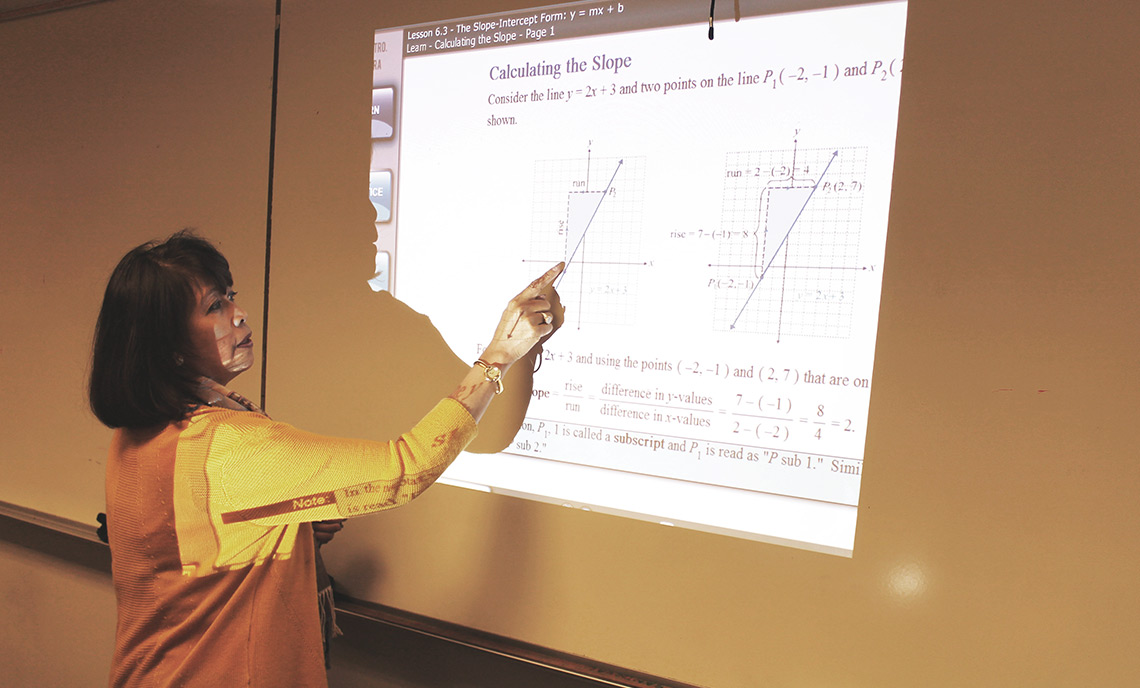 Teaching Excellence: Encouraging Creativity
November 13, 2014
In a series of articles over the coming months we will explore the meaning of teaching excellence and how it is personified at Clover Park Technical College.
Loreta Sandoval has taught ever since she graduated from college in the Philippines in 1978. As a military spouse she traveled and moved often, and at each duty station Sandoval taught soldiers. Teaching became her passion.
Sandoval first taught at CPTC in 1992 as an Adult Basic Education instructor before her husband received orders to Fort Polk, Louisiana less than a year later. Sandoval returned to CPTC in 1996, where she has been ever since.
Today, Sandoval teaches five math classes. She was part of the Achieving the Dream Initiative to help students accelerate from developmental math to college level math. As part of the pilot program, she helped students move from Math 82 to Math 91 to Math 99.
Sandoval recently answered questions about teaching and what teaching excellence means to her.
Q: How do you stay creative and innovative in the classroom?
Sandoval: I involve my students in being creative in their contribution to make the learning experience more meaningful to them. When I throw a question at them I don't give an answer. I ask for feedback and we all put our thoughts together.
Q: What does teaching or faculty excellence mean to you?
Sandoval: Faculty excellence is having the characteristics of a good leader in a learning environment involving students. We as faculty should not only tap into the students' intelligence, we should also try to touch their hearts and souls because the emotional part goes with the intellectual part for students' learning. Practicing faculty excellence also means being competent as an instructor, knowing your subject matter, so that there will be a trust and development of self-confidence among the students themselves.
Q: How do you measure faculty excellence?
Sandoval: As a math instructor, my goal is to prepare my students to be functional and be in a college competency level in general education, especially in quantitative reasoning and critical thinking. If students are able to apply those math skills to their program of study and in their everyday lives, and then move forward and graduate, this to me is a measure of faculty excellence.
Q: Why do you think so many dedicated members of the industry choose to teach at CPTC?
Sandoval: I find Clover Park Technical College is an outstanding institution that practices faculty excellence. Faculty members collaborate with each other and the rest of the staff to help students gain self-confidence. We have great administrators who support us positively in the development of our personal and professional goals. If we are supported by the administration and staff we can give that to our students as well.