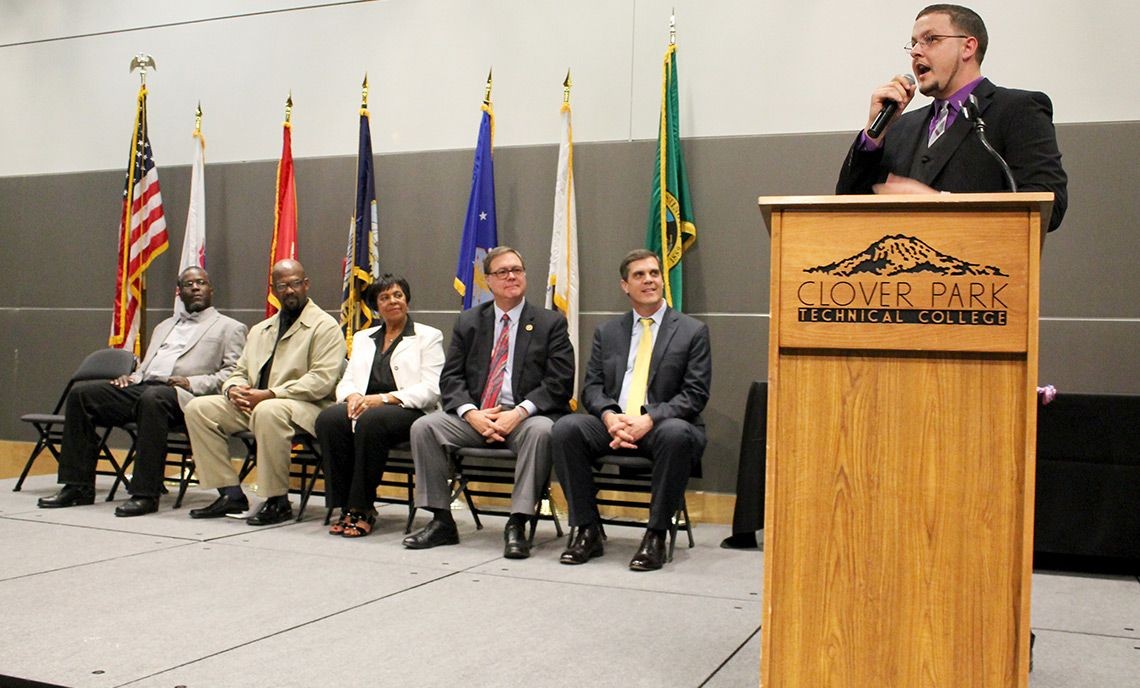 The Start of the Next Mission
June 9, 2015
Twenty-four graduating student veterans participated in the 2015 Veterans Honor Cord Ceremony at the McGavick Event Center on June 5.
Veterans and active duty students who completed their degree or certificate this year were invited to be recognized at the annual ceremony hosted by CPTC's Veterans Resource Center. The participating graduates represented three military branches: U.S. Air Force, Army and Navy.
Congressman Dennis Heck (D-WA 10th District), the ceremony's keynote speaker, offered advice to the student veterans: understand their value, and feel confident about that value as they enter the job market.
"Veterans have the competitive edge," Heck said. "You know how to work on a team, you know how to get to work on time and to stay until the job's done. You know how to come to work prepared and you know how to make the person working next to you successful. Those are all the things you did in the military."
Mary Moss, chair of the CPTC Board of Trustees, presented the event's opening remarks, followed by guest of honor, Frank O'Donnell of the Washington State Military Transition Council.
Heck presented each of the graduating veterans with a red, white and blue honor cord to be worn with their graduation gown at the 2015 Commencement Ceremony on June 19 at the Tacoma Dome. Jacinda Johnson received a posthumous honor cord on behalf of her late husband James Johnson, who passed away on Jan. 11.
CPTC veteran alumnus Bryant Watts, who participated in last year's Honor Cord Ceremony, delivered closing remarks, and Shawn Durnen, CPTC's veteran navigator, addressed the student veterans with one last statement.
"It's not the end of the mission, but the start of your next one," Durnen said.
Battle Rhythm, the I-Corps' Army Band from Joint Base Lewis-McChord, provided live entertainment during the catered dinner following the ceremony.
For more information about the VRC, visit http://www.cptc.edu/vrc.