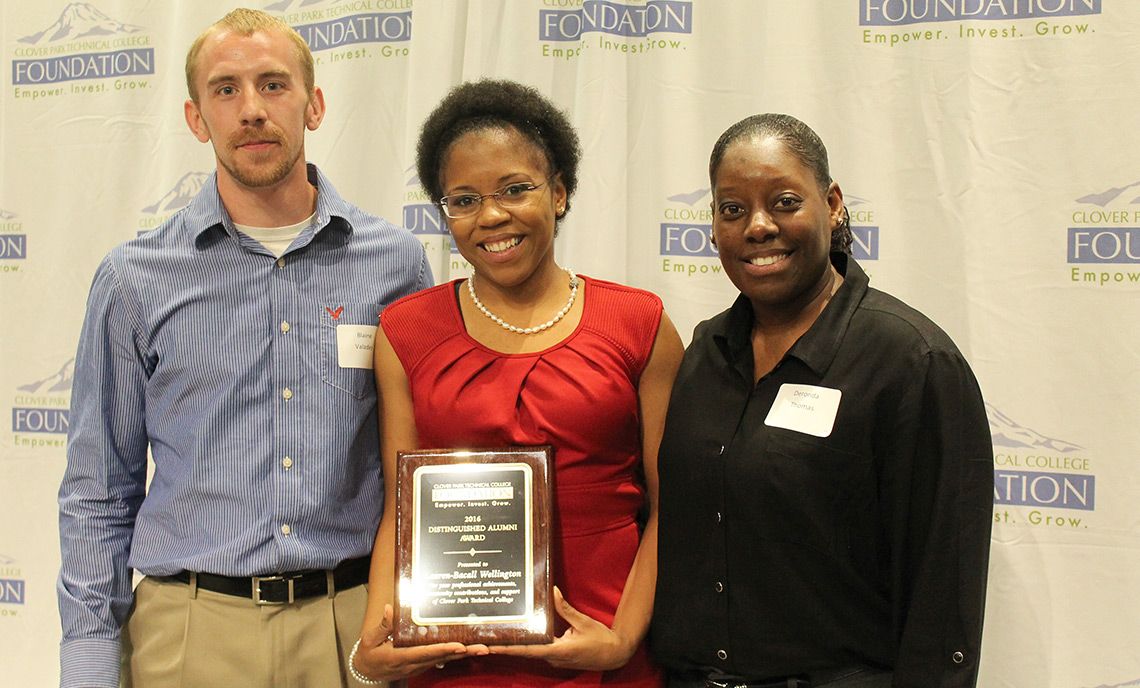 Transforming Lives Through Scholarships
May 2, 2016
Clover Park Technical College scholarship recipients and donors were recognized April 19 at the CPTC Foundation's 10th Annual Scholarship Banquet at the McGavick Conference Center.
In the last year, more than 100 students received Foundation scholarships totaling more than $90,000.
The banquet brought together scholarship recipients, college staff and faculty, event sponsors and scholarship donors. Students Blaine Valadez and Deronda Thomas shared their own personal stories of how their lives were transformed at CPTC with the aid of scholarships.
Thomas, a Computer Networking & Information Systems Security student, has received numerous awards and scholarships during her time at CPTC, including the AMVETS Ladies Auxiliary, Post #1 Scholarship this quarter.
"I'm honored and thankful for the available resources; for the scholarships that you provide for us to help us through our challenges and obstacles," Thomas said.
Valadez is a student in the Welding Technology Program and the recipient of the Hamilton Family Scholarship.
"The Welding Program and Clover Park have changed my life for the better," Valadez said.
Lauren-Bacall Wellington, a 2012 Medical Histology Technician graduate, shared her emotional and inspiring story of perseverance to pursue higher education and find success in industry. Wellington received the 2016 Distinguished Alumnus Award, presented by Mary Green of the CPTC Foundation Board.
Doug Richardson, Pierce County Council chair, was the master of ceremonies of the event, with closing remarks provided by Matt Lane, president of the CPTC Foundation Board of Directors.
"On behalf of the Foundation, I want to say to the students, we see you," Lane said. "We recognize the work that you're doing and want to say we're so proud of you."
For more information about the CPTC Foundation, visit cptc.edu/foundation.