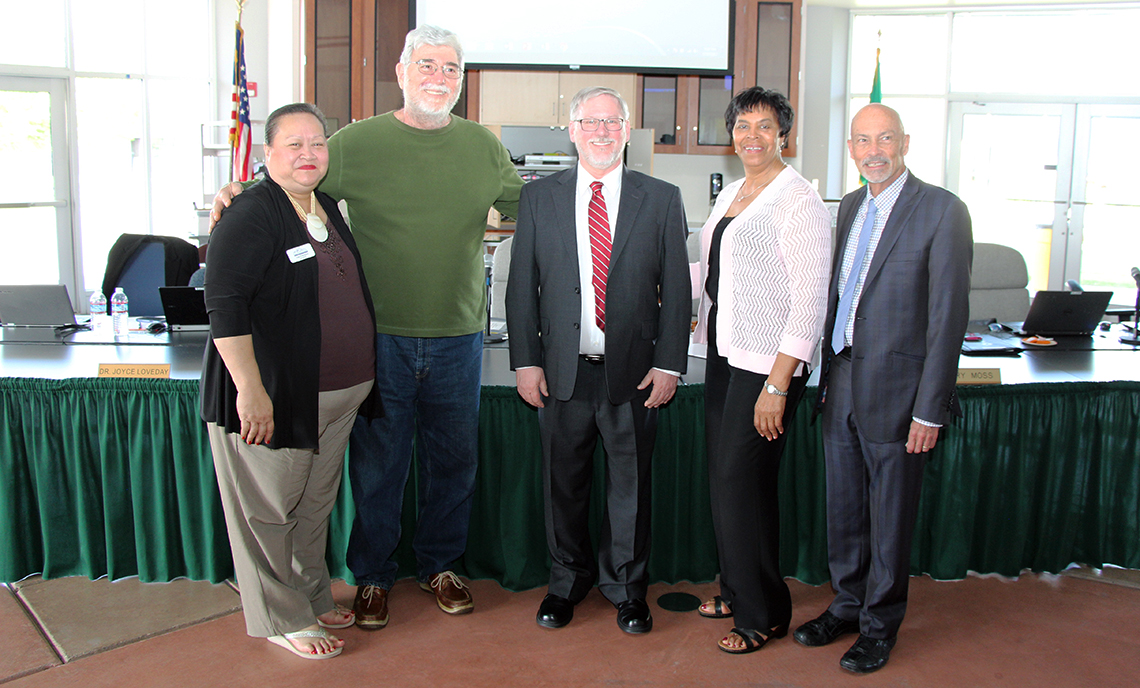 Two Faculty Members Awarded Tenure
May 22, 2017
The Clover Park Technical College May Board of Trustees meeting ended with a special announcement for faculty members Robert Carver and Ken Meerdink, as the Board awarded tenure to each of the two instructors.
An instructor in the Nursing program, Carver came to CPTC in May 2014. Originally from Phoenix, Arizona, he spent 45 years as an Episcopal priest. He eventually went back to school and earned his Associate Degree in Nursing from Pierce College in 2008. He spent one year gaining clinical experience at Madigan Hospital and three at Western State Hospital and earned his Master of Nursing degree from University of Washington in 2014.
"I learned far more from being involved in the tenure process than I ever would have expected," Carver said. "All my committee members were truly supportive."
Meerdink is an instructor in the Computer Programming and Web Development program. He earned his Bachelor of Science in Computer Science from the University of Iowa after serving three years in the United States Army. He also earned a Master's in Mathematics and taught math, computer science and statistics for years before going back to earn his Ph.D. in Math. After spending 10 years at Boeing as a computer programmer on CAD systems and flight test data processing, he earned his Master's in Software Engineering from Seattle University. From there, he worked as an adjunct instructor at several college and universities in the Puget Sound region before making his way to CPTC.
"Of all the schools I have taught at, Clover Park has been the best experience of all," Meerdink said. "The administrative and academic support I have received from everyone who works here at Clover Park has been better than any other school I know. The students are the most honest and earnest I have ever had the pleasure to work with. Here at Clover Park, I've had the opportunity to make a real difference in peoples' lives."
The tenure process takes three years and includes quarterly teaching observations, regular course evaluations, self-assessments and professional development.