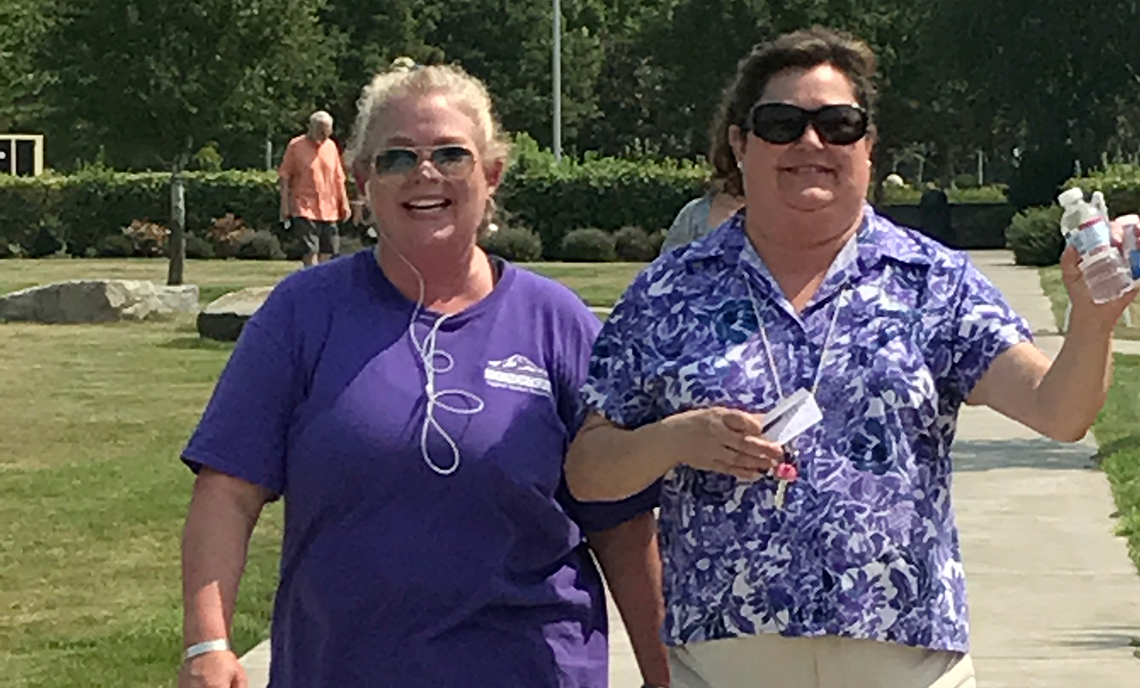 Walk-A-Thon Builds Campus Spirit & Emergency Assistance Funds
August 9, 2017
The walkway around Building 19 and the College Green at Clover Park Technical College's Lakewood Campus has seen a lot of new activity this week as the CPTC Foundation is hosting its first Walk-A-Thon Aug. 7-11.
The event is part of the annual staff and faculty fund drive and is being used to help kick off the Foundation's new three-year campaign to raise $75,000 for Emergency Assistance for CPTC students. While it's targeted at staff and faculty, students and members of the public are welcome to participate.
"I've always wanted to do a walk-a-thon," CPTC Foundation Development Manager Janet Holm said. "It's a fun thing to do to get people involved, be healthy and raise some money for student assistance."
The event runs from 11 a.m. to 1 p.m. each day this week. Participants purchase a $10 lap card, with the proceeds going to the Emergency Assistance fund. The card has lap numbers up to 20, and the participant gets one punched for each quarter-mile lap around the walkway circling Building 19 and the College Green. For staff and faculty, each lap recorded also counts as points toward an ongoing campus contest.
"People are stepping up to the challenge and doing it despite the heat," CPTC Foundation Development Assistant Rae Baghirov said. "They know that every little bit helps."
Adding to the experience is a challenge from automotive program instructor Wayne Bridges. A distance runner and coach, Bridges completed a five-mile card in one go on Tuesday – in 90-degree heat – finishing the run in 36 minutes and 30 seconds. He'd garnered sponsors to pledge $5 for every 30 seconds faster than his target finish time of 40 minutes. That led to $35 from each of the eight sponsors.
"I love to run!" Bridges said. "I'm all about 'Go Big or Go Home!' After I heard the proposal for the walk-a-thon, I came up with the idea of the challenge and sponsorship. I figured the potential to bring in quite a bit more money was there."
While Bridges' individual run to the five-mile mark is complete, he added a second challenge to any other participant. For any participant who completes five miles in a single day – running or walking with the only time constraint being the two-hour time slot of the walk-a-thon – Bridges promised to donate an additional $5. Needless to say, several staff and faculty members have taken him up on the challenge.
CPTC Foundation Executive Director and Vice President of Strategic Development Tawny Dotson and CPTC Foundation Board President Matt Lane each completed the challenge Tuesday, while several more participants completed a five-mile day on Wednesday. Bridges' challenge seems to have helped spark a competitive spirit across campus.
"This is all about helping students in need, so I was sure the college community would step up," Bridges said. "I am pleased to say they have."
With two days left in the walk-a-thon, there is still plenty of time for more participants. Not only does the event raise funds for students in need, but it also gives campus community members the opportunity to enjoy some fresh air, get some exercise and maybe socialize with people they wouldn't otherwise see during the regular workday. At various points along the walkway, the Foundation has posted signs with stories from students who have benefitted from assistance, just to serve as a reminder of just how much every little bit helps.
After seeing the positive campus response to this first walk-a-thon, Holm spoke about the opportunity to see it grow in future years. Each step helps a student in need.